House Drops Plan For Immediate Vote On Health Care Reform
Once again, the GOP punts on 'repeal and replace' because they don't have the votes.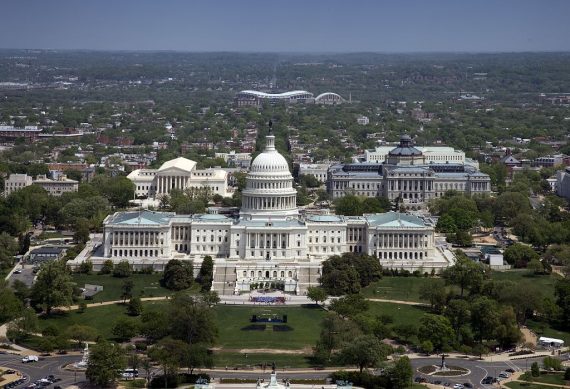 As anticipated, Republican leadership in the House has scrapped plans to hold a vote on a revised health care reform bill before the end of the President's first 100 days in office, and it's unclear when the bill would actually be brought to the House floor:
WASHINGTON — An 11th-hour White House push to give President Trump a major legislative victory in his first 100 days in office broke down late Thursday as House Republican leaders failed to round up enough votes for their bill to repeal the Affordable Care Act.

Some White House officials had hoped for a vote on Friday on a measure to prove that Mr. Trump was making good on his promise to undo the sweeping health law — President Barack Obama's signature domestic achievement — in his first 100 days in office.

But seesawing commitments and the reservations from numerous lawmakers throughout Thursday laid bare the difficulty that Republican leaders faced in trying to push through a repeal bill. While revisions to their bill won over conservative hard-liners in the Freedom Caucus this week, those same changes threatened to drive away other members, even some who supported the first version.

A senior House aide said late Thursday that there would not be a vote on the health bill this week. At least 18 House Republicans oppose the latest version of the bill, the American Health Care Act, and leaders can lose no more than 22 to win passage if all members vote.

"We're going to try and measure three times and saw once," Representative Pete Sessions, Republican of Texas and the chairman of the House Rules Committee, said late Thursday. "A lot of people around this town have tried their best to try and rush it, rush it, rush it."

He urged patience, saying the health bill "will find its time."

The lost opportunity was perhaps the biggest blow to the future prospects of Reince Priebus, Mr. Trump's chief of staff, who has a long relationship with Speaker Paul D. Ryan of Wisconsin. Mr. Priebus had pushed aggressively for the House to schedule a vote this week, according to several people who spoke with him within the West Wing and on Capitol Hill.

Earlier on Thursday, Mr. Ryan appeared to shy away from pushing for a fast vote. "We're going to go when we have the votes," he said, adding that Republicans would not be constrained by "some artificial deadline."

House Democrats, sensing an advantage, pressured Republicans to once again back away from the bill, just as they did a month ago in an embarrassing defeat for Mr. Trump and Mr. Ryan. Democratic leaders threatened to withhold votes from a stopgap spending measure to keep the government open past Friday if Republicans insisted on trying to jam the health care bill through the House on Friday or Saturday, which is Mr. Trump's 100th day as president.

The House Democratic leader, Nancy Pelosi of California, said Mr. Trump was "really making fools of the members of Congress of his own party" by asking them to support a health bill that is unpopular with the public.

"If they vote on it, the minute they cast that vote, they put doo-doo on their shoe," she said.

(…)

the latest version of the House bill seemed to offer little that would entice anyone with reservations other than the hard-line conservatives.

"The proposed changes to this bill would leave too many of my constituents with pre-existing conditions paying more for health insurance coverage, and too many of them will even be left without any coverage at all," Representative Ileana Ros-Lehtinen, Republican of Florida, said Thursday.

It also gave pause to some Republicans who were ready to vote in favor of the measure last month.

Representative Mario Diaz-Balart, Republican of Florida, planned to support the bill last month before it was pulled. But on Thursday, he acknowledged "a lot of red flags," including what would happen to people with pre-existing conditions. "How are they treated?" he asked. "What options do they have?"

The House plan had already faced deep skepticism in the Senate, where other policy concerns are certain to be debated, like the future of Medicaid in states that expanded eligibility under the Affordable Care Act.
This development is hardly surprising, of course. As I said, noted yesterday and earlier this week the forces arrayed against the bill as it exists today in the House of Representatives are formidable enough that it was unlikely that Republicans could put together the majority they would need for passage. Even if it had passed the House, though, the likelihood that it could pass the Senate in its present form was fairly low, and it's likely that whatever would have passed out of there would have caused problems with conservatives in the House of Representatives, meaning that the entire process of making a deal in the House that would please both conservatives and moderates could end up being one big exercise in futility. Added into all of this is the fact that Congress needs to pass a spending bill of some kind by midnight tonight to avoid a government shutdown, something that the Administration clearly doesn't want to happen given the fact that it has spent the last week trying to give the impression of a 'first 100 days' filled with accomplishments, even though the contrary is largely true. Democrats, especially in the Senate, are aware of the fact that the GOP wants to avoid a shutdown and have used that to their advantage by threatening to withhold support from a budget deal if the GOP tries to stage a vote on health care reform this week. As it stands, it now appears that the House and Senate will pass a bill temporarily funding the government for a couple weeks while a final spending bill is finalized. That, combined with the fact that the House is punting on health care reform makes it likely that we'll avoid a shutdown, which I suppose is the best the Administration can hope for as we approach Trump's 100th day in office tomorrow.
Republicans will insist, of course, that this isn't the end of the process, and I suspect that's probably correct. We'll likely see further efforts at 'repeal and replace" of the PPACA in the weeks and months to come. As the past two months have revealed, though, this is much easier said than done. When they were only in control of the House, Republicans managed to pass a bill that repealed the PPACA in some form more than sixty times, in no small part this was because they knew the vote was merely symbolic because it would die in the Democratic-controlled Senate. During the period between the 2014 and 2016 elections, they did manage to get a repeal bill through the House and Senate, but that too was a bill that they knew would not go anywhere because they lacked the votes to override President Obama's veto. Now that they control the Legislative and Executive Branches, though, Republicans are faced with the reality that whatever they pass will become law and they'll have to live with the consequences. Because of that reality is setting in for everyone, and they're realizing that the problems we face in the healthcare field can't be reduced to simple phrases like "repeal and replace." If you're going to act, you have to have a plan available that would be not only an adequate replacement, and it needs to be one that can speak to a wide variety of concerns including the fact that millions of Americans have come to rely on the coverage provided by the Affordable Care Act, as flawed as it might be. Additionally, Members of Congress and Senators are quite obviously hearing from those people and realizing that they'll be held responsible for the consequences of their vote when the next election comes around. Because of all that, reality has intervened and Republicans are finding it harder to put their rhetoric into action than they probably expected.