Passage Of Republican Health Care Bill Looking Less Likely
The Freedom Caucus may be mollified, but moderate Republicans and the Senate aren't. Meaning that repeal and replacement of Obamacare is becoming less likely.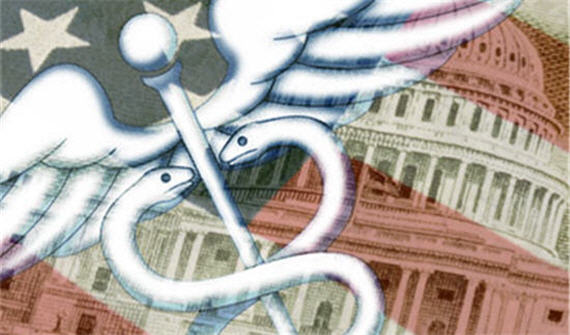 The House Freedom Caucus may have decided to support the revised bill to repeal and replace the Affordable Care Act, but that doesn't mean that it's smooth sailing from here. As I noted yesterday, Republican leaders still need to worry about getting support from other members of the House GOP Caucus and, even if they do, there's still the complicated issue of getting the measure through the Senate even if the bill is allowed to proceed under the Senate's reconciliation rules rather than having to face a sixty-vote cloture vote. So far, it's not looking good.
First up, there's the news today that House Republican moderates are balking at the revised bill:
The moribund Republican health care bill received a jolt of life when the conservative House Freedom Caucus endorsed a revised version of the measure. But a leading GOP moderate criticized the reshaped legislation as a conservative exercise in "blame-shifting and face-saving" that wasn't winning new support from party centrists, leaving its fate unclear.

The embrace by the hard-line Freedom Caucus Wednesday supplied fresh votes and momentum for GOP leaders, who also lined up behind the plan and crave a legislative victory for themselves and President Donald Trump. Opposition by most of the caucus' roughly three dozen members was a major factor when House leaders canceled a vote on the legislation last month in a mortifying setback for the party.

The changes would let states escape a requirement under President Barack Obama's health care law that insurers charge healthy and seriously ill customers the same rates. They could also be exempted from Obama's mandate that insurers cover a list of services like maternity care, and from its bar against charging older customers more than triple their rates for younger ones.

Conservatives embraced the revisions as a way to lower people's health care expenses, but moderates saw them as diminishing coverage because insurers could make policies for their most ill — and expensive — customers too costly for them to afford.

"I have always campaigned on making sure that no one is denied coverage based on pre-existing condition," said Rep. Leonard Lance, R-N.J., who said he remained opposed to the legislation.

The Freedom Caucus turnabout also shifts pressure for passing the bill — a top priority for the GOP — onto party moderates. They are certain to come under intense lobbying from the White House and party leaders to jump on board.

Speaker Paul Ryan, R-Wis., said the proposal "helps us get to consensus," but stopped short of saying it would win them enough votes to finally prevail.

Keeping GOP options for quick action alive, the House Rules Committee approved special procedures that could allow a sudden House vote on a health care bill through Saturday, though that seemed unlikely.

In a statement, the Freedom Caucus said while the new package "still does not fully repeal Obamacare, we are prepared to support it to keep our promise to the American people to lower health care costs."

Many moderates opposed the initial Republican bill before the latest proposed changes, and there were no signs that the revisions converted any of them into supporters. The legislation does things they oppose, including cutting the Medicaid health insurance program for the poor and providing less generous federal subsidies to help people buy coverage than under Obama's law.

The changes were authored by Reps. Mark Meadows, R-N.C., chairman of the Freedom Caucus and Tom MacArthur, R-N.J., one leader of the moderate House Tuesday Group, along with White House help.

But Rep. Charlie Dent, R-Pa., another and longer-tenured leader of that 50-member centrist organization, told reporters that those in his group who were against the bill "remain opposed." He also lashed out at conservatives for advancing the revisions.

"This is simply a matter of blame-shifting and face-saving" for a bill going nowhere, Dent said. He said that if the House measure survives, revised or not, it would be substantially rewritten in the Senate, where it faces broad opposition.
Right now, there is talk about a possible vote on a replacement health care bill as early tomorrow, but nothing firm has been scheduled and it seems unlikely right now that it will. At the very least, it's clear that nothing will pass without the support of a substantial portion of these moderates, and the changes that have been made to appeal to the Freedom Caucus have, somewhat predictably, only served to turn them off further on a bill that most of them were already inclined to vote against last month. The only thing that the changes that were made to appease the House Freedom Caucus appear to have done is to make the moderates more adamant in their opposition to the bill, meaning that it's even less likely that they can be convinced to support it. Given that Paul Ryan has already said that they would only bring the bill up if they were sure that they had the votes, that suggests that it's unlikely that we'll see a vote on the new bill this week and more possible that we may never see a vote on it at all.
As if that weren't bad enough for the prospects of this bill, Republican Senators are also balking at the revised bill:
The House may finally be on its way to scrapping Obamacare, but don't expect the Senate to go along: Any plan sent over will undergo major surgery — and survival is far from assured.

The hurdles in the upper chamber were on vivid display Wednesday as House Republicans celebrated their breakthrough on the stalled repeal effort. The compromise cut with House Freedom Caucus members won over the right flank, but the changes will almost surely make it harder to pick up votes in the more moderate-minded Senate.

Not to mention that some Senate conservatives still seem opposed to the emerging House deal.

"The Freedom Caucus has done a good job of trying to make the bill less bad," Sen. Rand Paul (R-Ky.), one of the lead Senate agitators against the House health care push, said Wednesday. "For me, it's a big stumbling block still that there's taxpayer money that's being given to insurance companies, and I am just not in favor of taxpayer money going to insurance companies."

Phil Novack, a spokesman for Sen. Ted Cruz , also indicated that the conservative Texas firebrand isn't sold, saying "significant work remains" in the Senate, "specifically to address Obamacare's insurance mandates and enact major patient-centered reforms that will further reduce the cost of health care."

Sources say it may take more than a month for any House health care bill to run through the traps in the Senate, including internal party discussions and an analysis of how the measure would affect the deficit and insurance rolls. No committee hearings are planned because Republicans don't want to give Democrats a public forum to bash an effort they are not involved in. And similar to the Senate's dim view of the House's proposal, the lower chamber may not ultimately be able to pass whatever the Senate is able to produce on Obamacare.

Plus, a procedural rift is beginning to emerge within the GOP, with several Republicans questioning whether reconciliation — the fast-track legislative process that circumvents a filibuster, and thus the need for Democratic support — is even the best avenue for health care overhaul efforts.

Few Senate Republicans are currently engaged in the health care efforts. Several GOP senators declined Wednesday to wade in to the specifics of the revised plan drafted by Rep. Tom MacArthur (R-N.J.) and Freedom Caucus Chairman Mark Meadows (R-N.C.), taking pains to note that senators will probably have to rewrite it anyway.

"It isn't discussed a lot over here," said Sen. Chuck Grassley (R-Iowa). "Except for the hard work of [Susan] Collins and [Bill] Cassidy, there's hardly anything being done."

Senate Majority Whip John Cornyn (R-Texas), the party's chief vote counter, also downplayed any notion that the new House version of an Obamacare replacement will sail through the Senate intact.

"Once they pass a bill, my assumption is, the Senate's going to take a look at it but not necessarily be rubber-stamping what they're proposing," Cornyn said. "So I would anticipate that we'll do what we used to do all the time which is, the House will pass a bill, we'll pass a bill and then we'll reconcile those in a conference committee."
That last part, of course, assumes that the Senate will get anything from the House to begin with. As I note above, the prospect of that happening anytime soon seems fairly low. Even if it happens, though, it's likely that what emerges from the Senate will end up being unpalatable to the more conservative elements in the House, thus putting House leadership back in the same quandary it's in right now since whatever emerges from the conference committee would have to be voted on again by the House, and any changes to mollify moderates would likely mean the loss of conservative votes. All of this is a long way of saying that the odds that the GOP will actually be able to pass a 'repeal and replace' bill are shrinking, anyone who says anything to the contrary is just making up facts at this point.