How Antonin Scalia May Save The Individual Mandate
A 2005 concurring opinion from Antonin Scalia may be the piece of legal reasoning that ultimately saves the Affordable Care Act in the Courts.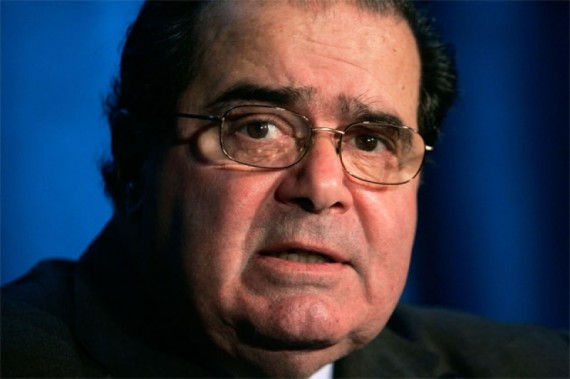 Yesterday's decision by Judge Roger Vinson has once again revived the ongoing legal battle over the constitutionality of the individual health insurance mandate. In that regard, it's worth taking note that a concurring opinion by one of the Supreme Court's most conservative justices may end up being the argument that saves Obamacare:
Lawsuits from 14 states challenging the constitutionality of the new national healthcare law face an uphill battle, largely due to a far-reaching Supreme Court ruling in 2005 that upheld federal restrictions on home-grown marijuana in California.

At issue in that case — just like in the upcoming challenges to the healthcare overhaul — was the reach of the federal government's power.

Conservative Justices Antonin Scalia and Anthony M. Kennedy joined a 6-3 ruling that said Congress could regulate marijuana that was neither bought nor sold on the market but rather grown at home legally for sick patients.

They said the Constitution gave Congress nearly unlimited power to regulate the marketplace as part of its authority "to regulate commerce."

Even "noneconomic local activity" can come under federal regulation if it is "a necessary part of a more general regulation of interstate commerce," Scalia wrote.
It's worth quoting at length from Scalia's concurrence in that case, Gonzalez v. Raich:
The authority to enact laws necessary and proper for the regulation of interstate commerce is not limited to laws governing intrastate activities that substantially affect interstate commerce. Where necessary to make a regulation of interstate commerce effective, Congress may regulate even those intrastate activities that do not themselves substantially affect interstate commerce.

(…)

Our cases show that the regulation of intrastate activities may be necessary to and proper for the regulation of interstate commerce in two general circumstances. Most directly, the commerce power permits Congress not only to devise rules for the governance of commerce between States but also to facilitate interstate commerce by eliminating potential obstructions, and to restrict it by eliminating potential stimulants. See NLRB v. Jones & Laughlin Steel Corp., 301 U.S. 1, 36—37 (1937). That is why the Court has repeatedly sustained congressional legislation on the ground that the regulated activities had a substantial effect on interstate commerce. See, e.g., Hodel, supra, at 281 (surface coal mining); Katzenbach, supra, at 300 (discrimination by restaurants); Heart of Atlanta Motel, Inc. v. United States, 379 U.S. 241, 258 (1964) (discrimination by hotels); Mandeville Island Farms v. American Crystal Sugar Co., 334 U.S. 219, 237 (1948) (intrastate price-fixing); Board of Trade of Chicago v. Olsen, 262 U.S. 1, 40 (1923) (activities of a local grain exchange); Stafford v. Wallace, 258 U.S. 495, 517, 524—525 (1922) (intrastate transactions at stockyard). Lopez and Morrison recognized the expansive scope of Congress's authority in this regard: "[T]he pattern is clear. Where economic activity substantially affects interstate commerce, legislation regulating that activity will be sustained." Lopez, supra, at 560; Morrison, supra, at 610 (same).

(…)

The regulation of an intrastate activity may be essential to a comprehensive regulation of interstate commerce even though the intrastate activity does not itself "substantially affect" interstate commerce. Moreover, as the passage from Lopez quoted above suggests, Congress may regulate even noneconomic local activity if that regulation is a necessary part of a more general regulation of interstate commerce. See Lopez, supra, at 561. The relevant question is simply whether the means chosen are "reasonably adapted" to the attainment of a legitimate end under the commerce power. See Darby, supra, at 121.
Applying that reasoning to the individual mandate would give a Justice a very easy way to find something that is seemingly not authorized by the Constitution to be completely acceptable:
Legislators argued that the "individual mandate" was necessary because it would undercut the insurance market if individuals could just opt out of having health insurance. Freeloaders could wait until they were hurt in an accident or contracted a disease and then demand insurance coverage for their "preexisting condition."

The court's ruling in the 2005 case, Gonzales vs. Raich, "is an enormous problem" for those who contend that the healthcare mandate is unconstitutional, said Simon Lazarus, a lawyer for the Washington, D.C.-based National Senior Citizens Law Center.

"It clearly says Congress has vast regulatory authority over interstate commerce," he said.
Some what wondered whether Scalia will be able to square a ruling against the mandate with his concurrence in Raich, but even if he can the reasoning stands as as powerful argument for a Justice like Anthony Kennedy to hang their argument on if they wished to uphold the mandate.And we'd have the most conservative "originalist" on the Court to thank for it.
Stay tuned because this is just starting to get interesting.