Judicial Activism: It's Not Just A River In Egypt
Judicial activism doesn't mean "reaching a decision I don't like."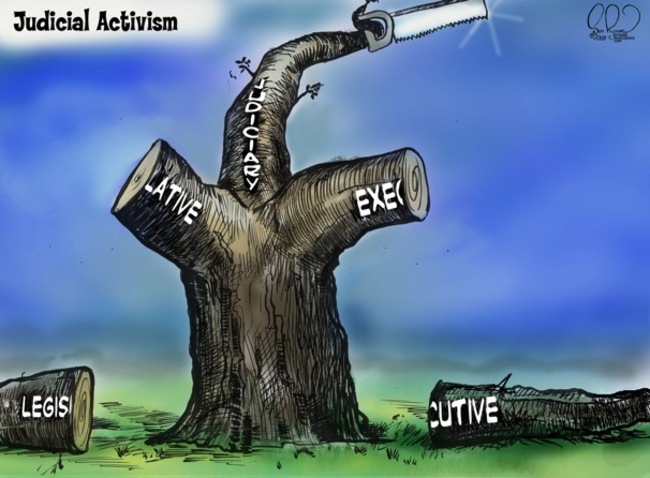 Since the Democrats assumed control of the entire federal government a couple of years ago, more than a few of the usual suspects has become quite enamoured of a phrase they used to loathe: "Judicial activism." And they've wielded this new toy with all the gusto, and skill, of a toddler using his new plastic mallet to 'fix' a fine Swiss watch.
Judicial activism, as generally used by those on the Right, does not refer to every action by the judiciary that results in an undesirable outcome. Rather, it is the act of reaching beyond the scope of the Constitution or the law to read into it things that simply aren't there. Or, as Black's Law Dictionary puts it, a:
philosophy of judicial decision-making whereby judges allow their personal views about public policy, among other factors, to guide their decisions.
IOW, judicial activism doesn't mean "reaching a decision I don't like." Many close legal questions come down to variances in philosophy without being activist. But it isn't actually hard to see the distinctions that lead the Right to consider Wickard v. Filburn or Hamdan v. Rumsfeld as "activist" but not Brown v. Board of Education or Heller v. District of Columbia.
The root of it, it seems, is a fundamental disconnect between the two sides of the aisle on the basic purpose and function of the judiciary and, by extension, their respective visions of the proper role of the government. Generalizing very broadly (all appropriate caveats assumed), the Left is concerned foremost with outcomes while the Right is primarily concerned with structure. Megan McArdle hit this nail on the head some time back:
Libertarians are process people, something that our political opponents find impossible to believe can be real, rather than disingenuous. So when I say that I think Lawrence v. Texas[*] might be the right result morally but the wrong result legally, it must be that I secretly want sodomy to be illegal, or at the very least don't care. Or when I am troubled by government intervening in the Chrysler bankruptcy process, it's because I hate unions. And of course, when I am against post-hoc legal judgments against bankers or their bonuses, it's just because I'm an apologist for rich people. But to a libertarian, process matters. Having a good process is better than getting a good outcome, because a good process is one that maximizes your chances of getting good outcomes over time.
Conservatives are indeed sometimes less consistent than libertarians in this regard, but the point is generally applicable to them, as well. The essence of conservatism is the understanding that mores, traditions, and customs that have evolved over centuries (IOW, processes that have been proven over time to work) should not be lightly cast aside merely because we think up a shiny new one.
The Constitution exists to provide the basic framework for the federal government but cannot delineate every possible contingency and, thus, must be interpreted and applied to varying circumstances. But respect for the contents of the document itself, rather than what we wish it said, is essential to the viability of our system of government. The document is silent as to who exactly is the arbiter of what it means. It implicitly assumes each branch of government has the right and the duty to make determinations as to what is and is not Constitutional and, thus, assumes that that push-pull between co-equal branches will lead to optimal results. The Supreme Court assigned to itself the role of having the final say in Marbury v. Madison, a perfectly reasonable decision (someone needs to have that job) that history has seen no reason to upset.
The Supremes have hardly been perfect in that role. Everyone, no matter their political persuasion, can identify egregious errors. One would be hard pressed, for instance, to find anyone who thinks overturning Plessy v. Ferguson was the wrong decision merely because that decision had stood for 58 years. The rightness of the Brown decision is acknowledged by everyone outside the fringes now. But the fact that pretty much everyone agrees with it is not why it was a good ruling – rather, everyone agrees because we understand that Plessy flew in the face of the plain text of the Constitution; it was an affront to the very principles of ordered liberty.
Where we disagree tends to be on the close questions of our own day, especially the ones that touch on the broad competing visions of the proper role of government. Striking down a law passed by a democratically-elected legislature is not necessarily "activism." Nor is upholding a law necessarily "restrained." It depends on whether or not the law violates the Constitution (and the primary failing I note in left-wing resort to the phrase "judicial activism" is that they ignore this rather significant distinction).
Accordingly, Judge Hudson's decision Monday striking down the individual mandate on the grounds that the Constitution does not empower the federal government to reach individual inactivity is entirely within the proper scope and function of the judiciary. The contrary decision upholding it, however, was activist because they found a never-before-contemplated scope to federal government power. The Michigan ruling, left unchecked, leaves almost nothing beyond the reach of the State – if the State can force you to enter into a commercial transaction with a health insurance company merely because you'll need medical care one day, the re is no cognizable restraint left upon it deciding to regulate your food, transportation, clothing, shelter, and a myriad of other choices you will eventually have to make.
I anticipate a spate of responses saying that all I've done here there is apply my own preferences in coming to a conclusion. Yet I also consider courts finding a Constitutional right to gay marriage "activist." Not, as with Megan's example quoted above, because I oppose gay marriage (I support it; in fact I've voted "Nay on gay marriage bans in two states), or hate/fear gays (sorry, no), or even because I don't think the government should be involved in marriage at all (FTR, I don't). No, strange though it may be to some, I actually think that such a hugely significant change in a cultural institution that's existed for millennia should be addressed democratically, not by judges straining to impose their preferred outcome on the populace. That's the case even though I agree with this particular outcome.
It's a shame that the notion that there are actually limits on federal power (other than, perhaps, on its capacity to interfere with personal license) is controversial. But that is where we are in the post-Wickard republic. The actual outcome of any given case ought not be especially important in the grand scheme of things, provided the process was sound, lest bad facts make bad law. Instead, we find ourselves squabbling over those very outcomes without regard to the precedent we're establishing. As already noted, precedent isn't sacrosanct, but it is powerful. Our system of ordered liberty depends on precedent not creating, or being created by, bad processes.
Judicial activism, substituting as it does individual preference for Constitutional principle, is the very essence of bad process. Doubtless the comments will now overflow with alleged acts of rightward judicial activism. Some will even be valid. But the phenomenon is nevertheless largely a creature of the Left, a natural byproduct of an expansive view of the purpose and powers of government in general. As used by them of late, however, the phrase itself is a just a substitute for critical thinking. They seem to think they're exposing hypocrisy or something, but I've yet to see it applied in a way that does anything other than prove they just don't get it. Nor can they so long as their focus is on specific outcomes, regardless of principle, rather than how those outcomes obtain.
—
* Lawrence overturned a Supreme Court precedent that was a mere 17 years old. Likewise, Boumediene v. Bush struck down a Congressional enactment. Yet I cannot recall ever hearing any of our friends to the left describe either as "activist."