How Much Did Money Matter In The Wisconsin Recall?
Was money the reason Scott Walker won on Tuesday? The available evidence says no.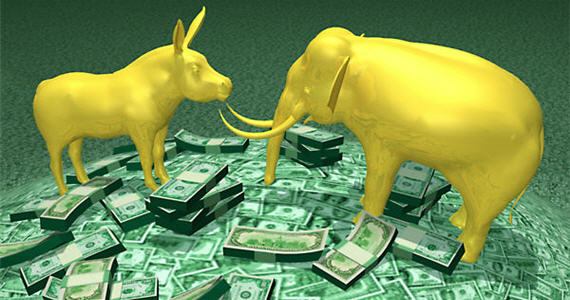 A common refrain one has been hearing in the two days since the Wisconsin Recall Election, and indeed even before then, is the assertion that money, and especially money from outside Wisconsin, is what helped Scott Walker beat Thomas Barrett for the second time in less than two years. Indeed, Walker vastly outraised Barrett ($30.5 million to $4 million), which a sizable portion of Walker's cash coming from outside the state. This has led some, such as David Horsey of The Los Angeles Times, to allege that Walker and his supporters "bought" the election, which seems like a nearly insurmountable advantage for Walker. Of course, it's worth noting that the money raised by the candidates accounted for only about one-half of the roughly $63.5 million raised and spent by both campaigns and outside groups during the course of the Recall Election. More importantly, though, thanks to the identity of the candidates there seems to be a very easy way of determining just how important Walker's fundraising advantage was:
What this election gave us is a rare and precious thing: a gubernatorial rematch. Walker and Barrett faced each other less than two years ago. Walker beat Barrett by five points back then, after raising $11 million to Barrett's $6 million. That is, Walker raised 65% of the funds raised by the Republican and Democratic candidates that year and he won 53% of the two-party vote. This week, Walker raised about 88% of the funds raised by the two candidates and he won — wait for it — 54% of the two-party vote.

So there's your money effect, folks. Go from a 2:1 money advantage to a 7:1 money advantage, and it could increase your vote share by a full percentage point! Woo hoo!

I don't mean to sound snide, but I'd say in general that if you pair the same candidates up against each other for the same office, you'll probably get similar results. And I'd say that the real lesson here is how little the electoral results changed after a vast change in financing.
The people who have reacted to the results of the recall by pointing out Walker's money advantage and asserting that it is the main reason that he managed to pull off a victory actually confuse me. Their basic argument seems to be that voters in general are so stupid that they will be swayed by the message they hear on television most frequently, or that voters even pay attention to such inside-the-beltway obsessions as which candidate has raised the most money. Isn't it possible that people voted for Scott Walker because they agreed with him, or at least because they didn't believe it was appropriate to initiate a recall under these circumstances? That certainly seems to be the implication from the exit polls. In addition to the voters overwhelming disapproval of the recall itself, there's also that rather interesting fact that, according to the exit polls, 6% of the people who voted for Barrett in 2010, and 45% of the people who didn't vote at all, voted for Walker on Tuesday. Were all these people deluded by the messages put forward by Walker and his money? That seems to be the implication of the "money in politics in evil" crowd, but it seems to me that any political position that starts out by assuming that your side lost because the voters are stupid is a recipe for failure.
Of course, that isn't to say that there aren't advantages to money in a political campaign. The vast sums that he raised in 2008 certainly helped President Obama in the process of organizing and executing a successful primary and general election campaign, for example, and it's unlikely that either Rick Santorum or Newt Gingrich would have made it through February if not for assistance from SuperPACs. However, having money doesn't guarantee success in politics. One need look no further than the campaigns of men like Rick Perry, Fred Thompson, Rudy Giuliani, and, from back in 1980, John Connolly, for proof of that. Had the people of Wisconsin been truly upset enough with Scott Walker to want to see him driven out of office, all the money in the world probably would not have been able to save him. As it was, the fact that he received more votes, and a higher percentage of the same, than he did in November 2010 would seem to establish that factors other than money were what drove people to the polls on Tuesday.
There is one factor worth noting here, though. The main reason that Walker was able to outraise Barrett by such a huge percentage is because of a quirk in Wisconsin law that allows a sitting Governor subject to a recall election to raise unlimited amounts of money while challengers are restricted to donations of no more than $10,000 per person. I can't say that I understand the logic behind that law, although it appears to be aimed at giving a sitting Governor a means to raise money to fight legal challenges. Nonetheless, it obviously gives an incumbent a huge advantage over his challenger, something that is generally true of all campaign finance laws. Had Walker been held to the same limit he was in 2010 when he was running for office against Barrett the first time, the fundraising disparity would likely have been about the same as it was in 2010. Would that have changed the outcome? Based on how the election turned out, it seems rather unlikely that it would have. Nonetheless, Wisconsinites might be well advised to take a look at that part of their election law. Or, better yet, get rid of recall elections altogether.
H/T: John Sides