Recall Elections Are Disruptive And Unnecessary
In an ideal world, today's Recall Election in Wisconsin would not even be legally possible.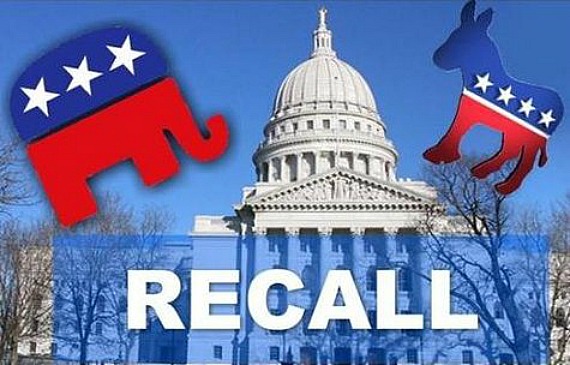 National Review's Jonah Goldberg has a column in today's Los Angeles Times in which he argues, as others have in the weeks leading up to today's Recall Election in Wisconsin, that recall elections are a bad idea:
In 2003, I was one of the few conservatives opposed to the recall of Gray Davis, arguably the worst California governor in modern memory.

Davis didn't deserve to stay in office, but the voters of California deserved to keep him. Democracy depends on accountability, not just for individual politicians but for their parties and programs.

As I noted in 2003, former New York Mayor Ed Koch summed up the principle nicely. During the disastrous tenure of his successor, David Dinkins, Koch was asked whether he would run again. Koch replied: "No! The people threw me out, and now the people must be punished."

That logic applies even more for recalls. If California had had its fiscal reckoning in 2004 or 2005, the state — and the country — would be much better prepared to deal with its economic problems than it is now. The Democratic Party in general, and the public sector unions in particular, would have been held accountable for their manifest failures, and instead of replacing Davis with a nominal Republican, voters would have been given a clearer choice.
Goldberg's argument is different from the one I made when I addressed this issue several weeks ago, but he's got a point here I think. Recall elections give upset voters the opportunity to conduct a do-over election that typically results in being little more than a referendum on the incumbents performance in office, thus making it less likely that the election would give voters a true choice between real alternatives. This was especially true in California, where the recall procedure allowed an essentially unlimited number of candidates on the ballot but the state itself meant that only high profile candidates actually ever had a chance to compete. The broader point, though, is that the voters had elected Gray Davis to the Governor's office in 1998 and then re-elected him in 2002. As it stood, he was term-limited and would have left after the 2006 in any case. Instead, one year into his second term, the voters were allowed a "do over" and they choose to kick Davis out and elect a man to the office who had no real connections to Sacramento and thus was clearly going to have difficulties pushing his agenda through the state legislature. Indeed, that is exactly what happened during Schwarzenegger's seven years in office and, in addition to not having dealt with the problems that arose during the Davis Administration, California is now having to deal with the the consequences of those years in office.
When I wrote about the issue of recall elections several weeks ago, I made this point:
 We elect officials to serve specific and set terms of office for a reason, among those reasons are the idea that it takes a certain amount of time for anyone, whether they are a State Legislator, Governor, Member of Congress, or President, to get settled into their role and begin enacting the agenda that they were elected to implement. Obviously, the people who voted against those officials aren't going to be happy with the policies that they implement, and indeed it is partly the job of the opposition party to stem the power of the majority run roughshod over the will of the minority, though. However, there comes a time when one must recognize that elections mean things and that one has to accept the outcome of an election while preparing for the next one. Additionally, there something to be said for the idea that politicians shouldn't be guided by poll numbers all the time and that a political system makes politicians more fearful of the partisan recall election would lead to governance by poll results. Most importantly, though I would argue that mere policy disputes shouldn't be sufficient reason to remove someone from office before their term is up.
Along with Initiative and Referendum, Recall was one of those electoral reforms that was brought into being during the Progressive Era, which is why you're most likely to find it in states where Progressives were politically successful like Wisconsin (home of men such as Robert LaFollette, Sr.) and California (home of prominent American Progressive Hiram Johnson). The idea, quite obviously, was to make it easier for the public to remove politicians from office and, at the time, it was primarily targeted at officeholders who were "in the pocket" of major industrial or railroad interest.
Perhaps there was a logic for at the time, although it's interesting to note that the power was used very sparingly from the 1920s until the 1980s.  For the most part, though, it strikes me that the Recall has the potential be a disruptive force rather than a reformative one. California saw it's political system essentially paralyzed for months once the recall process against Governor Davis had begun. Wisconsin has been a Recall battlefield for a year now, and what exactly has that accomplished? At this rate, whether or not he wins today Scott Walker will have to face the voters of Wisconsin against in 2014, as would Mayor Barrett should he win today. That means the state will have held three Gubernatorial elections in four years. Frankly, were I a voter in Wisconsin I'd be pretty much sick of all of it at this point, and indeed there is some evidence that such fatigue has started to set in among some Badger State residents. As I said above, we elect officeholders for set terms for a reason, and, though they may be rare, Recall elections disrupt that process and contribute to a general sense of political hyperpartisanship that is far too common in the country today. It's time we started getting rid of them.