Koch Brothers Under the Microscope
A major backer of Republican and Libertarian causes is under fire.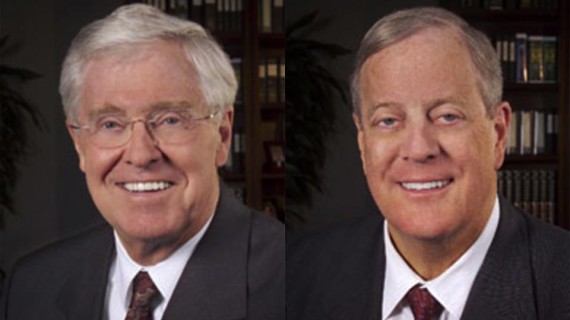 Several commenters have pointed to yesterday's Bloomberg report titled "Koch Brothers Flout Law Getting Richer With Iran Sales" asking for comment.
I'd briefly glanced at it yesterday morning and dismissed it as no big deal after skimming the opener:
In May 2008, a unit of Koch Industries Inc., one of the world's largest privately held companies, sent Ludmila Egorova-Farines, its newly hired compliance officer and ethics manager, to investigate the management of a subsidiary in Arles in southern France. In less than a week, she discovered that the company had paid bribes to win contracts. "I uncovered the practices within a few days," Egorova- Farines says. "They were not hidden at all."

She immediately notified her supervisors in the U.S. A week later, Wichita, Kansas-based Koch Industries dispatched an investigative team to look into her findings, Bloomberg Markets magazine reports in its November issue. By September of that year, the researchers had found evidence of improper payments to secure contracts in six countries dating back to 2002, authorized by the business director of the company's Koch-Glitsch affiliate in France. "Those activities constitute violations of criminal law," Koch Industries wrote in a Dec. 8, 2008, letter giving details of its findings. The letter was made public in a civil court ruling in France in September 2010; the document has never before been reported by the media.
Paying bribes to win contracts in foreign lands is illegal and rightly should be, since allowing the practice is tantamount to mandating it. It's also commmonplace in many countries, considered simply part of the cost of doing business.
I had a similar reaction after reading after this:
Koch-Glitsch is part of a global empire run by billionaire brothers Charles and David Koch, who have taken a small oil company they inherited from their father, Fred, after his death in 1967, and built it into a chemical, textile, trading and refining conglomerate spanning more than 50 countries.

Koch Industries is obsessed with secrecy, to the point that it discloses only an approximation of its annual revenue — $100 billion a year — and says nothing about its profits.

The most visible part of Koch Industries is its consumer brands, including Lycra fiber and Stainmaster carpet. Georgia- Pacific LLC, which Koch owns, makes Dixie cups, Brawny paper towels and Quilted Northern bath tissue.

Charles, 75, and David, 71, each worth about $20 billion, are prominent financial backers of groups that believe that excessive regulation is sapping the competitiveness of American business. They inherited their anti-government leanings from their father.
Lots of rich people are obsessed with secrecy and go to extreme lengths to hide how much money they make. Considering that "Koch Brothers" is an epithet in some circles the ways "George Soros" is in others, it's even more understandable in their case.
I quit reading after this paragraph:
Fred was an early adviser to the founder of the anti- communist John Birch Society, which fought against the civil rights movement and the United Nations. Charles and David have supported the Tea Party, a loosely organized group that aims to shrink the size of government and cut federal spending.
While I'm not a fan of the Tea Part's tactics and the Know Nothingism of some of its leadership, insinuating that it's the modern day equivalent of the John Birch Society is risible.
After that ridiculously long setup and a bit more, the article finally gets to a point:
A Bloomberg Markets investigation has found that Koch Industries — in addition to being involved in improper payments to win business in Africa, India and the Middle East — has sold millions of dollars of petrochemical equipment to Iran, a country the U.S. identifies as a sponsor of global terrorism.

Internal company documents show that the company made those sales through foreign subsidiaries, thwarting a U.S. trade ban.
This is quite problematic, indeed. But, oddly, the authors, Asjylyn Loder and David Evans, immediately lose the scent and go down the wrong rabbit hole–without even bothering to start a new paragraph:
Koch Industries units have also rigged prices with competitors, lied to regulators and repeatedly run afoul of environmental regulations, resulting in five criminal convictions since 1999 in the U.S. and Canada.

From 1999 through 2003, Koch Industries was assessed more than $400 million in fines, penalties and judgments. In December 1999, a civil jury found that Koch Industries had taken oil it didn't pay for from federal land by mismeasuring the amount of crude it was extracting. Koch paid a $25 million settlement to the U.S.

Phil Dubose, a Koch employee who testified against the company said he and his colleagues were shown by their managers how to steal and cheat — using techniques they called the Koch Method.
They mention a 1999 jury verdict in Texas and a guilty plea in 2001 of lying to regulators and note that, "Former Koch employees in the U.S. and Europe have testified or told investigators that they've witnessed wrongdoing by the company or have been asked by Koch managers to take what they saw as improper actions."
It's a portrait of a company that, as recently as 2003 anyway, had a corporate culture–at least in some of its subsidiaries–of flouting the law and ethical principles and treating fines, civil jury verdicts, and even criminal penalties as the cost of doing business. It's interesting stuff, I suppose but, even though I was completely unaware of any of this, it's all part of the public record and not exactly news–which is, by definition, new.
As best I can tell, the only potentially new thing in the story is the allegations about Iran sales. I quoted the entirety of that reporting–two sentences–above. And, unlike the other reporting in the story, there's no mention of dates. Much later in the piece, split between two section headers, that story seems to be strongly undercut:
Melissa Cohlmia, Koch's director of corporate communications, said in an e-mailed statement that the company has developed a good relationship with environmental regulators and now complies with all rules. Cohlmia says the company has learned lessons from past mistakes, including the improper payment scheme that Koch outlined in its letter filed in French court.

"We are proud to be a major American employer and manufacturing company with about 50,000 U.S. employees," she wrote. "Given the regulatory complexity of our business, we will, like any business, have issues that arise. When we fall short of our goals, we take steps to correct and address the issues in order to ensure compliance."

Cohlmia says Koch fired the employees and sales agents involved in the illicit payments and strengthened internal controls.

Regarding sales to Iran, she wrote, "During the relevant time frame covered in your article, U.S. law allowed foreign subsidiaries of U.S. multinational companies to engage in trade involving countries subject to U.S. trade sanctions, including Iran, under certain conditions." Koch has since stopped all of its units from trading with Iran, she says.
So . . . it wasn't actually illegal to sell things to Iran via their foreign subsidiaries? And this is the allegation that merited the headline, despite being oddly buried.
Basically, this is a compilation of several very old stories to weave together a picture of a corrupt corporate culture that existed as recently as 2003 and, presumably, given that the same two old men are in charge, still exists.
So, what's the point of all this? Well, of course, the Koch brothers are major players in Washington politics and we are to draw the conclusion that the same disregard for ethics applies in that arena, too. But they provide no evidence beyond insinuation.
The feature could have benefited strongly from a decent editor. It's poorly organized, with common threads broken into scattered pieces and the important information buried late in the story. Even individual paragraphs don't necessarily unite around a single theme.
The bottom line seems to be the Koch Industries at least occasionally pushes the envelope of ethical and legal propriety and that they invest a lot of money into political lobbying and campaigns. But this is all a matter of public record. The "new" thing seems to be aggregating it all into one long, poorly organized story.
UPDATE: ProPublica has a good breakdown on the story that I'm appending here in full via their "steal our stories" license:
What Are the Latest Revelations About Koch Industries?
Undisputed: Koch's subsidiaries in Europe got contracts through bribes in at least six countries.

In 2008, in the wake of a $1.6 billion settlement by the German engineering giant Siemens for bribing officials around the world, Koch conducted an internal investigation of its own payment practices. The company found that its France-based affiliate, Koch-Glitsch, had paid illegal bribes to secure contracts in India, Africa and the Middle East, including bribes to government officials, a practice banned by the Foreign Corrupt Practices Act. In response, Koch fired several employees and sales agents, including the business director of Koch-Glitsch France.

Disputed: Was Koch's response sufficient?

According to Bloomberg's analysis of French court documents, Koch failed to hold higher-level officials accountable for the bribery payments. Koch said Koch-Glitsch's president for Europe and Asia "had no knowledge" of the misconduct. Koch also ended up firing the ethics manager who first conducted its investigation, and French labor courts upheld the firing as fair.

Context: Many corporations make bribes — and pay fines for breaking the law.

Many large companies have been investigated for bribery of foreign officials, includingHewlett-Packard and Motorola. The U.S. has recently stepped up its enforcement of the Foreign Corrupt Practices Act, including a preliminary investigation this year into whether News Corp. may have violated the act. A recent survey of business executives found that only 30 percent were "very confident" that their existing policies would prevent bribery.

Undisputed: Koch's European subsidiary sold petrochemical equipment to Iran, which seems to be perfectly legal.

While American companies have been banned from trading with Iran since 1995, Koch's European subsidiary, Koch-Glitsch, sold equipment to a unit of Iran's National Petrochemical Company for nearly a decade. The equipment helped construct an ethanol processing plant. Koch's legal counsel told The Washington Post that the sales totaled roughly 15 million euros over nine or 10 years, and that the equipment sold had "no military, weapons, or nuclear application whatsoever."

As Bloomberg notes, while the sales to Iran may be controversial, they appeared to be legal since no U.S. citizens or U.S.-based divisions of the company were involved. Instead, Koch did the business at arms length through Koch-Glitsch offices in Germany and Italy.

Disputed: Was it wrong for a Koch subsidiary to do business with Iran?

Bloomberg described internal documents demonstrating that Koch took a rigorous approach to following the letter of the law, but suggested more investigation might be appropriate. Koch's general counsel told The Washington Post that the company voluntarily ended all sales to Iran in 2005 or 2006. (Bloomberg reported records of sales to Iran until 2007.) Koch dismissed comments by what it called a "disgruntled former employee" who told Bloomberg she felt the company's dealings with Iran had betrayed itsstated core principal of integrity.

Context: Koch is one of many corporations that have done business with Iran.

Many other American companies, including Halliburton and GE, have done business with Iran through subsidiaries, and as The Washington Post's Jennifer Rubin pointed out, a few were still doing so after Koch ended its ties to Iran.

As well as these new criticisms of Koch's corporate behavior, the Bloomberg article and Koch's response revisited several previously reported scandals, including millions of dollars in settlements the company paid after it failed to pay for $31 million worth of crude oil it took from Indian land, made false statements to cover up illegal emissions of the toxic chemical benzene at a Texas plant, and accepted responsibility for the deaths of two Texas teenagers who died in an explosion caused by a leak in a gas pipeline with a well-documented history of corrosion.
This is a non-partisan source that partners with TalkingPointsMemo, the Washington Post, and others hardly prone to Koch sympathies. And they've independently reached essentially the same conclusions as I did.