Koch Political Network Distancing Itself From Trump's Republican Party
A powerful political network is distancing itself from the Trump-dominated Republican Party.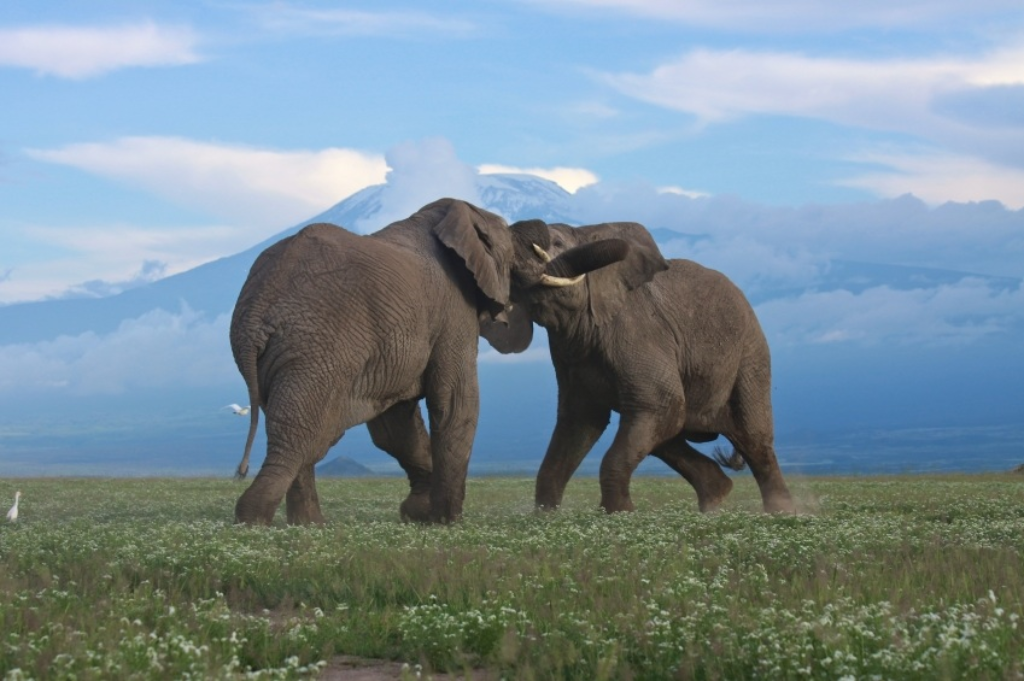 The political fundraising network created by two of the most prominent fundraisers on the right, Charles and David Koch, appears to be distancing itself from the Republican Party in the Trump Era, most especially due to developments such as the President's adoption of a protectionist trade policy that the Koch Brothers, and those allied with them, have spoken out against numerous times over the years.
The first evidence of this came over the weekend when The Washington Post reported that top officials in the Koch network were seeking to distance themselves from the political scene on the right in Washington:
COLORADO SPRINGS — Top officials with the donor network affiliated with billionaire industrialist Charles Koch this weekend sought to distance the network from the Republican Party and President Trump, citing tariff and immigration policies and "divisive" rhetoric out of Washington.

At a gathering of hundreds of donors at the Broadmoor resort here, officials reiterated their plans to spend as much as $400 million on policy issues and political campaigns during the 2018 cycle. Earlier this year, they announced heavy spending aimed at helping Republicans to hold the Senate. But in a warning shot at Trump and the GOP, network co-chair Brian Hooks lamented "tremendous lack of leadership" in Trump's Washington and the "deterioration of the core institutions of society."

He called out the White House and Trump-allied GOP lawmakers, particularly over trade policy and increased federal spending, and added that "the divisiveness of this White House is causing long-term damage."

In remarks to reporters Sunday, Koch — now solely at the helm after the retirement of his ailing brother David this year — stopped short of blaming the president personally for the political divisions.

"We've had divisiveness long before Trump became president and we'll have it long after he's no longer president," he said. "I'm into hating the sin, not the sinner."

Asked about Democrats possibly retaking control of the House, he said: "I don't care what initials are in front, or after, somebody's name. . . . I'd like there to be many more politicians who would embrace and have the courage to run on a platform like this."

In reality, the network is expected to be a powerful force for the political right during the midterm elections, particularly in states where Senate Democrats are most vulnerable. It is also heavily backing the confirmation of federal judge Brett M. Kavanaugh to the Supreme Court. Some of the network's biggest donors and most experienced activists are Trump's most ardent supporters.

But some of Trump's most ­controversial actions break sharply with the priorities of the libertarian-leaning network, which opposes Trump's tariffs on foreign goods and his hard line on immigration, including the now-suspended zero-tolerance policy that saw hundreds of migrant families separated at the border.

And the criticism, coming just months before midterm elections in which the control of Congress hangs in the balance, was significant considering the enormous sway the Koch network has had over the years in helping the GOP gain and hold on to power.

At the three-day gathering, network leaders pointed to their recent ad campaigns thanking Sen. Heidi Heitkamp (D-N.D.) for co-sponsoring legislation that rolled back Dodd-Frank financial regulations, and attacking Rep. Lou Barletta (R-Pa.) — the Trump-backed candidate for Senate against incumbent Sen. Robert P. Casey Jr. (D) — for a vote to increase federal spending.

"I know this is uncomfortable. It was uncomfortable for me, too," Emily Seidel, chief executive of the network's political arm Americans for Prosperity, said in her Sunday briefing to donors. "The fact that we're willing to do this during an election year shows everyone that we're dead serious."

"This network will no longer follow anyone's lead or be taken for granted," Seidel said, as donors applauded.

The network is holding education sessions for its activists across the country to extol the value of free trade and pro-immigrant laws, and countering Trump's approaches on both issues. They are undertaking what officials described as a "a multiyear, multimillion-dollar commitment" to promote the benefits of free trade.

In interviews before this weekend's confab, several donors said they are glad to see the network taking a more independent tone publicly, praising it as the type of views that attracted many of them to Charles Koch in the first place.

But some expressed anxiety about a Democratic-led House becoming reality.

"A lot of libertarians are big advocates for divided government. Divided government might end up with some resolutions for some of these issues where we're more aligned with the other side, like enabling DACA kids to have certainty, or trade," said Frayda Levin, a Koch donor from New Jersey. "At the same time, personally, I don't know that I'd be happy to see Nancy Pelosi as speaker."

Tom Shepherd, a businessman from Ohio who is a Koch donor, said, "I think that holding Republicans and Democrats accountable for decisions and votes that violate our principles is extremely helpful."

Asked if he would stand by the network if it began endorsing Democrats or if its activities cost the GOP its House majority, Shepherd said: "Absolutely. I have no problem with it whatsoever."

Network officials said their work on veterans' and criminal justice issues served as a model for future policy wins, citing their willingness to work with Democrats and new allies on their priorities."
Buzzfeed's Tarini Parti has more:
The influential political network affiliated with billionaire Charles Koch is trying to distance itself from the Republican Party — a dramatic shift for the cluster of groups known for spending hundreds of millions in support of Republican candidates and causes over the last decade.

The donors, like most other Republicans, have struggled to impose their will on President Donald Trump outside of tax policy, some deregulation efforts, or his court nominations. Now, they're planning to use what weight they have left to try to keep others in the Republican Party loyal to their conservative ideology ahead of the midterm elections.

At a gathering this weekend of more than 500 donors at a resort in the foothills of the Rocky Mountains, the euphoria over last year's tax law had faded. In its place was concern over how Trump's protectionist trade policies, anti-immigration policies, and a spike in government spending would threaten the free markets and limited government libertarian-leaning ideology that Koch and his conservative allies have long advocated for.

Just a few months ago, the Koch network was signaling significant investments to protect the Republican majorities in Congress in November. But now, the network's officials are repeatedly stressing that they will be more selective about the Republicans they support and will withhold support for — and even attack — Republicans who are doing little to stand up to the president when he acts against their conservative ideology.

"We're going to be much stricter," Koch told reporters in a rare, on-the-record interview about which politicians Koch-backed groups support. "We're going to more directly deal with that and hold people responsible for the commitments."

The network, which has a budget of as much as $400 million on policy and politics, is also open to going as far as showing some support for Democrats who have worked in a bipartisan way on issues Koch has prioritized, including criminal justice reform, financial deregulation, and immigration. The shift comes as David Koch has stepped down from the network for health reasons. But top officials argue that this "movement transcends the Kochs.

In the interview, Charles added that he regrets supporting some Republicans, though he did not specify who, and will focus his network's future endorsements and donations on candidates who are open to building coalitions to work on issues important to them, regardless of party affiliation. "I don't care what initials are in front or after somebody's name."

(…)

Amid the president's tough talk on law and order and immigration, two of the issues that the Koch network focused on were criminal justice reform and finding a solution for young undocumented DREAMers. A significant bloc of Republicans in Congress oppose both issues. During one briefing for reporters, a DREAMer sat alongside network officials and broke down in tears as he told his story. "When I hear the national anthem, I get goosebumps," said Hilario Yanez, a Texan who was brought to the US by his mother when he was 1 year old. "Honestly, I don't know what my future looks like. It sucks."

And as few Republicans challenge the president on his trade policy and resulting $12 billion farmer bailout, the network showed donors a five-minute video in which Koch warns them of the dangers of protectionism as it relates to trade and immigration policies.

Speaking over images of a divided Germany, North Korea, and South Korea, and failed companies like Blockbuster and Circuit City, Koch says in the video: "We're seeing a rise in 'protectionism' where countries, organizations, and individuals are trying to protect themselves from these changes.

"They're doing whatever they can to close themselves off from the new, hold onto the past and prevent change. This is a natural tendency, but it's a destructive one. Because when people act in protectionist ways, they erect barriers, which makes everyone worse off. The urge to protect ourselves from change has doomed many countries throughout history."

Asked if the video, which never names Trump, was intended as a subtle message to the president and his supporters, Hooks responded: "There is nothing subtle about it."
Here's the video mentioned in the above article:
One signal of the new direction the Koch network appears to be taken came fairly quickly after the weekend meeting in the form of an interview with Charles Koch in which he said that he'd be willing to support and work with Democrats who support his values, something that can be seen in the recent pushes that Koch-backed groups have made in areas such as criminal justice reform where they've allied themselves with groups like the American Civil Liberties Union and Democratic politicians like New Jersey Senator Cory Booker. Additionally, as various news outlets such as The Daily Beast and CBS News have reported that the network has allied with pro-immigration groups to lobby for efforts to protect beneficiaries of the Deferred Action For Childhood Arrivals (DACA) program as well as other so-called Dreamers who were brought to the United States illegally by their parents when they were children.
Perhaps the most dramatic example of the growing split, though, came yesterday when the Koch network announced that it would not be supporting Kevin Cramer, the Republican Congressman seeking to unseat incumbent Democratic Senator Heidi Heitkamp:
The powerful Koch political network won't help the Republican nominee in a crucial Senate race less than 100 days before the midterm elections, saying Rep. Kevin Cramer (R-N.D.) doesn't do enough to further the Koch's policy issues to warrant their help.

And as the Koch network pushes Republicans to not take its support for granted, the network has quietly taken other steps to withhold its support from Senate candidates it sees as out-of-line with its views, despite the party's push to maintain or expand its majority this fall.

Cramer was the first Republican Senate candidate to be publicly jettisoned by the powerful Koch network this cycle. But during a private briefing over the weekend, donors were given a hand-out that indicated the network is also currently not supporting Senate candidates in two other key states — Indiana and Nevada — according to a photo of the document obtained by POLITICO.

Cramer, who is challenging Sen. Heidi Heitkamp (D-N.D.) in a must-win contest that could decide the balance of power in the Senate during the next Congress. In pushing him aside, Koch officials were clear to the donors that they are sending a message: Republicans in Congress should not take their support for granted.

Standing in front of a 20-foot high photo of Cramer projected on a screen, Americans for Prosperity president Tim Phillips told hundreds of top conservative donors that Cramer is "inconsistent" on a range of other issues that are key to the Koch network, such as reducing government spending and supporting free trade.

"We can't support him at this time. And to be clear, we've met with his team, explained this, and lobbied him on this to change their ways," Phillips said.

"There are risks involved any time you take a stand," said Emily Seidel, CEO of Americans for Prosperity. "Why would Cramer or any other Republican feel like they need to listen to this network if they know we'll support them anyway?"

Not everyone here at the Koch network's biannual confab agrees: Dan K. Eberhart, a donor to the Koch network and fundarising vice chairman for Cramer's campaign, said that "Kevin Cramer is an excellent public servant who looks out for North Dakota."

"This proves he isn't bought," Eberhart added.

Cramer's campaign shrugged off the snub. "As I have always said, I work for the people of North Dakota and will always vote with them in mind," Cramer said in a statement. "My voting record may not be exactly what every national organization wants, but it is exactly what the majority of North Dakotans expect."
Notwithstanding the bravado from Cramer's campaign in the wake of this announcement, this development most certainly is to his disadvantage. Cramer is already trailing Senator Heitkamp in fundraising even though he is narrowly leading in the polls, and the fact that he won't have the big wallets of the Koch network in his corner could end up proving problematic in an election where Heitkamp remains popular in her home state notwithstanding the fact that it voted overwhelmingly for President Trump in 2016.
This isn't the first time that the Koch network has backed away from a Republican candidate in a tight race, of course. In 2016, they declined to back Kelly Ayotte in her re-election bid in New Hampshire, although in that case, it appears that the decision was motivated as much by the fact that Ayotte seemed guaranteed to lose her race to Governor Maggie Hassan which, of course, she did. Additionally, the Koch brothers and their network refused to support Trump in either the race for the Republican nomination or the General Election, a snub which Trump reportedly took personally. Additionally, as noted above the Koch network has spent heavily in areas that have often put it at odds with Administration policy such as criminal justice reform and immigration policy.
It's also worth noting that this doesn't mean that the network is walking away from Republican politics altogether. They've already announced that they plan to spend up to $400 million backing candidates in this election cycle, assistance that the GOP will no doubt appreciate in what is shaping up to be a difficult year for the GOP. This comes after the network had spent close to a billion dollars on political causes during the 2016 election cycle, which is more than twice what they had spent in 2012 even though not all of that money was spent backing specific candidates. What the results of this weekend's meeting seem to mean, though, is that the network plans to be more selective in which candidates they choose to back, and that we're not likely to see reflexive support for the GOP as long as it continues to back Trump when it comes to issues like trade and immigration
Not surprisingly, these new moves by the Koch network are already getting some pushback from the Trumpidian wing of the Republican Party. Over the weekend, for example, Steve Bannon told the network that it needs to "shut up" and back the President and this morning, the President himself lashed out against the Koch Brothers and their network in a way you'd expect a Democrat to do:
President Donald Trump lashed out Tuesday morning at the billionaire conservative donor Koch brothers, who Trump said "have become a total joke in real Republican circles," in the wake of their sharp criticism of the president and his trade policies.

"The globalist Koch Brothers, who have become a total joke in real Republican circles, are against Strong Borders and Powerful Trade. I never sought their support because I don't need their money or bad ideas," the president wrote on Twitter. "They love my Tax & Regulation Cuts, Judicial picks & more. I made them richer."

The Koch's network of donors met last weekend in Colorado Springs, Colorado, where the Kochs' criticism of the president, especially on trade, came to the forefront. Charles Koch, who leads the donor network, said in a video presentation at the meeting that a "rise in protectionism" represents "a natural tendency, but it's a destructive one."

Brian Hooks, a top deputy of Charles Koch, was blunt in his criticism of the president's leadership.

"The divisiveness of this White House is causing long-term damage," Hooks said during a briefing with reporters. "When in order to win on an issue someone else has to lose, it makes it very difficult to unite people and solve the problems in this country. You see that on trade: In order to get to a good place on trade, convince the American people that trade is bad."

Although the Kochs have long been among the most influential conservative donors in the country, they have largely withheld support from Trump, mostly sitting out the 2016 election cycle during which he was elected. The relationship between the president and the Kochs had seemed to warm somewhat with the passage of Trump's package of tax cuts and reforms, which the donor network supported.
Here are Trump's tweets on the Koch Brothers:
The globalist Koch Brothers, who have become a total joke in real Republican circles, are against Strong Borders and Powerful Trade. I never sought their support because I don't need their money or bad ideas. They love my Tax & Regulation Cuts, Judicial picks & more. I made…..

— Donald J. Trump (@realDonaldTrump) July 31, 2018
….them richer. Their network is highly overrated, I have beaten them at every turn. They want to protect their companies outside the U.S. from being taxed, I'm for America First & the American Worker – a puppet for no one. Two nice guys with bad ideas. Make America Great Again!

— Donald J. Trump (@realDonaldTrump) July 31, 2018
On some level, this split between what's left of the libertarian-ish wing of conservative that the Koch network represents and the increasingly powerful and influential Trumpidian wing was inevitable. While the Koch's and their supporters were arguably fine with many of the economic and fiscal policies that the Administration pursued during the first year of Trump's Presidency, most specifically including the tax reform law passed in December and the rollback of certain Obama Era regulatory schemes, things were inevitably headed for a clash once Trump turned his attention to both a protectionist trade policy and an immigration policy far more restrictive than the Koch's, or any of their supporters, are inclined to support. The only question now is whether any Republicans of note join this mini-rebellion, or if they continue to support the President even if it leads to their rather predictable doom.