Ed Koch Dead at 88
Ed Koch, former mayor of New York City and one of America's most colorful politicians, has died at 88.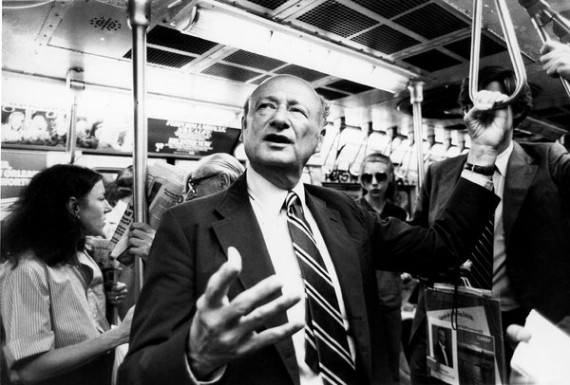 Ed Koch, former mayor of New York City and one of America's most colorful politicians, has died at 88.
NYT ("Colorful, Candid New Yorker Who Led City Through Crises"):
Edward I. Koch, the master showman of City Hall, who parlayed shrewd political instincts and plenty of chutzpah into three tumultuous terms as mayor of New York with all the tenacity, zest and combativeness that personified his city of golden dreams, died Friday morning at age 88.

Mr. Koch's spokesman, George Arzt, said the former mayor died at 2 a.m. from congestive heart failure. He was being treated at New York-Presbyterian Columbia Hospital.

[…]

His 12-year mayoralty encompassed the fiscal austerity of the late 1970s and the racial conflicts and municipal corruption scandals of the 1980s, an era of almost continuous discord that found Mr. Koch at the vortex of a maelstrom day after day.

But out among the people or facing a news media circus in the Blue Room at City Hall, he was a feisty, slippery egoist who could not be pinned down by questioners and who could outtalk anybody in the authentic voice of New York: as opinionated as a Flatbush cabby, as loud as the scrums on 42nd Street, as pugnacious as a West Side reform Democrat mother.

"I'm the sort of person who will never get ulcers," the mayor — eyebrows devilishly up, grinning wickedly at his own wit — enlightened the reporters at his $475 rent-controlled apartment in Greenwich Village on Inauguration Day in 1978. "Why? Because I say exactly what I think. I'm the sort of person who might give other people ulcers."

His political odyssey took him from independent-minded liberal to pragmatic conservative, from street-corner hustings with a little band of reform Democrats in Greenwich Village to the pinnacle of power as New York City's 105th mayor from Jan. 1, 1978, to Dec. 31, 1989. Along the way, he ousted the Tammany boss Carmine G. De Sapio and served two years as a councilman and nine more in Congress representing, with distinction, the East Side of Manhattan.

With his trademark — "How'm I doin?" — Mr. Koch stood at subway entrances on countless mornings wringing the hands and votes of constituents, who elected him 21 times in 26 years, with only three defeats: a forgettable 1962 State Assembly race; a memorable 1982 primary in a race for governor won by Mario M. Cuomo; and a last Koch hurrah, a Democratic primary in 1989 won by David N. Dinkins, who would be his one-term successor.

In retrospect, how did he do?

By the usual standards of measuring a former mayor's legacy — the city he inherited, the challenges he faced, the resources available to meet those challenges and the extent to which his work endured beyond his term — historians and political experts generally give Mr. Koch mixed-to-good reviews.

Most important, he is credited with leading the city government back from near bankruptcy in the 1970s to prosperity in the 1980s. He also began one of the city's most ambitious housing programs, which continued after he left office and eventually built or rehabilitated more than 200,000 housing units, revitalizing once-forlorn neighborhoods.

Politically, Mr. Koch's move to the right of center was seen as a betrayal by some old liberal friends, but it gained him the middle class and three terms in City Hall. He was also the harbinger of a transformation in the way mayors are elected in New York, with candidates relying less on the old coalition of labor unions, minority leaders and Democratic clubhouses and more on heavy campaign spending and television to make direct appeals to a more independent-minded electorate.

[…]

His first term, students of government say, was his best. Confronted with the deficits and the constraints of the city's brush with bankruptcy in 1975, he held down spending, subdued the municipal unions, restored the city's creditworthiness, revived a moribund capital budget, began work on long-neglected bridges and streets, cut antipoverty programs and tried to reduce the friction between Manhattan and the more tradition-minded other boroughs.

Re-elected in 1981 with a record 75 percent of the vote — he became the first mayor in the city's history to get both the Democratic and the Republican nominations — Mr. Koch markedly improved the city's finances in his second term. Helped by a surging local economy, state aid and rising tax revenues, the city government, with a $500 million surplus, hired workers back and restored many municipal services. He also made plans for major housing programs, improvements in education and efforts to reduce welfare dependency.

[…]

He was drafted into the wartime Army in 1943 and earned two battle stars in Europe as an infantryman. After V-E Day, because he could speak German, he was sent to Bavaria to help remove Nazi public officials from their jobs and finding non-Nazis to take their place. He was a sergeant when discharged in 1946.

After the war, he moved back in with his parents but did not return to undergraduate studies. (City College awarded him a bachelor's degree in 1981.) Instead, he went to law school at New York University. He received his law degree in 1948, was admitted to the bar in 1949 and over the next 20 years practiced law in New York City, becoming a founding partner of Koch, Lankenau, Schwartz & Kovner in 1963.

[…]

Out of office, Mr. Koch remained influential in New York politics. He crossed party lines to support Mr. Giuliani in the 1993 mayoral election, an endorsement crucial to Mr. Dinkins's defeat. But Mr. Koch later turned against Mr. Giuliani, flaying him as "a good mayor but a terrible person" and refusing to endorse him for a second term.

Mr. Koch endorsed Mr. Bloomberg's successful races for mayor as a Republican in 2001 and 2005, calling him about "as Republican as I am." (Mr. Bloomberg later refashioned himself as an independent.) And when Mr. Bloomberg engineered a legislative finesse of term-limits laws to run for a third term in 2009, Mr. Koch backed him and called for an end to term limits.

In presidential races, Mr. Koch went back and forth. He supported the losing Democratic ticket of Al Gore and Joseph I. Lieberman in 2000, but joined the Bush-Cheney re-election bandwagon in 2004 and promoted the Republican National Convention in New York, urging New Yorkers to "make nice" to conventioneers. By 2008, he was back with the Democrats, supporting Hillary Rodham Clinton's bid for the nomination and, when she lost, switching to Mr. Obama.
Koch was an authentic character who did what so many politicians aspire to but so few do: stayed to true to himself and let the chips fall where they may.