The Corruption of Justice Thomas
We need reform.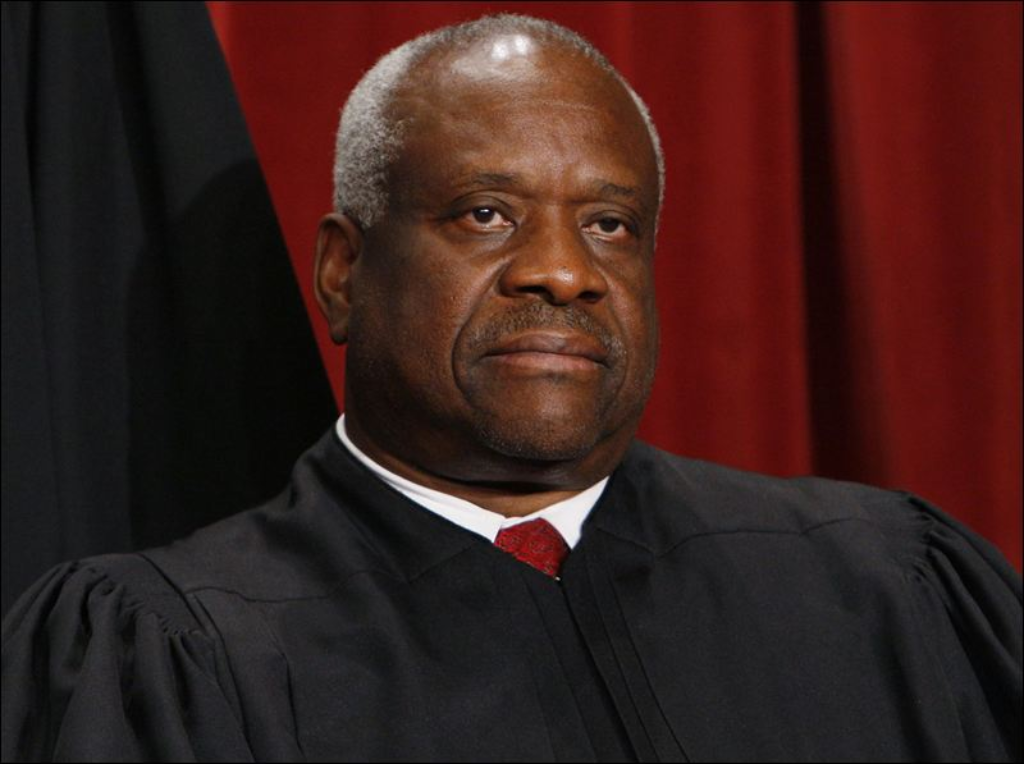 Yet again, ProPublica has a damning report on Clarence Thomas' undisclosed interactions with billionaires. While the previous reports were explained away (poorly, in my view) as being interactions with a friend, this report is even more straightforwardly an example of very wealthy persons and activists having influence over Thomas. The title of the piece underscores the basics, Clarence Thomas Secretly Participated in Koch Network Donor Events.
The piece starts with a specific example in 2018.
During the summit, the justice went to a private dinner for the network's donors. Thomas has attended Koch donor events at least twice over the years, according to interviews with three former network employees and one major donor. The justice was brought in to speak, staffers said, in the hopes that such access would encourage donors to continue giving.

That puts Thomas in the extraordinary position of having served as a fundraising draw for a network that has brought cases before the Supreme Court, including one of the most closely watched of the upcoming term.

[…]

Thomas' involvement in the events is part of a yearslong, personal relationship with the Koch brothers that has remained almost entirely out of public view. It developed over years of trips to the Bohemian Grove, a secretive all-men's retreat in Northern California. Thomas has been a regular at the Grove for two decades, where he stayed in a small camp with real estate billionaire Harlan Crow and the Kochs, according to records and people who've spent time with him there.
Anyone who has been paying attention to the ongoing Thomas revelations will not be surprised to learn that Thomas did not disclose any of this (including a private jet ride to the event).
The code of conduct for the federal judiciary lays out rules designed to preserve judges' impartiality and independence, which it calls "indispensable to justice in our society." The code specifically prohibits both political activity and participation in fundraising. Judges are advised, for instance, not to "associate themselves" with any group "publicly identified with controversial legal, social, or political positions."

But the code of conduct only applies to the lower courts. At the Supreme Court, justices decide what's appropriate for themselves.

"I can't imagine — it takes my breath away, frankly — that he would go to a Koch network event for donors," said John E. Jones III, a retired federal judge appointed by President George W. Bush. Jones said that if he had gone to a Koch summit as a district court judge, "I'd have gotten a letter that would've commenced a disciplinary proceeding."

"What you're seeing is a slow creep toward unethical behavior. Do it if you can get away with it," Jones said.
The lack of a real code of conduct is a major problem for the Supreme Court. This is especially true given that they serve life terms, and while it is on condition of "good behavior" we all know that the odds of a SCOTUS Justice being impeached and removed by the US Congress for the kind of unethical behavior that Thomas is clearly engaging in is zero.
The overall situation is well summarized as follows.
"What we're seeing emerge is someone who is living his professional life in a way that's seeing these extrajudicial opportunities as a perk of the office," said Charles Geyh, a judicial ethics expert at Indiana University law school. Judges can have social lives, he said, and there are no clear lines for when a social gathering could pose a problem. But the confluence of powerful political actors and undisclosed gifts puts Thomas' trips far outside the norm for judges' conduct, Geyh said: "There's a culture of impartiality that's really at risk here."
I recommend the whole piece as it pertains to the fundraising events and to the Grove. But let's focus on a potentially significant result of all of this behavior.
While most Americans aren't familiar with the 1984 case Chevron v. NRDC, it's one of the Supreme Court's most-cited decisions. Legal scholars sometimes mention it in the same breath as Brown v. Board of Education and Roe v. Wade. In essence, Chevron is about government agencies' ability to issue regulations. After a law is enacted, it's generally up to agencies across the government to make detailed rules putting it into effect. The Chevron decision said courts should be hesitant to second-guess the agencies' determinations. In the years that followed, judges cited Chevron in upholding rules that protect endangered species, speed up the approval process for new cellphone towers and grant benefits to coal miners suffering from black lung.

The Koch network has challenged Chevron in the courts and its lobbyists have pushed Congress to pass a law nullifying the decision. It has also provided millions of dollars in grants to law professors making the case to overturn it.
In the simplest of terms, a shift away from Chevron rules could utterly undermine the way that the modern regulatory state operates.
And lest one think that this is a case of Thomas' ideology aligning with the Koch, and so all of this is just birds of a feather flocking together, please note the following.
The network's position has become increasingly popular in recent years. Once broadly supported by academics and judges on the right, Chevron is now anathema to many in the conservative legal movement. And there's no more prominent convert than Thomas.

In 2005, Thomas wrote the majority opinion in a case that expanded Chevron's protections for government agencies. Ten years later, he was openly questioning the doctrine. Then in 2020, Thomas renounced his own earlier decision, writing that he'd determined the doctrine is unconstitutional after all — a rare reversal for a justice with a reputation for being unmovable in his views.
And, yes, people (including Justices) can change their minds. But as the last sentence notes, Clarence Thomas has a reputation for not doing so.
Meanwhile, the issue is about to be in front of the Court.
Several months later, the Supreme Court announced it would take up a case, Loper Bright Enterprises v. Raimondo, in which Koch network staff attorneys represent the plaintiffs. If Thomas and his colleagues side with them this coming term, Chevron will be overturned once and for all.

Without Chevron, "any place you would need regulation to address a pressing social problem, it's going to be more costly to get it, harder to implement it and it's not going to go as far," said Noah Rosenblum, a professor at New York University School of Law.

"​​Loper Bright is a case seeking to restore one of the core tenets of our democracy: that Congress, not the administrative agency, makes the laws," the Koch network spokesperson said.
The bottom line is this: the modern regulatory state needs bureaucracies to have rule-making powers and the ability to interpret federal statutes. Statutes are not detailed enough to deal with the complexities of, say, the environmental regulations that the EPA has to engage in, or the complex medical decisions that the FDA has to make.
I fully recognize that federal bureaucracies are imperfect, but the notion that Congress should be legislating specific questions about environmental regulations is a way to make sure we don't have environmental regulations (which, of course, is the Koch's goal). I would note that it may even sound appealing that "Congress, not the administrative agency, makes the laws" but this elides the fact the regulatory agencies are empowered by Congress and Congress retains oversight over them (as do the courts), including making specific laws that could substantially curtail their actions. But the reality remains that in a modern government, it is impossible for the legislature to make every rule. Instead, the legislature creates parameters within which the bureaucracies function.
See, also, Slate, Clarence Thomas' Latest Pay-to-Play Scandal Finally Connects All the Dots.
I will re-iterate: we need fixed terms on the Court (say, somewhere between 12 to 18 years max–I am not locked in on a specific span). By definition people who feel their positions are untouchable will very likely take advantage of their status and misbehave (especially after three decades!). The longer a person is in an unchecked position of power, the greater the odds that they will behave unethically. Relying on a person's inner fortitude is unwise–a political tenet that is as old as at least Aristotle.
And, quite clearly, we need stronger rules governing ethics at the Supreme Court.