Get Rid Of Recall Elections
Recall elections in a hyper-partisan atmosphere are not a good thing.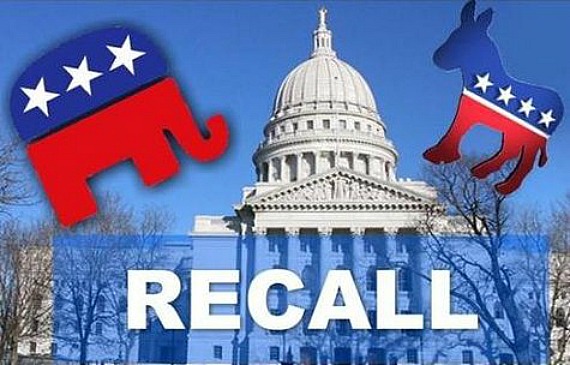 Jonathan Zimmerman, who describes himself as "a lifelong Democrat and career educator," has an interesting piece in today's Los Angeles Times where he  makes an argument against  recall elections, as typified by the effort going on now in Wisconsin to recall Governor Scott Walker and several other elected officials:
As a liberal, I'm troubled by the prospect of voters unseating an elected official over taxes. Or abortion. Or gun control. If you can recall leaders for any political reason, sooner or later your own ox will be gored.

I'm also worried that the Wisconsin recall, which has drawn nationwide attention and money, will trigger a vicious cycle of partisan retribution. Your guy didn't win in November? No problem. Start a recall drive now.

Most of all, though, I fear that the recall threat will make our elected officials even more timid and poll-tested than they already are. Sometimes, great leaders need to take unpopular positions. And politically motivated recalls make that less likely, as President Taft warned in 1913:

"Look back, my friends, through the history of the United States and recount the number of instances of men who filled important offices and whose greatness is conceded today, and tell me one who … if subjected to a recall at certain times in his official career when criticism had impaired his popularity, would not have been sent into private life with only part of his term completed. Washington is one who would have been recalled, Madison another, Lincoln another."

I'm not comparing Walker to Washington or Madison or Lincoln. But Wisconsin voters should let him serve out his term, just as Feinstein did three decades ago. "She was guilty of neither crime nor incompetence," the San Francisco Examiner wrote in 1983 after voters rejected the effort to recall Feinstein. "The people recognize the injustice of it, and the offense to the process of democracy."

Let's hope Wisconsinites come to the same wise conclusion, no matter what they think of their governor.
Zimmermann raises the specter of the 2003 Recall Election that unseated Gray Davis as Governor of California, only the second time a sitting Governor had been recalled in American history, as well as an unsuccessful effort by an group of gun control opponents to unseat Dianne Feinstein as Mayor of San Francisco in 1983. As Zimmerman notes, on both occasions, Feinstein made some excellent points against the use of the recall process as a partisan, punitive measure:
"This governor was elected just last November," Feinstein said in a TV advertisement. "Within three months, this recall effort began. It was started by people who were unhappy with the results of a legitimate election, in which 8 million Californians voted."

Feinstein herself had been the target of a recall campaign in 1983, when she was mayor of San Francisco. Angered by her support for a strict handgun control measure, a group called the White Panther Party launched a petition drive against her.

But if voters tried to remove everyone they disagreed with, Feinstein responded, no public official could effectively serve anyone. As she argued in the ballot pamphlet for the 1983 recall election: "Orderly government cannot prevail on the shifting sands of a recall brought, not because of any corruption or incompetence, but because of a difference of opinion on an issue."
Feinstein and Zimmerman have a point here, I think, and they both bring up reasons that I've never entirely been a fan of the recall process to begin with. We elect officials to serve specific and set terms of office for a reason, among those reasons are the idea that it takes a certain amount of time for anyone, whether they are a State Legislator, Governor, Member of Congress, or President, to get settled into their role and begin enacting the agenda that they were elected to implement. Obviously, the people who voted against those officials aren't going to be happy with the policies that they implement, and indeed it is partly the job of the opposition party to stem the power of the majority run roughshod over the will of the minority, though. However, there comes a time when one must recognize that elections mean things and that one has to accept the outcome of an election while preparing for the next one. Additionally, there something to be said for the idea that politicians shouldn't be guided by poll numbers all the time and that a political system makes politicians more fearful of the partisan recall election would lead to governance by poll results. Most importantly, though I would argue that mere policy disputes shouldn't be sufficient reason to remove someone from office before their term is up.
State laws and Constitutions all provide for means of removing someone from office who has committed wrongdoing or who is no longer physically or mentally competent to fulfill the duties of their office. In some cases, those laws may need to be beefed up so that citizens are not deprived of their right to representation by the criminal activity or incapacity of their representative, but there seems to me to be something dangerous about a mechanism like the power of recall in the hyperpartisan political atmosphere we live in today.
As Zimmermann points out, the Recall came into being during the Progressive Era in the early part of the 20th Century and advocated by Progressives as a method by which the people can put a check on elected officials on the take from powerful corporate and railroad interests. In the end, recalls ended up being authorized in less than 20 states, most of them states where the Progressive movement was strong in the 1910s and 1920s, and it became a rarely used tool up until roughly the mid-1980s when it seemed to become far more frequently used, and for far more partisan reasons. Depending on how the Walker and other recall's in Wisconsin turn out in June, we could see it become as frequently used a tool as the filibuster has become in the Senate. Once the partisans on both sides see it can work, its hard to believe that they won't try to use it far more frequently than they have in the past. And I'm not sure that's a good thing for our political system.
James Joyner made this point way back in February 2003 when the recall against Gray Davis was just getting started:
[T]his movement strikes me as dangerous. It's one thing to recall a politician who has committed a crime or some other serious breach while in office; it's quite another to use it to get a second bite at the apple. Even if unsuccessful, this will cost the state a sizable amount of money and distract the elected officials, especially Davis, from doing the jobs to which they were elected. And, if successful, this will create a dangerous precedent similar to the Senate's defeat of Robert Bork's nomination to the Supreme Court in 1986. From now on, this will be considered a legitimate tactic for one party to attack a weak politician of the other party. Republicans were rightly upset by New Jersey Democrats for flouting the state's election laws by swapping a losing candidate for a winner at the 11th hour; they should oppose this flouting of the spirit of California law just as vigorously.
As it turned out, of course, the California recall didn't open the floodgates as feared, however I think the warnings voiced then, and those that Zimmerman voices now, are well-taken. If anything, our political culture has become even more hyperpartisan than it was nine years ago, meaning that the likelihood we'll see an increased use of this tool as a partisan bludgeon is higher than it was back then. The one good thing is that recalls are still limited to a small number of states (only nineteen states allow recall of statewide officials, while a slightly larger  number allow it for local officials) so perhaps the impact won't be as bad as feared. However, that doesn't mean the dangers don't exist and that we shouldn't think twice before "throwing the bums out" before their term of office is up.
Graphic via WTAQ.com