Impeachment Hearings Go To Law School
Yesterday's hearing before the House Judiciary Committee did a good job of explaining how the facts of the Ukraine scandal meet the Constitution's definition of impeachable offenses.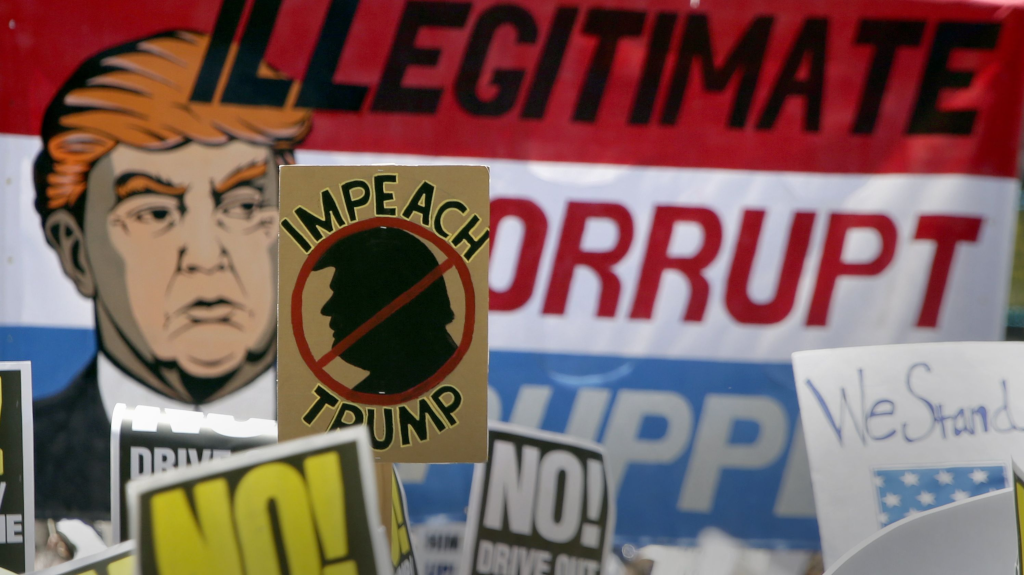 Rather than fact witnesses unveiling new evidence against the President, yesterday's first impeachment hearing before the House Judiciary Committee was far more esoteric. The day-long hearing featured four respected law professors from around the country addressing Congress and the nation on the history and meaning of the impeachment provisions of the Constitution and how they should be applied to the facts of the charges against President Trump and his dealings with Ukraine:
WASHINGTON — The House of Representatives on Wednesday opened a critical new phase of the impeachment proceedings against President Trump, featuring legal scholars vigorously debating whether his conduct and the available evidence rose to the constitutional threshold necessary for his removal from office.

In a daylong hearing convened by the Judiciary Committee, three constitutional scholars invited by Democrats testified that evidence of Mr. Trump's efforts to pressure Ukraine for political gain clearly met the definition of an impeachable abuse of power. They said his defiance of Congress's investigative requests was further grounds for charging him.

A fourth scholar invited by Republicans disagreed, warning that Democrats were barreling forward with a shoddy case for the president's removal based on inadequate evidence, and risked damaging the integrity of a sacred process enshrined in the Constitution.

The spirited exchange unfolded as the Judiciary Committee began determining which impeachment charges to lodge against Mr. Trump based on an investigation by the House Intelligence Committee. The president abused his power, sought to subvert an American election and endangered national security when he pressured Ukraine for political favors, Democrats said.

(…)

Invoking arguments between the framers of the Constitution and impeachment precedents dating to monarchical England, the scholars dissected the quality of the evidence before the House and how to define at least one possible impeachment charge, bribery.

The three law professors invited by Democrats said that Mr. Trump's behavior was not only an egregious abuse of his power for personal gain, but the textbook definition of the kind of conduct that the nation's founders sought to guard against when they drafted the impeachment clause of the Constitution.

"If what we're talking about is not impeachable, then nothing is impeachable," Michael J. Gerhardt, a professor at the University of North Carolina, told the panel. "This is precisely the misconduct that the framers created the Constitution, including impeachment, to protect against."

But a fourth witness, Jonathan Turley, a law professor at George Washington University, cautioned House Democrats against rushing into an impeachment based on an incomplete set of facts and overly broad standards. He conceded that the president's conduct may have been impeachable, but said Democrats risked tainting the validity of the Constitution's only remedy for grave presidential misconduct outside an election.

"I am concerned about lowering impeachment standards to fit a paucity of evidence and an abundance of anger," he said. "To impeach a president on such a record would be to expose every future president to the same type of inchoate impeachment."

In offering the argument, Mr. Turley, who said he had not voted for Mr. Trump and did not condone his behavior, handed Republicans what could be a potent counterpoint to put to a divided public.

(…)

Noah Feldman, a professor at Harvard, argued that Mr. Trump's decision to withhold a White House meeting and military assistance from Ukraine while he demanded political favors from its president was a classic impeachable abuse of power.

"The essential definition of high crimes and misdemeanors is the abuse of office," he said. "The framers considered the office of the presidency to be a public trust."

Pamela S. Karlan, a Stanford law professor, went further, arguing that Mr. Trump's actions toward Ukraine could constitute another offense outlined in the Constitution: bribery. She defined that offense as "when an official solicited, received or offered a personal favor or benefit to influence official action."

"If you conclude that he asked for the investigation of Vice President Biden and his son for political reasons, that is to aid his re-election, then, yes, you have bribery here," Ms. Karlan said.

But Mr. Turley argued that Democrats were tarnishing the very concept of impeachment by sloppily applying what should be an ironclad set of standards. He said Democrats and the other witnesses were interpreting the concept of bribery too broadly to describe Mr. Trump's conduct.

"This isn't improvisational jazz — close enough is not good enough," Mr. Turley said. "If you're going to accuse a president of bribery, you need to make it stick, because you're trying to remove a duly elected president of the United States."

Mr. Turley also disputed that Mr. Trump could be fairly charged with obstruction of Congress. Without going to court to ask a judge to enforce their subpoenas, he argued, Democrats had a case that lacked important validation and could even be an abuse of the House's power.
More from The Washington Post:
And now, here come the academics: Four of them, trailing their curricula vitae like billowing robes, ready to act as counsel for the Founding Fathers, who remain very dead but continue to haunt us. What would the founders think of us? What would they think of President Donald J. Trump, and the effort to impeach him?

To find out, the House Committee on the Judiciary held a sort of seance Wednesday.

"Some day we will no longer be alive, and we'll go wherever it is we go — the good place or the other place," said one of the Democrats' witnesses, Noah Feldman, a professor at Harvard Law School. "And, you know, we may meet there [James] Madison and [Alexander] Hamilton, and they will ask us: 'When the president of the United States acted to corrupt the structure of the republic, what did you do?' "

(…)

After last month's testimony from bow-tied diplomats and stone-faced bureaucrats — "fact witnesses" who actually saw or heard Trump's inciting behavior — the impeachment process has reached the peer-review phase. During this hearing, professors referenced a 1640 sermon by John Winthrop and a 1792 edition of Samuel Johnson's dictionary.

There were multiple odes to forgotten founder William Richardson Davie, the onetime governor of North Carolina who argued fiercely for an impeachment provision in drafts of the Constitution. Rep. Jamie Raskin (D-Md.) had in front of him a tattered college copy of the Federalist Papers, scrawled with marginalia.

(…)

Nadler's three witnesses were in agreement, at least on one main point: Trump has committed impeachable offenses. Their reviews were scathing.

The president's conditioning of aid to Ukraine "clearly constitutes impeachable high crimes and misdemeanors under the Constitution," said Feldman, of Harvard.

"What has happened in the case today is something that I do not think we have ever seen before: a president who has doubled down on violating his oath," said Karlan, of Stanford.

"This president has attacked each of the Constitution's safeguards against establishing a monarchy in this country," said Michael Gerhardt, a professor at the University of North Carolina School of Law.

During a 10-minute break in the hearing, Rep. Sheila Jackson Lee (D-Tex.) called the proceeding "somber and sober." Collins called it "very esoteric." After the committee broke for votes, Rep. Louie Gohmert (R-Tex.) used his five minutes to unspool a monologue about how "the only thing that is disputed more than the facts of this case is the statement that the facts are undisputed."
For those of you who haven't been to law school (or, as I call you, sane people) or taken a Constitutional history class in college, yesterday's hearing was a rough approximation of what that experience was like without having to take an exam. The only difference is that this time, it was the professors who were being asked the questions rather than the ones asking them in their usual Socratic manner. In any case, I found that all four of the participants on the panel did an excellent job of presenting their arguments.
This includes George Washington Law Professor Jonathan Turley, who argued against the proposition that the facts regarding the Ukraine matter as we know them today are sufficient to justify what would amount to a wholly partisan impeachment of a President. Obviously I am somewhat biased in my evaluation of the arguments these professors made since I've already concluded that President Trump's actions regarding Ukraine constitute both violations of existing Federal laws and offenses justifying his impeachment and removal from office. However, in the end, I found the arguments made by the three professors who argued in favor of impeachment to be more persuasive.
In different ways, the three professors called by House Democrats — Noah Feldman from Harvard Law School, Pamela Karlan from Stanford Law School, and Michael Gerhardt from the University of North Carolina Law School — reached back to the founding of the Republic to explain what the impeachment clause meant and how it should be applied to this situation. Of primary importance in that regard is the fact that the biggest concern that the Founders had when they created the Presidency was that a President would fall under the influence of one of the more dominant foreign powers of the day, which at the time consisted of Great Britain and France, and become susceptible to bribery or foreign influence to commit official acts in exchange for some payment or favor. This was an especially valid concern at the time given that the new republic was especially weak compared to those dominant powers.
Today, of course, the reverse is true and it is the United States that is the dominant power, but that doesn't mean that the threat of foreign influence over domestic politics doesn't still exist. As we saw in 2016 and the years that have followed, the threat of foreign influence is more real than ever before. Additionally, though the tables are reversed, the prospect exists that a President could use the dominant power and influence of the United States as a tool to influence domestic politics by soliciting something of value or seeking a bribe from a foreign power.
As Feldman, Karlan, and Gerhardt pointed out in their testimony, this is exactly what President Trump did in connection with Ukraine. As the House Intelligence Committee convincingly established in its report, President Trump and his cohorts sought to use the twin enticements of military aid and improved relations with the United States to force it to investigate the President's political enemies and chase down non-existent evidence supporting a conspiracy theory that puts Ukrainian President Zelensky's predecessor, rather than the Russians, in the center of an effort to interfere in the 2016 election. As the three professors argued, this is exactly the kind of activity that the Founding Fathers were concerned about when the drafted the impeachment clause and provided that the President could be removed for "treason, bribery, and other high crimes and misdemeanors,
At one point, Professor Karlan drove this home with an analogy in which a Governor of a state devastated by a hurricane was told by a sitting President that he'd be glad to send Federal assistance if the Governor agreed to announce an investigation of one of the President's political opponents. This is basically what Trump did here and, while the relationship between the Federal Government and the states is obviously different than the relationship between the United States and Ukraine, the analogy nonetheless drives home in any easy-to-understand manner just why what the President did was not only wrong but an obvious abuse of Presidential power.
For his part, Turley, who was essentially the "Republican" witness for the hearing even though he is by no means a conservative in either the political or judicial sense, argued that the facts as we know them are not sufficient to establish the existence of impeachable offenses and that House Democrats were moving too quickly for a process as important as the impeachment of a President. Among the legal arguments that Turley made, the strongest was the idea that the President's conduct did not necessarily violate existing law and therefore could not be said to rise to the level of impeachable conduct.
The problem with this argument is two-fold. First, as one of the three Democratic witnesses pointed out, the Federal laws that Turley refers to did not exist at the time the Constitution was drafted. The Federal statute against bribery, for example, wasn't added to the United States Code until the 1870s, for example. Therefore, it's disingenuous to argue that "bribery" as it is set forth in the Constitution must match the federal statute when that statute would not exist for a century after the Constitution was drafted. Instead, they argued, one must look to the understanding of what "bribery" and "high crimes and misdemeanors" meant at the time the Constitution was drafted. Based on those criteria, it is clear that what the President did and attempted to do here is exactly what the Founders had in mind when they put the impeachment clause in the Constitution.
The second problem with Turley's argument that the President's actions don't violate existing statutes is simply not true. As I have argued before, there are at least three Federal statutes that seem to cover what the President attempted to do vis a vis Ukraine.
Not the least of these is 50 U.S.C. 30121(2) which states that "It shall be unlawful for… a person to solicit, accept, or receive a contribution or donation [of a thing of value] from a foreign national." This is exactly what t the President did when he asked the President of Ukraine to assist in uncovering damaging information Additionally, there would be potential violations of 18 U.S.C. 371(1) which states:
If two or more persons conspire either to commit any offense against the United States, or to defraud the United States, or any agency thereof in any manner or for any purpose, and one or more of such persons do any act to effect the object of the conspiracy, each shall be fined under this title or imprisoned not more than five years, or both.
If the latest allegations are true then it's hard to understate what the President is doing here. Just as he did when, in a speech at a campaign rally, he called on Russia to "find" the "30,000 emails" allegedly deleted from Hillary Clinton's email server, (video here) the President is asking for the help of a foreign government in the context of a Presidential election. In 2016, it was Russia. In 2019, it appears to be Ukraine. Even while Congress is still engaged in an effort to get the information it needs to thoroughly investigate what happened in 2016 and the apparent efforts of the Trump White House to impede the investigation of contacts between the Trump campaign and Russia, as well as other allegations that have been made against this President, we're now presented with something entirely new, and this time the evidence of the President's intention to collude with a foreign government to influence an election is blindingly obvious.
The Federal statute regarding bribery, meanwhile, can be found at 18 U.S.C. 201. In its opening section, it sets forth what most people likely think of when they think of bribery, namely situations where private individuals attempt to bribe public officials to commit an official act or a public official accepts a bribe in connection with an official act. However, the statute also provides that it is a violation of the law for a public official to solicit a bribe from any person, whether or not they are a public official. Specifically, this part of the definition of bribery is set forth in 18 USC 201(2):
(2) being a public official or person selected to be a public official, directly or indirectly, corruptly demands, seeks, receives, accepts, or agrees to receive or accept anything of value personally or for any other person or entity, in return for:

(A) being influenced in the performance of any official act;

(B) being influenced to commit or aid in committing, or to collude in, or allow, any fraud, or make opportunity for the commission of any fraud, on the United States; or

(C) being induced to do or omit to do any act in violation of the official duty of such official or person;
Given the evidence that we have before us, it's easy to see where bribery fits into the equation. The President stands accused, credibly I might add, of seeking a "thing of value" from the President of Ukraine and other Ukrainian officials in exchange for which he would release the military aid already authorized by Congress, schedule a much-wanted White House meeting with the Ukrainian President, and commit other "official acts" in connection with the American relationship with Ukraine. This would constitute a violation of 18 USC 201(2)(A) There also appears to be evidence of violations of Sections 201(2)(B) and (C) to the extent that the President agreed to do these things for fraudulent reasons that were in violation of his official duty to "preserve, protect, and defend" the Constitution and to "take care that the laws are faithfully executed."
Professor Turley's second argument regarding the timing of the impeachment process is somewhat more well-founded. In an ideal world, House Democrats would step back and make an effort to get testimony from present and former Trump officials such as Mike Mulvaney, Don McGhan, and John Bolton. Additionally, they would expand the impeachment inquiry to include not just the Ukraine scandal, but also obstruction of justice in connection with the Russia investigation, the payoffs to Trump's former mistresses on the eve of the 2016 election, the Emoluments Clauses issue, and the fact that the Trump Administration has obstructed justice by denying Congress access to documents and witnesses.
At the same time, as Jennifer Rubin notes, Turley also provided Democrats with ammunition:
Turley made some arguments that frankly do leave one wondering why Republicans thought he would be valuable. For example, Turley acknowledged, "[Trump's] call was anything but 'perfect' and his reference to the Bidens was highly inappropriate." It was highly "inappropriate" because we do not invite foreign governments to investigate political rivals. The "ask" was in and of itself a serious and impeachable act, especially given Trump's own statements that he will continue to invite foreign meddling.

Turley also confessed, "The use of military aid for a quid pro quo to investigate one's political opponent, if proven, can be an impeachable offense." And we would assume that conditioning a White House meeting desperately needed by an ally could also be an impeachable act. Well, we had multiple witnesses including Ambassador to the European Union Gordon Sondland testify to precisely that. Experienced prosecutors, I am quite certain, could get a conviction under the criminal standard, beyond a reasonable doubt.

Even Turley's primary excuse for not proceeding to impeachment is helpful to Democrats. They cannot, he says, do a thorough investigation without the testimony of key senior officials. Hmm, doesn't that mean Trump has obstructed Congress in a way Richard Nixon never did? (Turley incorrectly asserted that Nixon defied court orders; in fact, the third of his impeachment articles referenced refusal to respond to subpoenas.)
Taking all the arguments made by the four scholars, it seems clear that the legal argument that the President committed an impeachable offense is well-established. He did, and it would be irresponsible for the House of Representatives to ignore that fact at this point even if the outcome in the Senate is already foreordained. Waiting for additional evidence to develop additional charges is a persuasive argument, but as several Committee members and pundits on television pointed out yesterday, what the President did essentially calls into question the legitimacy of our elections and the fact that it was the President up for re-election next November who was seeking to undermine the legitimacy of those elections means that the Congress must act now if only to set forth for the public the truth about what this President has done.
It's not entirely clear where we go from here. There are no further hearings scheduled before the Judiciary Committee until next week when it will hear testimony regarding the recently concluded investigation by the Intelligence Committee. More importantly, there is presently no hearing scheduled for additional fact witnesses. That could change, but given the fact that House Democrats have set the goal of voting on Articles of Impeachment before the Christmas break, it seems unlikely. Instead, we are likely to see the Judiciary Committee move quickly to drafting and voting on Articles of Impeachment and, presuming they are approved, sending those articles to the House floor. All of this means that a Senate trial would take place starting in January and that it could last into February when votes in Iowa and elsewhere start voting for a Democratic nominee. In other words, 2020 is going to start out on a historic footing. And it will only get more interesting from there.