Is Wilbur Ross Trump's Next Target?
After the census debacle, some reports indicate that Commerce Secretary Wilbur Ross may be next on President Trump's chopping block.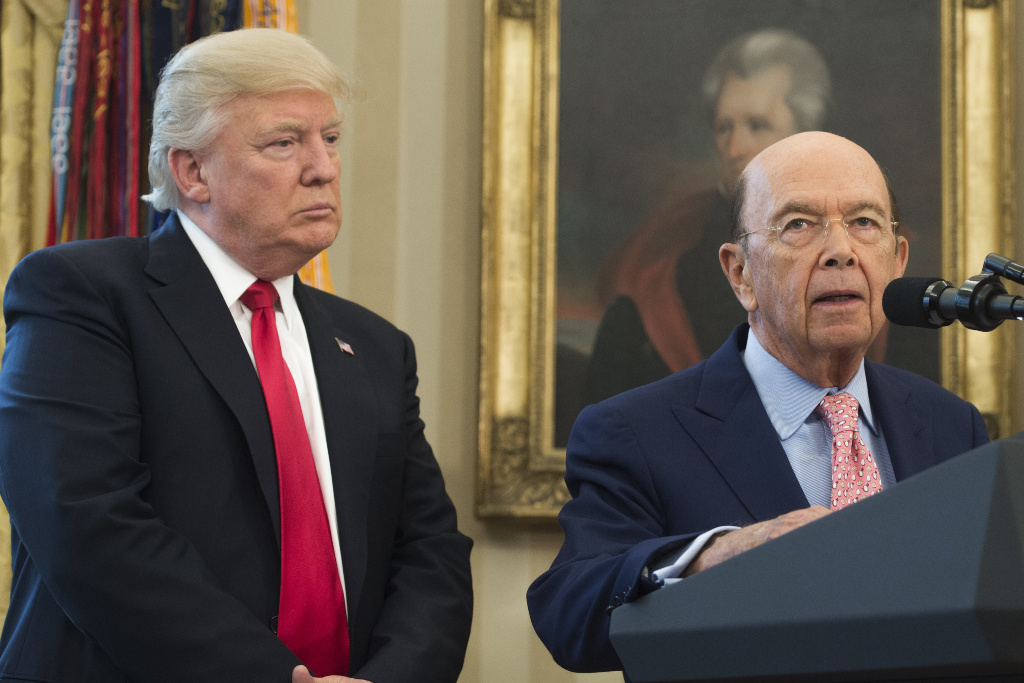 After the political and legal debacle that resulted in the decision late last week to finally cave on the effort to get a citizenship question on the ballot, NBC News reports that Commerce Department Secretary Wilbur Ross may be the next Cabinet member to be targeted for removal by the President:
President Donald Trump has told aides and allies that he is considering removing Commerce Secretary Wilbur Ross after a stinging Supreme Court defeat on adding a citizenship question to the census, according to multiple people familiar with the conversations.

While Trump has previously expressed frustration with the 81-year-old Ross, in particular over failed trade negotiations, Ross's long personal relationship with the president has allowed him to keep his job. And after the departure of Labor Secretary Alex Acosta, the Cabinet's only Hispanic who resigned on Friday amid questions about his role in a controversial 2008 plea agreement with sex offender Jeffrey Epstein, Ross may yet receive another reprieve.

But some White House officials expect Ross to be the next Cabinet secretary to depart, possibly as soon as this summer, according to advisers and officials.

Frustrated by Ross' leadership of the Census Bureau, which is within the Commerce Department, Trump has been making calls to allies outside the White House musing about replacing Ross.

The White House declined comment.

Ross is one of the original members of a Cabinet that has seen historically high turnover, but his exit would mark the first departure of an agency head that Trump knew well before entering politics.

Trump and Ross met — and bonded — through Trump's Atlantic City casino hotel bankruptcies in the 1990s, with Ross representing some of Trump's creditors. For more than 25 years, the two socialized across marriages and states, with both owning nearby residences in Manhattan and Palm Beach. In June of 2016, Ross, a registered Democrat, endorsed Trump for president, saying, "We need a more radical, new approach to government."

On election night, Trump promised to recruit only the "best and brightest" to serve in his administration, but he has soured on much of his Cabinet. He called his former Secretary of State Rex Tillerson "dumb as a rock," compared his former Attorney General Jeff Sessions to "Mr. Magoo," and declared that former Defense Secretary Jim Mattis was "not too good" at his job.

The president has suggested to allies he wants a more hard-charging leader as Commerce Secretary, despite having once talked up Ross as a "killer." However, there's no indication the president has reached out directly to potential replacements for Ross.

And while Trump has not hesitated to part ways with members of his Cabinet, he is often slow to replace them, leading to acting secretaries running the Departments of Defense and Homeland Security and now Labor. Across the Cabinet and key agencies there are more than 20 officials with acting titles at top leadership positions.

Before the Supreme Court 5-4 decision barring the administration from including a citizenship question on the 2020 census last month, Trump stood by Ross through a string of controversies, including the wealthy Ross submitting a report on his investments to the Office of Government Ethics that was declared "not accurate."

(…)

Ross's future as the Commerce Secretary depends on several competing factors, including White House and presidential frustration with the Commerce Department, concern about the optics of dismissing a member of the Cabinet so soon after the resignation of Acosta, and Trump's personal relationship with Ross, according to officials and advisers.

Late last year, when media reports suggested Trump would replace Ross by the end of the year, Ross insisted that his job was secure. "There is no truth to that whatsoever," he said on CNBC.

Ross would be the 10th Senate-confirmed member of the Cabinet to leave the administration, in addition to dozens of senior officials, including five communications directors, two chiefs of staff, two national security advisers, two press secretaries, the Federal Bureau of Investigations director, the U.S. ambassador to the United Nations, the National Economic Council director, the Small Business Administrator and the Chair of the Council of Economic Advisers.

But now that the Census Bureau has begun printing the forms without the citizenship question included, Trump is less reliant on Ross to conduct the census or defend the citizenship question in lawsuits, according to officials.
This isn't the first time that Ross has come under fire from the President, of course. At several points over the past four years, there have been reports about clashes between Trump and his Commerce Secretary over policy issues such as international trade, with Ross being one of the few Cabinet members speaking out against the President's love for tariffs and trade wars. Additionally, there have been several reports of Ross being the target of insulting barbs from Trump, typically behind his back, in the same way that he used to attack former Attorney General Jeff Sessions and others. Given that, and given the fact that Trump is unlikely to accept personal responsibility for the citizenship question debacle, the probability that Ross will end up paying the price for what happened seems quite high.
As the article quoted above notes, whether or not Ross is the next to go, and if he is it's likely that it won't happen immediately given that the resignation of the Secretary of Labor, who self-destructed in one week, is still fresh in everyone's mind, he won't be the first and he's unlikely to be the last. So far, Trump has lost ten people at the Cabinet or sub-Cabinet level that he appointed after taking office. If you add in all the people from inside the West Wing, such as Press Secretaries, Chiefs of Staff, and other top-ranking positions in the Executive Office of the President, the Trump Administration has lost nearly two dozen people over the course of just two-and-one-half years. That's a higher turnover rate than all of his predecessors going back to President Reagan. In some cases, it's been because they got caught up in personal scandals due to everything from lavish spending of government funds to things that happened before they were even appointed. In other cases, though, it was because they came to be on Trump's bad side for one reason or another. In all likelihood, that turnover will continue as we get closer to the 2020 election.