It was Intimidation
More on a dangerous and disturbing incident in Texas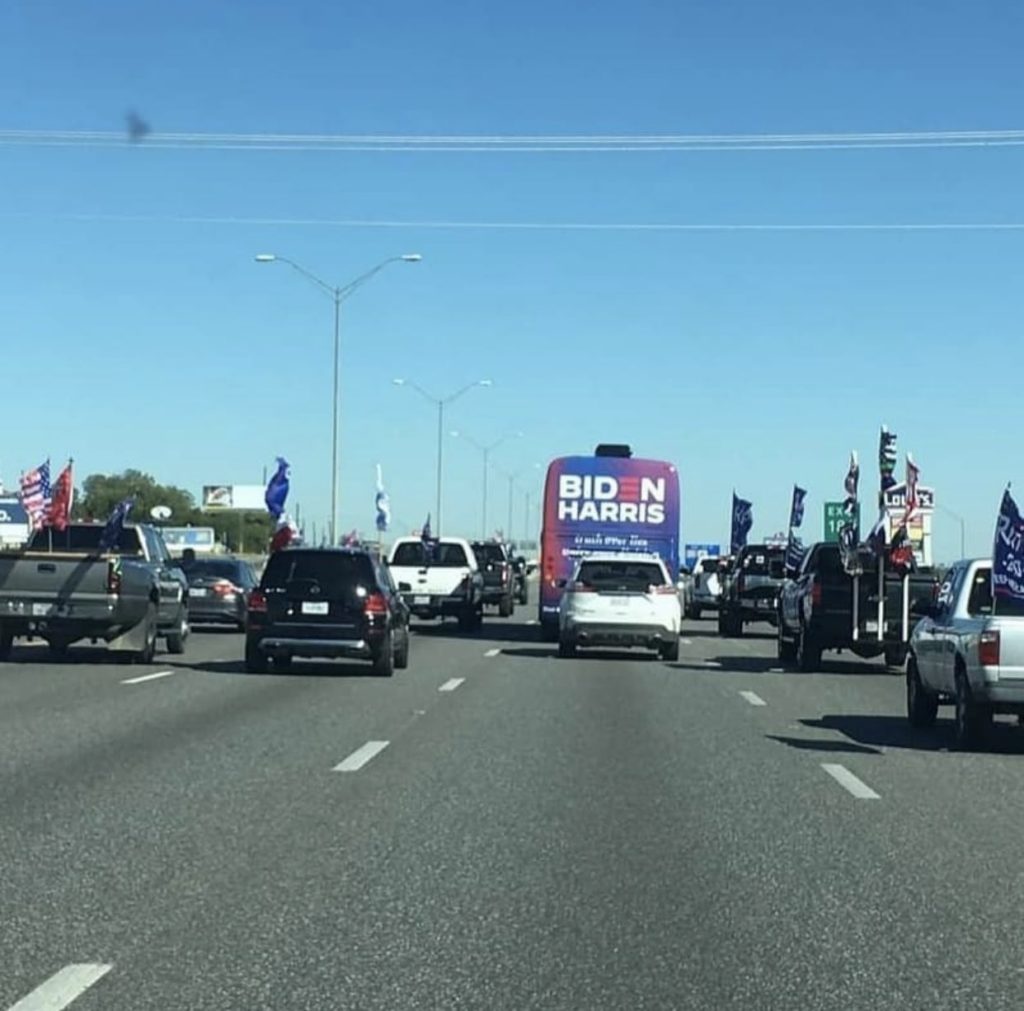 To further contextualize and discuss the incident in Texas that James Joyner noted this morning, let's start with this video that includes the collision of one of the pro-Trump trucks and a car that was escorting the bus:
If you watch carefully, the black truck that hit the white Biden campaign SUV was at fault having come up from the right of the SUV behind the bus and then positioned itself there to force the white car over. I have seen attempts to say that the SUV was trying to run the truck off the road, but the black truck is clearly the aggressor above, in my opinion. (Also any attempt to blame the SUV ignores the dangerous group behavior of the trucks that out the bus and any vehicles around it in clear danger).
I am going to have to say that this, to me, is plain and simple an attempt to use what amounts to a threat of violence to intimidate a political opponent. And, further, when I first saw this yesterday, it struck me as clearly the kind of behavior that President Trump himself has encouraged with his rhetoric, dating back to the 2016 campaign and during the 2018 campaign season.
In fact, I called his violent rhetoric "radicalizing" at the time in lengthy post with numerous examples. Of the things I said at the time, this fits the present moment rather directly:
This is the President of the United States we are talking about here. The human being with the largest megaphone in the United States, if not the world. He has turned the bully pulpit into a literal tool of bullying.
And, as James noted, Trump did nothing to disabuse me of this assessment. He is helping to further this radicalization and is, indeed, using his position to praise bullying:
And no, we can't pretend he was just praising trucks with Trump flags. Even in this video, they are surrounding the bus in an unsafe and clearly intimidating manner. And the notion that he was ignorant of the rest of event is not credible.
As such, the question asked by the first tweet is quite clear: they have been radicalized (and I think that the appropriate terms) by Trump and his media allies.
This is an attempt to terrorize a political opponent and needs to be fully identified as such.
And if you were driving a vehicle and a swarm of trucks surrounded you in an coordinated effort, would you not feel intimidated?
When you throw on top of all of this Allen West's response, which James noted but I will repeat, it just hits next level awful, because it shows that the head of the Texas GOP is irresponsible and is endorsing the intimidation:
Abby Livingston from The Texas Tribune reached out to the RPT today and asked a question about a Biden campaign bus in her attempt to portray conservatives as violent radicals, even though it is leftists from Antifa and BLM who have been assaulting, robbing, and looting fellow citizens and their property.

Below is Chairman Allen West's response:

"Three Trump supporters have been executed, one in Portland, one in Denver, and one Milwaukee. A leftist mob attempted to storm the house of the McCloskeys, threatened to burn their house down, rape Mrs. McCloskey, and then kill them both.

Where is the liberal corporate media's concern about that real violence? Additionally, none of what your question implies is accurate. It is more fake news and propaganda.

Prepare to lose…stop bothering me. Maybe Soros can cut y'all another check in 2022."
I read that last night and it was so off the chain that despite the fact it is clearly posted on the Texas GOP web page, I almost couldn't accept that it was real, or reasoned that because it was late when I read it so that maybe I was missing something.
But, nope. This is truly unacceptable behavior from a political party. The irresponsibility and basic endorsement of extremely dangerous behavior is actually sickening.
Here are some more images:
This should be utterly and totally unacceptable behavior. It is criminal to use vehicles in this manner and it is damaging to the very fabric of our political system to have leaders of political parties encourage and endorse this behavior.
I fear that we will see further such incidents over the next several days.
This kind of behavior is a major reason, that are well apart from any policy considerations, as to why Trump should not be reelected. And I implore anyone who reads this who is planning to vote for Trump to go back and read these examples and think about his constant rhetoric and ask yourself: are judges really worth what he is doing to our politics?