Trump Yahoos Swarm Biden Bus in Texas
Just when you thought the 2020 campaign couldn't go any lower.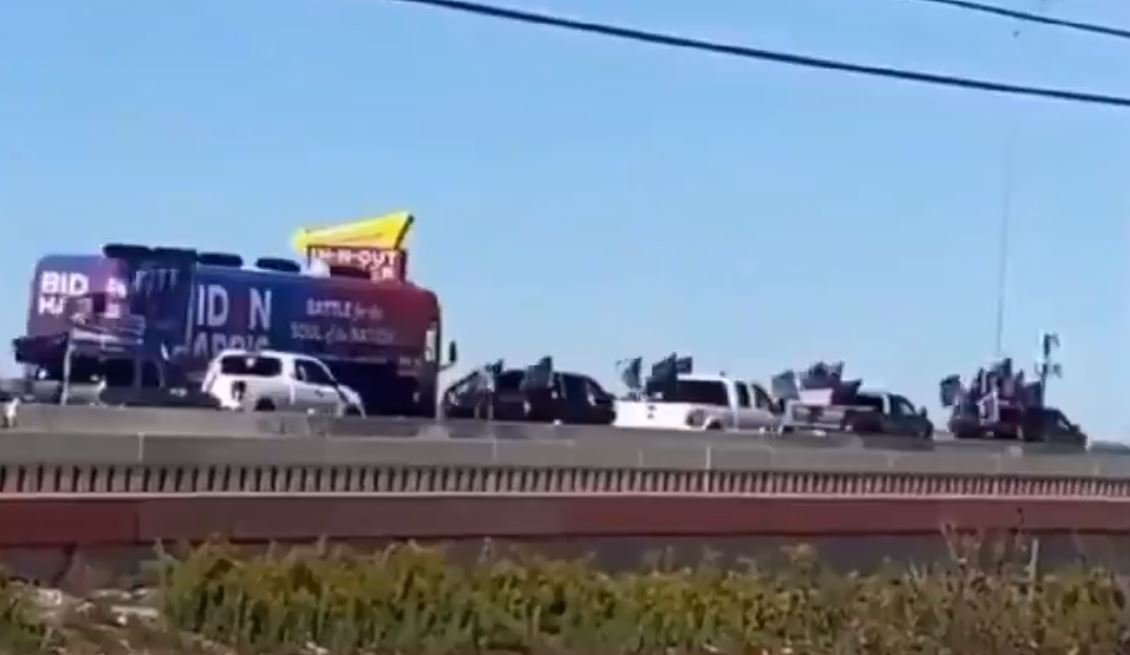 Yesterday afternoon, I saw several reports that a vehicle carrying Trump supporters had a minor collision with a Biden campaign bus and that several Biden campaign events had been canceled as a result. I dismissed it as tomfoolery gone awry but the reporting this morning certainly looks more sinister.
The Texas Tribune report ("Biden camp cancels multiple Texas events after a 'Trump Train' surrounded a campaign bus") shows the current understanding:
The Federal Bureau of Investigation is looking into a Friday incident in which a group of Trump supporters, driving trucks and waving Trump flags, surrounded and followed a Biden campaign bus as it drove up I-35 in Hays County, a law enforcement official confirmed to The Texas Tribune Saturday.

The confrontation, captured on video, featured at least one minor collision and led to Texas Democrats canceling three scheduled campaign events on Friday. The campaign officials cited "safety concerns" for the cancellations.

The highway skirmish came as Democrats close ground in a state that is polling like a potential battleground in the race for president. Recent polls indicate the presidential race in Texas between President Donald Trump and Joe Biden is tight, with some national prognosticators calling it a "toss-up."

"Rather than engage in productive conversation about the drastically different visions that Joe Biden and Donald Trump have for our country, Trump supporters in Texas [Friday] instead decided to put our staff, surrogates, supporters, and others in harm's way," said Tariq Thowfeek, Texas communications director for the Biden campaign.

On Saturday night, Trump tweeted a video of the Trump supporters following the Biden bus saying, "I LOVE TEXAS!"
This was a dangerous and possibly criminal act that could have gotten people killed and the President of the United States is positively gleeful.
It does, however, seem that this was more Own The Libs for Lulz than an attempt at intimidation:
The tour, which started on Wednesday in Amarillo and went through East Texas, the Gulf Coast, along the Texas-Mexico border, and Central Texas faced protests of varying sizes along the way.

Friday's campaign events started with a small gathering in Laredo that was met with few protesters. From there, staffers drove to San Antonio. Around 12:30 p.m. on Friday, a social media user using the hashtag #TrumpTrainTexas posted on Twitter, "Trolling is FUN." The user called for other Trump supporters to "escort the Biden [bus] coming through San Antonio."
Still, reading through the report, it appears that the idiots were swerving in and out of the caravan, causing multiple near misses, for miles before the collision ultimately occurred. Additionally, it now appears that the impact was relatively minor and between a Trumpist pickup truck and a car that was part of the Biden caravan rather than the bus itself.
The New York Times is more direct in its story, headlined "Vehicles flying Trump flags try to force a Biden-Harris campaign bus off a highway in Texas."
Multiple vehicles bearing Trump flags and signs surrounded a Biden-Harris campaign bus heading from San Antonio to Austin on Friday, forcing campaign officials to scrap two campaign events, according to reports by Democratic officials on Saturday.

The vehicles surrounded the bus on busy Interstate 35 and appeared to be attempting to slow it down and force it to the side of the road, according to social media posts from witnesses and accounts by party activists. In one instance, the vehicles pulled in front of the bus and tried to stop in the middle of the highway.

Katie Naranjo, chair of the Travis County Democratic Party, tweeted that Trump supporters also "ran into a person's car, yelling curse words and threats." The bus was occupied by campaign staff workers, who notified local law enforcement, which assisted the vehicle in reaching its destination, party officials said.
There's nothing in the report that definitively establishes intent to force the bus off the road. Or, indeed, that the bus went off the road. But, at the very least, we have multiple cases of reckless endangerment.
The Texas GOP issued a statement exhibiting roughly the same level of maturity as the yahoos harassing the caravan:
Abby Livingston from The Texas Tribune reached out to the RPT today and asked a question about a Biden campaign bus in her attempt to portray conservatives as violent radicals, even though it is leftists from Antifa and BLM who have been assaulting, robbing, and looting fellow citizens and their property.

Below is Chairman Allen West's response:

"Three Trump supporters have been executed, one in Portland, one in Denver, and one Milwaukee. A leftist mob attempted to storm the house of the McCloskeys, threatened to burn their house down, rape Mrs. McCloskey, and then kill them both.

Where is the liberal corporate media's concern about that real violence? Additionally, none of what your question implies is accurate. It is more fake news and propaganda.

Prepare to lose…stop bothering me. Maybe Soros can cut y'all another check in 2022."
Just . . . wow.
UPDATE: Steven Taylor's follow-up post, "It Was Intimidation," includes this video that I hadn't previously seen:
Given that the video cuts to the collision at the last second, it's impossible to determine whether the driver of the truck intended to sideswipe the white SUV. But I would agree that, seeing it rather than simply reading the description, the whole encounter comes across as more menacing than just yahoos out for some laughs. They are clearly trying to make the Biden supporters afraid for what might happen next.
UPDATE II: As I commented on Steven's thread, "That Texas Republicans, facing a major demographic shift, made Allen Freaking West the chairman of the party really speaks volumes. What a sorry excuse for a human being he is."
There have been dozens of threads at OTB on West's misdeeds. The first was 17 years ago, almost to the day. My July 2011 post, "Allen West is an Embarrassment," is a pretty good roundup of his transgressions through that point.