James Clyburn Uses Arizona Shootings To Call For Return Of "Fairness Doctrine"
The political firestorm that has erupted in the wake of the shootings in Arizona is drifting, inevitably, into calls for more government control over the content of speech.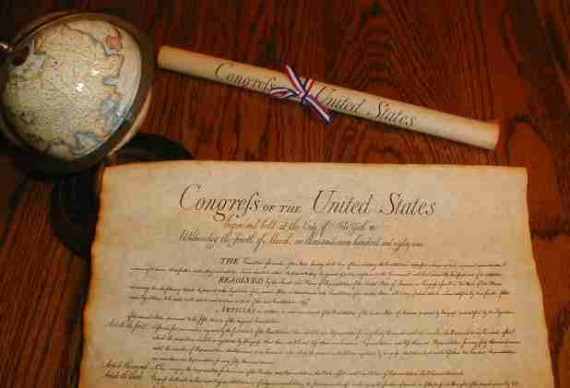 One of the reasons that the call from some quarters to use the shootings in Arizona to open a "national dialogue" on so-called "heated" political rhetoric concerns me is that, more often than not, that discussion inevitable leads to calls to restrict political speech in some way. Already we've had one Congressman suggest that advertisements that mimic the so-called "target" ad that has become the focus of attention since Saturday should be outlawed.  Another suggested that using a phrase like "job killing" was inflammatory. Now, the third-ranking Democrat in the House is calling for a return to one of the most ill-advised government regulations of speech of all time:
U.S. Rep. Jim Clyburn, the third-ranking Democrat in Congress, said Sunday the deadly shooting in Arizona should get the country thinking about what's acceptable to say publicly and when people should keep their mouths shut.

Clyburn said he thinks vitriol in public discourse led to a 22-year-old suspect opening fire Saturday at an event Democratic U.S. Rep. Gabrielle Giffords held for her constituents in Tucson, Ariz. Six people were killed and 14 others were injured, including Giffords.

The shooting is cause for the country to rethink parameters on free speech, Clyburn said from his office, just blocks from the South Carolina Statehouse. He wants standards put in place to guarantee balanced media coverage with a reinstatement of the Fairness Doctrine, in addition to calling on elected officials and media pundits to use 'better judgment.'

'Free speech is as free speech does,' he said. 'You cannot yell 'fire' in a crowded theater and call it free speech and some of what I hear, and is being called free speech, is worse than that.'

(…)

Despite Clyburn's position, law enforcement has not yet revealed any motives in the shooting.
When the Supreme Court upheld the FCC's authority to impose the "fairness doctrine" in Red Lion Broadcasting v. FCC in 1969, it specifically cited as justification for that authority the fact that there were a limited number of broadcast stations available:
Where there are substantially more individuals who want to broadcast than there are frequencies to allocate, it is idle to posit an unabridgeable First Amendment right to broadcast comparable to the right of every individual to speak, write, or publish. If 100 persons want broadcast [395 U.S. 367, 389]   licenses but there are only 10 frequencies to allocate, all of them may have the same "right" to a license; but if there is to be any effective communication by radio, only a few can be licensed and the rest must be barred from the airwaves. It would be strange if the First Amendment, aimed at protecting and furthering communications, prevented the Government from making radio communication possible by requiring licenses to broadcast and by limiting the number of licenses so as not to overcrowd the spectrum.

This has been the consistent view of the Court. Congress unquestionably has the power to grant and deny licenses and to eliminate existing stations. FRC v. Nelson Bros. Bond & Mortgage Co., 289 U.S. 266 (1933). No one has a First Amendment right to a license or to monopolize a radio frequency; to deny a station license because "the public interest" requires it "is not a denial of free speech." National Broadcasting Co. v. United States, 319 U.S. 190, 227 (1943).

By the same token, as far as the First Amendment is concerned those who are licensed stand no better than those to whom licenses are refused. A license permits broadcasting, but the licensee has no constitutional right to be the one who holds the license or to monopolize a radio frequency to the exclusion of his fellow citizens. There is nothing in the First Amendment which prevents the Government from requiring a licensee to share his frequency with others and to conduct himself as a proxy or fiduciary with obligations to present those views and voices which are representative of his community and which would otherwise, by necessity, be barred from the airwaves.

(…)

Rather than confer frequency monopolies on a relatively small number of licensees, in a Nation of 200,000,000, the Government could surely have decreed that [395 U.S. 367, 391] each frequency should be shared among all or some of those who wish to use it, each being assigned a portion of the broadcast day or the broadcast week. The ruling and regulations at issue here do not go quite so far. They assert that under specified circumstances, a licensee must offer to make available a reasonable amount of broadcast time to those who have a view different from that which has already been expressed on his station. The expression of a political endorsement, or of a personal attack while dealing with a controversial public issue, simply triggers this time sharing. As we have said, the First Amendment confers no right on licensees to prevent others from broadcasting on "their" frequencies and no right to an unconditional monopoly of a scarce resource which the Government has denied others the right to use.
It's unclear whether this view of the First Amendment would even survive scrutiny in the Supreme Court today, largely because the Court's reasoning really doesn't stand up to sustained analysis.
The public does not own the airwaves; the people who have invested the money to transmit programming do. Notwithstanding the Court's analysis, there's no reason that ownership of the airwaves should be any different from ownership of any other kind of property: a radio station owner determines the frequency they want to use and they registers the frequency with a central authority so no other station can use that frequency within a specified geographic area. If they do, then it's legally no different from trespassing and appropriate legal action would be available.
Obviously things are  more complicated than that but the fact remains that radio station owners pay for their programming from advertisers public funds. Advertisers expend their resources based upon the audience they want to reach, meaning that programming that is more popular, or that attract a desirable demographic mix of viewers/listeners makes more money. The reason that Rush Limbaugh and Sean Hannity are on the air isn't because of some vast conspiracy, but because they attract listeners, and profits, for their respective employers. If that were to end at some point, so would their careers.
Buying into the myth of "public airwaves" has many perils. If the FCC can demand that a talk radio station give equal time for all points of view (whatever that even means), what is to stop them from saying that some viewpoints are too "inflammatory" or dangerous to be broadcast on the "public airwaves" ? What is to stop Congress from setting up similar unelected bodies to impose similar regulations on newspapers, magazines, and blogs? Newspapers are delivered on public roads, magazines are transmitted  through the U.S. mail, and the internet is transmitted over utility lines which are often also regulated by the government. Aren't these, like the mythical public airwaves, also "public" resources?
More importantly, though, we no longer live in an era of limited "public airwaves." Thanks to advances in technology, it is possible for just about any political view to be heard in today's media with the Internet, cable networks, satellite radio, newspapers, radio and TV available. Even if the Court were to continue to accept the legal reasoning in Red Lion, the facts have changed so much that it is impossible to say that the FCC must have the authority to require broadcasters to give "equal time" to "opposing points of view."
Finally, it's worth noting what has happened since the end of the Fairness Doctrine in 1987. The rise of talk radio, which would not have been possible if the rules were still in place, revitalized AM radio throughout the country and turned it from place where you heard either inferior sounding music (compared to FM) or bland "news talk" that did everything possible to avoid taking a side on any issue to someplace that is vibrant and lively. Yea, a lot of contemporary talk radio is inane in a different way but it certainly is a more accurate reflection of what the public wants than anything that was heard in the bland "equal time" era. More importantly, if you don't like what's on talk radio, you've got dozens of alternatives. The marketplace has done a better job at creating equal time than the FCC ever did. Someone should inform Congressman Clyburn of that.