Democratic Congressman Says He Will Introduce Bill To Ban "Crosshairs" Maps
The debate over heated political rhetoric has now led one Pennsylvania Congressman to suggest that some speech should be banned. This must stop now.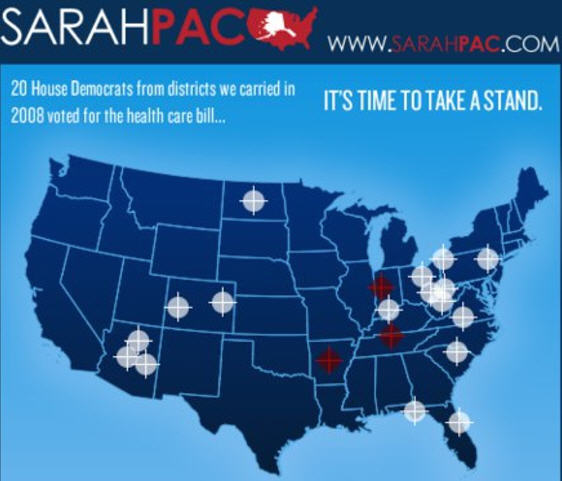 Pennsylvania Democratic Congressman Bob Brady tells The New York Times that he intends to take legislative action in the wake of the shooting of Congresswoman Gabby Giffords:
Representative Bob Brady of Pennsylvania told The Caucus he plans to introduce a bill that would ban symbols like that now-infamous campaign crosshair map.

"You can't threaten the president with a bullseye or a crosshair," Mr. Brady, a Democrat, said, and his measure would make it a crime to do so to a member of Congress or federal employee, as well.

Asked if he believed the map incited the gunman in Tucson, he replied, "I don't know what's in that nut's head. I would rather be safe than sorry."

He continued, "This is not a wakeup call. This is a major alarm going off. We need to be more civil with each other. We need to tone down this rhetoric."
To say that this is ridiculous is to put it mildly. Brady admits he has no idea if Jared Loughner was motivated by, or had even ever seen, the "target" map that has been the subject of so much discussion over the past 36 hours or so, but he thinks it should be banned anyway.
Jack Shafer at Slate addressed this point earlier today in a must-read post where he defends the heated political rhetoric that many has spent the entire weekend denouncing:
For as long as I've been alive, crosshairs and bull's-eyes have been an accepted part of the graphical lexicon when it comes to political debates. Such "inflammatory" words as targeting, attacking, destroying, blasting, crushing, burying, knee-capping, and others have similarly guided political thought and action. Not once have the use of these images or words tempted me or anybody else I know to kill. I've listened to, read—and even written!—vicious attacks on government without reaching for my gun. I've even gotten angry, for goodness' sake, without coming close to assassinating a politician or a judge.

From what I can tell, I'm not an outlier. Only the tiniest handful of people—most of whom are already behind bars, in psychiatric institutions, or on psycho-meds—can be driven to kill by political whispers or shouts. Asking us to forever hold our tongues lest we awake their deeper demons infantilizes and neuters us and makes politicians no safer.

(…)

Any call to cool "inflammatory" speech is a call to police all speech, and I can't think of anybody in government, politics, business, or the press that I would trust with that power. As Jonathan Rauch wrote brilliantly in Harper's in 1995, "The vocabulary of hate is potentially as rich as your dictionary, and all you do by banning language used by cretins is to let them decide what the rest of us may say." Rauch added, "Trap the racists and anti-Semites, and you lay a trap for me too. Hunt for them with eradication in your mind, and you have brought dissent itself within your sights."

Our spirited political discourse, complete with name-calling, vilification—and, yes, violent imagery—is a good thing. Better that angry people unload their fury in public than let it fester and turn septic in private. The wicked direction the American debate often takes is not a sign of danger but of freedom. And I'll punch out the lights of anybody who tries to take it away from me.
Fortunately, Congresswoman Giffords provides is with the response to Congressman Brady's inane idea:
Congress shall make no law respecting an establishment of religion, or prohibiting the free exercise thereof; or abridging the freedom of speech, or of the press; or the right of the people peaceably to assemble, and to petition the Government for a redress of grievances.
There's only thing that's worse than heated political rhetoric, and that's when a government official decides that they want to come along and ban it. Brady's proposal isn't going to go anywhere, for now, but that doesn't mean it or something like it won't return in the future. So, yes, I will criticize Sarah Palin, or Sharron Angle, or Ed Schultz, or Alan Grayson when they say something stupid, but I'm not going to condemn them and I'm not going to join with those who would hold them responsible for the violent actions of another individual. And I sure as heck am not going to join in any effort to silence them. As the old line goes, I disagree with what the say, but I will defend to the death their right to say it, because I if I don't, then how long will it be before something I've said is deemed "heated" ?