Florence Henderson, Iconic Television Mom, Dies At 82
Rest In Peace, Mrs. Brady.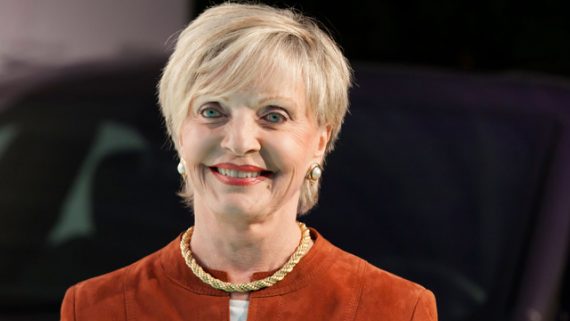 Florence Henderson, whose role as Carol Brady in 'The Brady Bunch' pretty much overwhelmed everything else she did in her acting career, has died at the age of 82:
Florence Henderson, who began her career as an ingénue soprano in stage musicals in the 1950s but made a more lasting impression on television, as the perky 1970s sitcom mom on "The Brady Bunch," died Thursday. She was 82.

Her death was confirmed by David Brokaw, her publicist. He said she died at Cedars-Sinai Medical Center in Los Angeles of what the family described as heart failure.

"She was quite active until she started not feeling well several days ago," Mr. Brokaw said. "It was felt that she would just bounce back from it."

Ms. Henderson was making a film in Norway in 1969 when she was asked to appear in the pilot episode of "The Brady Bunch," an unapologetically upbeat comedy about a widow with three daughters who meets, marries and makes a sunny suburban California home with a widower who has three sons. The series ran from September 1969 to March 1974, attracting viewers during a period of extreme social change and the Vietnam War, neither of which touched the Bradys' world.

The show took on new life in syndication. In the end, it spawned television movies and reunion specials, short-lived spinoffs (including "The Brady Bunch Variety Hour" in the mid-70s) and eventually two feature films.

Ms. Henderson defended the original television show from its detractors, who ridiculed it for its simplistic, impossibly wholesome plots and its idealized portrait of family life. "It was really a show that was seen through the eyes of a child," she said, "and it was supposed to have a little soft glow about it."

Before the series, Ms. Henderson had built an impressive reputation with stage work. She starred in "Fanny" on Broadway in the mid-1950s, when she was in her early 20s; "The King and I" at the Los Angeles Music Center; "South Pacific" at Lincoln Center; national tours of "Oklahoma!" and "The Sound of Music"; and "The Girl Who Came to Supper" (1963), Noël Coward's last original Broadway musical.

Theater roles had led her to television in its early days, mostly as a singer. On "The Ed Sullivan Show" in 1955, she and John Raitt sang a duet, "People Will Say We're in Love," as part of a two-hour television tribute to Richard Rodgers and Oscar Hammerstein II.

In the 1950s and '60s she appeared on music-driven series like "The Bell Telephone Hour," "Oldsmobile Music Theater" and "The Dean Martin Show." She also appeared on a 1958 audience participation series, "Sing Along," and game shows like "The Match Game" and "Password."

She was a frequent guest on "The Tonight Show" during both Jack Paar's and Johnny Carson's eras as host. And in 1962, after Paar left and before Carson arrived, she became the first woman to be the show's guest host.

NBC's venerable morning news and entertainment series "Today" was a part of her career twice. From 1959 to 1960, she was the so-called Today Girl, doing fashion stories and other light-news segments. Four decades later, she was a co-host of an offshoot, "Later Today," but that series lasted less than a year.

Florence Agnes Henderson was born on Feb. 14, 1934, the youngest of Joseph and Elizabeth Henderson's 10 children, in Dale, Ind., near the Kentucky border. Her father was a sharecropper, and the family struggled financially. Ms. Henderson recalled working from the age of 8, babysitting and cleaning other people's homes, and sometimes singing a folk or country song in exchange for groceries.

She had a strict Roman Catholic upbringing and was sent to St. Frances Academy in Owensboro, Ky., for her high school education. There, the Benedictine nuns taught her to sing Latin Masses and Gregorian chants.

By the time she graduated, she had been befriended by two important people in her life: Christine Johnson, a former Broadway actress who suggested that Ms. Henderson study acting as well as singing, and the affluent father of a school friend who helped her get to New York.

She lived at the Three Arts Club, an Upper West Side women's hotel, and studied at the American Academy of Dramatic Arts for a year before being cast in "Wish You Were Here," a musical comedy about a summer camp for grown-ups, in 1952. The show was a hit, but Ms. Henderson left early when she was cast as the female lead, Laurey, in the national tour of "Oklahoma!" The movie role went to Shirley Jones, but her theater and television careers took off from there. And Ms. Jones turned up as a sitcom mom with five children on "The Partridge Family" at the same time the Bradys were on the air.

In 1974, when "The Brady Bunch" had ended its run, prime-time television had changed. With few if any music or variety series on the schedule, Ms. Henderson turned to guest appearances on a wide range of series, including "Medical Center," "Ally McBeal," "Happily Divorced" and "30 Rock." She made multiple appearances on "The Love Boat" and "Fantasy Island," which specialized in guest-star ensembles, and in television movies.

She was host of "Country Kitchen," a cooking show on TNN, for nine years beginning in 1985. When prime time entered its reality-series phase, she found a place on "My Fair Brady," which starred Christopher Knight (a.k.a. Peter Brady) and his girlfriend, and as a font of maternal wisdom on "The Surreal Life." In 2007, she became the host of a Hollywood-talk show, "The Florence Henderson Show," on the cable channel RLTV. She also appeared in television commercials for decades and refused to apologize for doing them, referring to the form as a serious acting challenge.

After a bad beginning in "Song of Norway" (1970), a poorly received musical biography of the composer Edvard Grieg, Ms. Henderson made few feature films. Her later movies, like Bobcat Goldthwait's "Shakes the Clown" (1997), in which she played an unnamed woman who has a one-night stand with the title character, and "For Heaven's Sake" (2008), in which she played a grandmother who dies on a roller coaster, did nothing to advance that side of her career. On the other hand, her appearance as part of the superstar ensemble cast of the 2007 television special "Broadway: Beyond the Golden Age" reminded audiences of both her stage and television skills.
From Variety:
Florence Henderson, the actress who defined the television mom of the modern era with her starring role in "The Brady Bunch," died Thursday at Cedars-Sinai Medical Center in Los Angeles. She was 82.

Henderson's manager, Kayla Pressman, confirmed the actress died on Thanksgiving night surrounded by family and friends. She'd been hospitalized the day before

Henderson seen was on camera as recently as Monday when she attended the taping of ABC's "Dancing With the Stars." Her one-time TV daughter, Maureen McCormick of "Brady Bunch" fame, was a contestant on the show this season. Henderson herself was a contender on the show in 2010.

Henderson had a busy career on Broadway in the 1950s and '60s, but it was "The Brady Bunch" that turned her into a household name and face. The ABC sitcom created by the prolific Sherwood Schwartz ran from 1969 to 1974, presenting a G-rated image of an typical American family, albeit a blended one, during a turbulent period for the nation.

Henderson played the genial Carol Brady, the widow (or "lovely lady" in the words of the show's famous theme song) with three daughters who fell in love with a widower, Mike Brady, with three sons. Henderson's TV mom was always cheerful, always ready to soothe her children's problems with sound advice and a warm snack.

Henderson maintained a good sense of humor about the role that set the course for the rest of her career. She never tired of participating in "Brady Bunch" revivals, whether in TV or film, and she traded on her trustworthy Carol Brady persona to become a pitchwoman for products ranging from Wesson Oil to Polident denture grip.

Henderson was well-liked by her TV family, and has often been hailed by friends and co-workers as a warm and generous actress with impeccable comedic timing. McCormick and the other five actors who played the "Brady" kids reunited to celebrate Henderson's 80th birthday in 2014. Robert Reed, the actor who played Henderson's on-screen husband, died in 1992.

"Brady Bunch" has endured for decades in syndication, ensuring that Henderson remained a bankable TV icon for decades. Henderson kept up a tireless schedule of guest star roles, ranging from "Ally McBeal" to "30 Rock" to "WWE Raw." Her resume includes visits to virtually every TV game show and talk show of the past 40 years. Long before she was Carol Brady, she notched a TV milestone as the first woman to guest host "The Tonight Show" in 1969.

"Brady Bunch" also spawned "The Brady Bunch Variety Hour" in 1977, the 1981 TV movie "The Brady Girls Get Married" and subsequent "Brady Brides" TV series, followed in 1990 by another attempted revival, "The Bradys." She played the grandmother of her original Carol Brady character in the 1995 feature "The Brady Bunch Movie," which starred Shelley Long and Gary Cole.

More recently Henderson fronted two series of her own for Retirement Living TV: "Who's Cooking with Florence Henderson" and "The Florence Henderson Show" talk show that earned an Emmy nomination in 2010.

A native of Dale, Ind., Henderson was the 10th child in a family of tobacco farmers. She began singing as a toddler. After graduating from high school, Henderson moved to New York to attend the American Academy of Dramatic Arts.

Henderson made her Broadway debut in the 1952 musical "Wish You Were Here." Her stage credits also include starring in the touring production of "Oklahoma!" where she became lifelong friends with Shirley Jones, "Fanny." She was also in Noel Coward's last Broadway play, "The Girl Who Came to Supper."

Her only major film role came just as she was signing on to star in "Brady Bunch." In 1970's "Song of Norway," she played the wife of Norwegian composer Edvard Grieg.

Henderson recounted her career in the 2011 memoir "Life Is Not a Stage: From Broadway Baby to a Lovely Lady and Beyond." She detailed the drama that existed behind the scenes on "Brady Bunch" as well as in her personal life during the run of the show, including stories of fighting on the set and dealing with infidelity in her marriage to theatrical manager Ira Bernstein.

During her decades in the public eye, Henderson was an active philanthropist and prominent supporter of numerous causes including City of Hope and the House Ear Institute. (Henderson herself had to undergo surgery in the 1960s to prevent deafness). She also raised money for the Sisters of St. Benedict monastery in Ferdinand, Indiana, including through appearances as a celebrity contestant on game shows like "Who Wants to Be a Millionaire" and "Weakest Link."
While The Brady Bunch was only on the air for five years, it has survived in syndication for four decades and continues to run to this day, likely one of the reasons remained a pop culture icon well after the time she stopped working on a regular basis. In my case, while I was alive during the show's first run, it was off the air before I was six so most of my exposure to the show came thanks to syndication and the various television movies that aired well into the 1980s. As silly as the show was, there's always been a charm about it that no doubt explains its popularity even in s more cynical age.
Henderson's death comes during a year that has seen many icons in the worlds of music pass away, and while this is not unusual it does seem as though 2016 has been a particularly bad year for members of Generation X who grew up with many of those who have passed making some impression on their lives. In Henderson's case, it was someone who became something of a surrogate Mom to millions. Her passing, while not unexpected at the age of 82, is likely to be one many will remember.