James Holmes Found Guilty In Aurora Theater Shooting Trial
Almost exactly three years after the attack on a movie theater in Aurora, Colorado, James Holmes was found guilty late yesterday.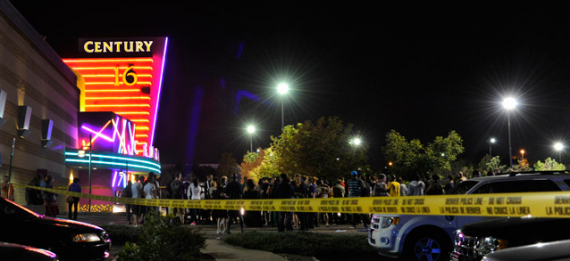 Almost exactly three years to the day after he went into a movie theater in Aurora, Colorado during a showing of The Dark Knight Rises and killed twelve people, a Colorado jury found James Holmes guilty on all charges related to that shooting:
CENTENNIAL, Colo. — Inside Courtroom 201, the families of the dead and wounded watched in taut silence on Thursday afternoon as the judge shuffled through a stack of verdict forms containing the fate of James E. Holmes, the gunman who slipped into a Colorado movie theater in 2012 and opened fire on their sons and daughters, friends and loved ones.

As the judge began reading the verdicts — guilty, guilty, guilty — repeated 165 times over an entire hour, for each count of murder and attempted murder, the families sobbed quietly, clutched one another's shoulders and nodded along to a recitation of guilt that many had been waiting nearly three years to hear.

Sandy Phillips wrapped herself tightly in the green scarf that her slain daughter, Jessica Ghawi, had loved. A father whose son was killed patted the arm of Joshua Nowlan, who was wounded and now walks with a cane.

As each name of the 12 people killed and 70 wounded was read, and read again — prosecutors filed two charges per victim — the families looked to the corner of the public gallery and gave one another a quiet nod or an arm squeeze.

After an emotional 10-week trial, one of the longest and most complex in this state's history, it took a jury of nine women and three men about 12 hours of deliberation over two days to convict Mr. Holmes on all counts. He now faces a lengthy sentencing process in which prosecutors are seeking the death penalty.

The jury's verdict roundly rejected arguments from his defense lawyers that he had had a psychotic break and was legally insane when he carried out the massacre inside the Century 16 theater in suburban Aurora, Colo., on July 20, 2012. His lawyers argued he was not in control of his thoughts or actions, but prosecutors said Mr. Holmes, despite being mentally ill, had plotted the shootings with calculation and knew what he wanted to accomplish when he started firing into the crowd.

As Judge Carlos Samour Jr. read the 165 counts against Mr. Holmes, the defendant stood silently between his lawyers, staring straight ahead, with his hands tucked into the pockets of a pair of khaki-colored pants. He did not glance at his parents sitting two rows behind. When the hourlong recitation of the verdicts was done, he sat down and lightly swiveled in his chair.

Coming within days of the Aurora shooting's third anniversary, the guilty verdict ends one phase of a grueling legal saga, but another one is set to begin.

As the district attorney in suburban Arapahoe County argues for the death penalty, the jury will begin weighing the toll and nature of Mr. Holmes's actions to decide whether to send him to prison for life or to Colorado's death row.

The sentencing phase is expected to take weeks. It could feature more wrenching statements from survivors and families of the victims, as well as testimony from defense witnesses discussing the role that mental illness played in propelling Mr. Holmes toward the movie theater that night.

"Look for the defense to emphasize the fact that James Holmes truly suffers from a serious mental illness, that he is in dire need of ongoing treatment and that while incarcerated he does not pose any real threat or danger to society," said Steven Pitt, a forensic psychiatrist in Arizona who has followed the case closely. "Look for the prosecution to try and minimize the extent of Holmes's mental illness and instead depict him as someone who is depraved and rotten to the core."

The district attorney, George Brauchler, has said that for Mr. Holmes, "justice is death."

Prosecutors argued that Mr. Holmes plotted the shootings for several weeks, deliberately and meticulously, because he had lost his first and only girlfriend, had dropped out of his graduate program and had generally lost his purpose in life.

To that end, prosecutors brought in professors and classmates who described Mr. Holmes's struggles as a first-year graduate student in the neuroscience program at the Anschutz Medical Campus of the University of Colorado. Mr. Holmes quit the program in June 2012, after he failed important oral exams, and declined the chance to retake them.

Prosecutors showcased pages from a spiral notebook in which Mr. Holmes inscribed murderous fantasies and nonsensical theories about life and death, and where he plotted what kind of attack to carry out, and how and where to do it.

But where prosecutors saw calculation, the defense saw "a whole lot of crazy."

Two psychiatrists who testified for the defense said Mr. Holmes lacked the ability to tell right from wrong or act with intent — critical elements of sanity under Colorado law.

Their testimony clashed with two court-appointed psychiatrists who said that although Mr. Holmes suffered a severe mental illness on a spectrum with schizophrenia, he was not legally insane when he walked into the theater.
Given the fact that Colorado's rules regarding the defense of mental illness are somewhat different from other states, essentially requiring the prosecution to present evidence rebutting the Defendant's claim as part of their case in chief, there were some observers who wondered whether Holmes's defense might actually succeed notwithstanding the fact that mental illness is a defense that rarely succeeds today. In the end, though, Holmes's lawyers ran into the same problem that every other attorney that attempts to present this defense has been running into for decades now, namely that it's simply next to impossible to meet that bar that the mental illness defense presents. Essentially, it requires the defense to establish that the defendant was unable to appreciate the nature of their acts and unable to recognize that what they were doing was wrong. In Holmes's case, the extensive preparations he took before carrying out the attack, the manner in which he had bobby trapped his apartment in a manner that could have potentially caused significant destruction had it not been disarmed, and that he made at least some effort to escape after the attack all stood as counter-examples to the argument that he was legally insane at the time of the attack. In the end, of course, the defense likely knew this and there was never really any question that Holmes was responsible for the shootings themselves, so this outcome wasn't too much of a surprise.
From here, the case moves on to the sentencing phase at which the jury will decide whether Holmes will be sentenced to die or spend the rest of his life in prison. The defense will likely rely heavily on Holmes's mental state in this phase of the trial as well, and may have more success than it did in the guilt phase of the trial. It's also worth noting that Colorado has only executed one person since death penalty was reinstated by the Supreme Court in 1976, and that execution occurred in 1997. The heinous nature of Holmes's attacks is likely to weight heavily on the sentencing phase, as it did in the guilt phase, but he would seem to have at least somewhat of a shot of avoiding the needle at the end of the process.