Joe Biden the 46th President of the United States
All the major outlets are finally acknowledging the obvious.

More than 24 hours after it became obvious the Joe Biden has won Pennsylvania and thus crossed the magic 270 Elector threshold, the Associated Press, BBC,CNN, ABC, NBC, and most other major outlets have made it officially unofficial. We can now call him "President-Elect Biden."
It's storybook, man. A big effing deal.
AP ("Biden wins White House, vowing new direction for divided US"):
Democrat Joe Biden defeated President Donald Trump to become the 46th president of the United States on Saturday, positioning himself to lead a nation gripped by historic pandemic and a confluence of economic and social turmoil.

His victory came after more than three days of uncertainty as election officials sorted through a surge of mail-in votes that delayed the processing of some ballots. Biden crossed 270 Electoral College votes with a win in Pennsylvania.

Biden, 77, staked his candidacy less on any distinctive political ideology than on galvanizing a broad coalition of voters around the notion that Trump posed an existential threat to American democracy. The strategy proved effective, resulting in pivotal victories in Michigan and Wisconsin as well as Pennsylvania, onetime Democratic bastions that had flipped to Trump in 2016.

Biden was on track to win the national popular vote by more than 4 million, a margin that could grow as ballots continue to be counted.

Trump seized on delays in processing the vote in some states to falsely allege voter fraud and argue that his rival was trying to seize power — an extraordinary charge by a sitting president trying to sow doubt about a bedrock democratic process.

As the vote count played out, Biden tried to ease tensions and project an image of presidential leadership, hitting notes of unity that were seemingly aimed at cooling the temperature of a heated, divided nation.

"We have to remember the purpose of our politics isn't total unrelenting, unending warfare," Biden said Friday night in Delaware. "No, the purpose of our politics, the work of our nation, isn't to fan the flames of conflict, but to solve problems, to guarantee justice, to give everybody a fair shot."

Kamala Harris also made history as the first Black woman to become vice president, an achievement that comes as the U.S. faces a reckoning on racial justice. The California senator, who is also the first person of South Asian descent elected to the vice presidency, will become the highest-ranking woman ever to serve in government, four years after Trump defeated Hillary Clinton.
NYT ("Biden Wins Presidency, Ending Four Tumultuous Years Under Trump"):
Joseph Robinette Biden Jr. was elected the 46th president of the United States on Saturday, promising to restore political normalcy and a spirit of national unity to confront raging health and economic crises, and making Donald J. Trump a one-term president after four years of tumult in the White House.

Mr. Biden's victory amounted to a repudiation of Mr. Trump by millions of voters exhausted with his divisive conduct and chaotic administration, and was delivered by an unlikely alliance of women, people of color, old and young voters and a sliver of disaffected Republicans. Mr. Trump is the first incumbent to lose re-election in more than a quarter-century.

The result also provided a history-making moment for Mr. Biden's running mate, Senator Kamala Harris of California, who will become the first woman to serve as vice president.

With his triumph, Mr. Biden, who turns 78 later this month, fulfilled his decades-long ambition in his third bid for the White House, becoming the oldest person elected president. A pillar of Washington who was first elected amid the Watergate scandal, and who prefers political consensus over combat, Mr. Biden will lead a nation and a Democratic Party that have become far more ideological since his arrival in the capital in 1973.

He offered a mainstream Democratic agenda, yet it was less his policy platform than his biography to which many voters gravitated. Seeking the nation's highest office a half-century after his first campaign, Mr. Biden — a candidate in the late autumn of his career — presented his life of setback and recovery to voters as a parable for a wounded country.

The race, which concluded after four tense days of vote-counting in a handful of battlegrounds, was a singular referendum on Mr. Trump in a way no president's re-election has been in modern times. He coveted the attention, and voters who either adored him or loathed him were eager to render judgment on his tenure. Americans rarely turn incumbent presidents out of office, but from the beginning to the end of the race, Mr. Biden made the president's character central to his campaign.

This unrelenting focus propelled Mr. Biden to victory in historically Democratic strongholds in the industrial Midwest, with Mr. Biden forging a coalition of suburbanites and big-city residents to claim at least three states his party lost in 2016.
WaPo also has a "BIDEN DEFEATS TRUMP" headline banner but it currently links to a live-blog with lots of minor stories. Among them:
Pennsylvania projected to put Biden over the top
The state of Biden's birth, where he was affectionately deemed an honorary third senator over his decades representing neighboring Delaware, is now projected to deliver him the presidency, according to Edison Research.

Pennsylvania's 20 electoral votes will put Biden over the 270 votes needed even with a handful of other states still too close to call.

Pennsylvania was among the most hotly contested states of the cycle, with both Biden and Trump making regular trips to the state for most of the campaign. Both candidates spent considerable time there in the final days of the race, with Biden holding a final rally there the night before the election and making an additional two stops on Election Day.

Hillary Clinton, who also held her campaign's final rally in Pennsylvania, lost the state by less than a point in 2016, in a shocking upset. Then in 2018, Democrats rallied and flipped several Republican-held House seats in the Philadelphia suburbs.

Prior to 2016, the Republican presidential candidate hadn't won Pennsylvania since 1988, though John McCain and Mitt Romney each made a concentrated push in the state.
America has elected a vice president. For the first time, she is not a man.
A vice president-elect stepped forward on Saturday and for the first time in American history she was not a man.

Kamala Devi Harris, a daughter of Indian and Jamaican immigrants, is set to become the highest-ranking woman in the nation's 244-year existence, as well as a high-profile representation of the country's increasingly diverse composition.

Harris's victory comes 55 years after the Voting Rights Act abolished laws that disenfranchised Black Americans, 36 years after the first woman ran on a presidential ticket and four years after Democrats were devastated by the defeat of Hillary Clinton, the only woman to win the presidential nomination of a major party.

Though her own run for president fell apart last year partly because of a lack of enthusiasm, Harris has since been embraced by Democrats, who saw in her a reflection of themselves — a party supported by women and, especially, Black women.
It's noteworthy that, as of 1144 Eastern, Fox News—which was the first to call Arizona for Biden on Election Night even though most outlets have still yet to do so—has not made the call.
UPDATE: It took Fox about 10 minutes and they're now all-in: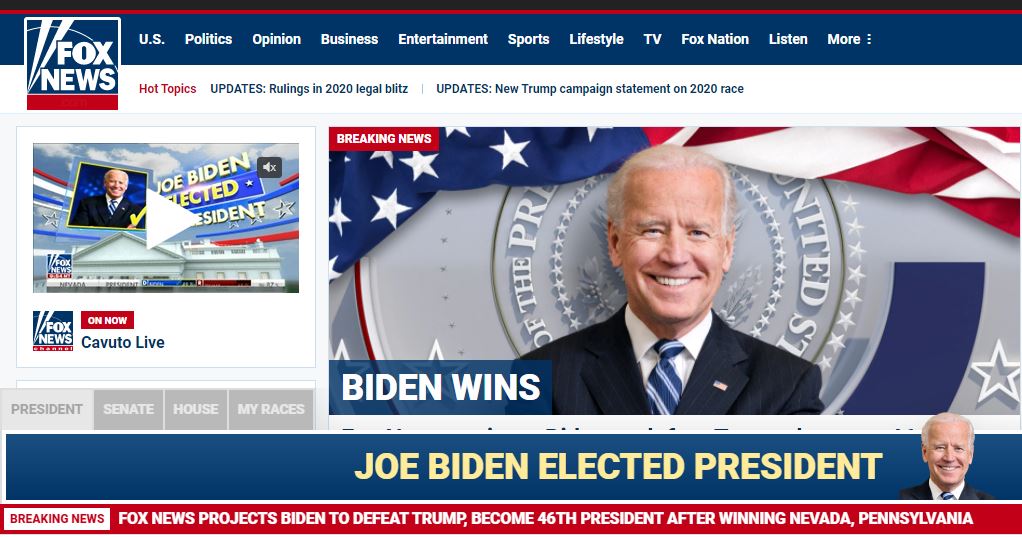 Fox News ("Biden wins presidency, Trump denied second term in White House, Fox News projects"):
Democratic presidential nominee Joe Biden has defeated incumbent President Donald Trump, denying him a second term in the White House, Fox News projects, a victory for the former vice president after a bitter campaign and dramatic, prolonged vote count in battleground states sparking lawsuits from the Trump campaign.

It came as the Fox News Decision Desk projected Saturday that Biden will win the state of Nevada and the commonwealth of Pennsylvania.

"I am honored and humbled by the trust the American people have placed in me and in Vice President-elect Harris," Biden said in a statement. "In the face of unprecedented obstacles, a record number of Americans voted. Proving once again, that democracy beats deep in the heart of America."

He added: "With the campaign over, it's time to put the anger and the harsh rhetoric behind us and come together as a nation."

A year and a half after launching his White House bid, Biden secured enough states to put him over the threshold of 270 electoral votes and bring an end to the four game-changing years of the Trump presidency, according to a projection from the Fox News Decision Desk. For Trump, the loss comes four years after a stunning upset – when he came from behind in 2016 and outperformed the polls in a historic White House victory against the Democrats' nominee, Hillary Clinton.