President-Elect Trump
Donald J. Trump will be the 45th President of the United States.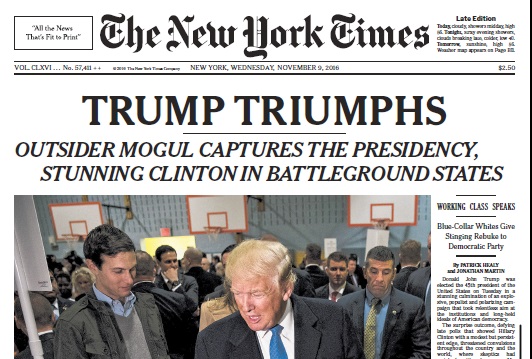 Yes, I got this wrong.  I was wrong about the nomination and wrong about the eventual outcome.  I hope that I am wrong about what a disaster this is going to be.  I never thought that he could compete in MI, PA, and WI.  Yet, here we are.
I am concerned now about what a Trump administration will mean about the national and international economy (and, clearly, global markets share my concerns).  I am concerned about what a Trump administration will mean about the long established international order.  Will he, in fact, weaken NATO?  Will he actually encourage nuclear proliferation?  Will he make foreign policy decisions that will increase Russian influence in Europe and the Middle East?  Will his strident anti-Muslim rhetoric actually help motivate and recruit terrorists?  Will his threats about NAFTA (or actions about NAFTA) lead to damage to the Mexican economy? (which will, ironically, make the immigration problem worse). There is a long list.
I am further concerned about a president who campaigned openly on xenophobia and racism and who has explicit ties to the alt-right.  What will his "law and order" point of view mean, especially for African-Americans? Will he, for example, actually seek to deport 11+ million people?
And, of course, I am profoundly concerned about a President who has demonstrated a lack of understanding of the basic functions of government and who lacks a working understanding of global affairs.
Like with Brexit, this election feels like a rejection of the global economy, a rejection of diversity, and a rejection of expert knowledge.
We have elected a real estate developed and professional celebrity who has served neither in government nor the military.  Will he appoint neophytes and cronies or will he have to rely too heavily on others to make such choices?
Of course, the next bit will be to figure out why and how.  As I have noted in multiple posts, there were key assumptions about campaigning that Trump challenged and I will leave it to those who study that aspect of American politics to start to address those questions.
Make no mistake:  this was not a normal outcome and it holds within it serious implications for domestic politics and the international order.