Donald Trump Defies Pollsters, Pundits, And The Odds To Become 45th U.S. President
Defying the odds and the polls, Donald Trump triumphed over Hillary Clinton to become the 45th President of the United States.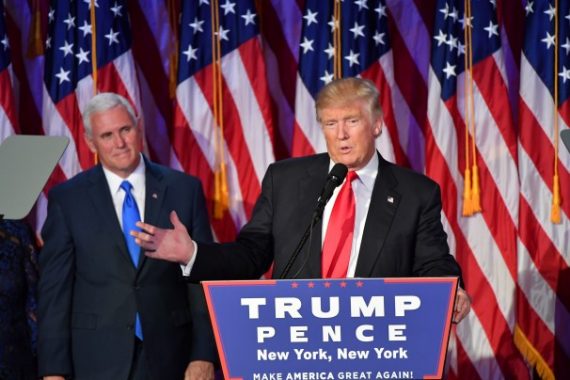 Putting the capstone on a campaign that began seventeen months ago with a trip down an elevator at Trump Tower in New York City, Donald Trump overcame the odds, the doubts, the pollsters, and the political establishment to pull off a historic surprise win last night to become the 45th President of the United States:
Donald John Trump was elected the 45th president of the United States on Tuesday in a stunning culmination of an explosive, populist and polarizing campaign that took relentless aim at the institutions and long-held ideals of American democracy.

The surprise outcome, defying late polls that showed Hillary Clinton with a modest but persistent edge, threatened convulsions throughout the country and the world, where skeptics had watched with alarm as Mr. Trump's unvarnished overtures to disillusioned voters took hold.

The triumph for Mr. Trump, 70, a real estate developer-turned-reality television star with no government experience, was a powerful rejection of the establishment forces that had assembled against him, from the world of business to government, and the consensus they had forged on everything from trade to immigration.

The results amounted to a repudiation, not only of Mrs. Clinton, but of President Obama, whose legacy is suddenly imperiled. And it was a decisive demonstration of power by a largely overlooked coalition of mostly blue-collar white and working-class voters who felt that the promise of the United States had slipped their grasp amid decades of globalization and multiculturalism.

In Mr. Trump, a thrice-married Manhattanite who lives in a marble-wrapped three-story penthouse apartment on Fifth Avenue, they found an improbable champion.

"The forgotten men and women of our country will be forgotten no longer," Mr. Trump told supporters around 3 a.m. on Wednesday at a rally in New York City, just after Mrs. Clinton called to concede.

In a departure from a blistering campaign in which he repeatedly stoked division, Mr. Trump sought to do something he had conspicuously avoided as a candidate: Appeal for unity.

"Now it's time for America to bind the wounds of division," he said. "It is time for us to come together as one united people. It's time."

That, he added, "is so important to me."

He offered unusually warm words for Mrs. Clinton, who he has suggested should be in jail, saying she was owed "a major debt of gratitude for her service to our country."

Bolstered by Mr. Trump's strong showing, Republicans retained control of the Senate. Only one Republican-controlled seat, in Illinois, fell to Democrats early in the evening. And Senator Richard Burr of North Carolina, a Republican, easily won re-election in a race that had been among the country's most competitive. A handful of other Republican incumbents facing difficult races were running better than expected.

Mr. Trump's win — stretching across the battleground states of Florida, North Carolina, Ohio and Pennsylvania — seemed likely to set off financial jitters and immediate unease among international allies, many of which were startled when Mr. Trump in his campaign cast doubt on the necessity of America's military commitments abroad and its allegiance to international economic partnerships.

From the moment he entered the campaign, with a shocking set of claims that Mexican immigrants were rapists and criminals, Mr. Trump was widely underestimated as a candidate, first by his opponents for the Republican nomination and later by Mrs. Clinton, his Democratic rival. His rise was largely missed by polling organizations and data analysts. And an air of improbability trailed his campaign, to the detriment of those who dismissed his angry message, his improvisational style and his appeal to disillusioned voters.

He suggested remedies that raised questions of constitutionality, like a ban on Muslims entering the United States.

He threatened opponents, promising lawsuits against news organizations that covered him critically and women who accused him of sexual assault. At times, he simply lied.

But Mr. Trump's unfiltered rallies and unshakable self-regard attracted a zealous following, fusing unsubtle identity politics with an economic populism that often defied party doctrine.

His rallies — furious, entertaining, heavy on name-calling and nationalist overtones — became the nexus of a political movement, with daily promises of sweeping victory, in the election and otherwise, and an insistence that the country's political machinery was "rigged" against Mr. Trump and those who admired him.

He seemed to embody the success and grandeur that so many of his followers felt was missing from their own lives — and from the country itself. And he scoffed at the poll-driven word-parsing ways of modern politics, calling them a waste of time and money. Instead, he relied on his gut.

At his victory party at the New York Hilton Midtown, where a raucous crowd indulged in a cash bar and wore hats bearing his ubiquitous campaign slogan "Make America Great Again," voters expressed gratification that their voices had, at last, been heard.

"He was talking to people who weren't being spoken to," said Joseph Gravagna, 37, a marketing company owner from Rockland County, N.Y. "That's how I knew he was going to win."

For Mrs. Clinton, the defeat signaled an astonishing end to a political dynasty that has colored Democratic politics for a generation. Eight years after losing to President Obama in the Democratic primary — and 16 years after leaving the White House for the United States Senate, as President Bill Clinton exited office — she had seemed positioned to carry on two legacies: her husband's and the president's.

Her shocking loss was a devastating turn for the sprawling world of Clinton aides and strategists who believed they had built an electoral machine that would swamp Mr. Trump's ragtag band of loyal operatives and family members, many of whom had no experience running a national campaign.

On Tuesday night, stricken Clinton aides who believed that Mr. Trump had no mathematical path to victory, anxiously paced the Jacob K. Javits Convention Center as states in which they were confident of victory, like Florida and North Carolina, either fell to Mr. Trump or seemed in danger of tipping his way.

Mrs. Clinton watched the grim results roll in from a suite at the nearby Peninsula Hotel, surrounded by her family, friends and advisers who had the day before celebrated her candidacy with a champagne toast on her campaign plane.

But over and over, Mrs. Clinton's weaknesses as a candidate were exposed. She failed to excite voters hungry for change. She struggled to build trust with Americans who were baffled by her decision to use a private email server as secretary of state. And she strained to make a persuasive case for herself as a champion of the economically downtrodden after delivering perfunctory paid speeches that earned her millions of dollars.

The returns Tuesday also amounted to a historic rebuke of the Democratic Party from the white blue-collar voters who had formed the party base from the presidency of Franklin D. Roosevelt to Mr. Clinton's. Yet Mrs. Clinton and her advisers had taken for granted that states like Michigan and Wisconsin would stick with a Democratic nominee, and that she could repeat Mr. Obama's strategy of mobilizing the party's ascendant liberal coalition rather than pursuing a more moderate course like her husband did 24 years ago.

But not until these voters were offered a Republican who ran as an unapologetic populist, railing against foreign trade deals and illegal immigration, did they move so drastically away from their ancestral political home.

(…)

From Pennsylvania to Wisconsin, industrial towns once full of union voters who for decades offered their votes to Democratic presidential candidates, even in the party's lean years, shifted to Mr. Trump's Republican Party. One county in the Mahoning Valley of Ohio, Trumbull, went to Mr. Trump by a six-point margin. Four years ago, Mr. Obama won there by 22 points.

Mrs. Clinton's loss was especially crushing to millions who had cheered her march toward history as, they hoped, the nation's first female president. For supporters, the election often felt like a referendum on gender progress: an opportunity to elevate a woman to the nation's top job and to repudiate a man whose remarkably boorish behavior toward women had assumed center stage during much of the campaign.

Mr. Trump boasted, in a 2005 video released last month, about using his public profile to commit sexual assault. He suggested that female political rivals lacked a presidential "look." He ranked women on a scale of one to 10, even holding forth on the desirability of his own daughter — the kind of throwback male behavior that many in the country assumed would disqualify a candidate for high office.

On Tuesday, the public's verdict was rendered.

Uncertainty abounds as Mr. Trump prepares to take office. His campaign featured a shape-shifting list of policy proposals, often seeming to change hour to hour. His staff was in constant turmoil, with Mr. Trump's children serving critical campaign roles and a rotating cast of advisers alternately seeking access to Mr. Trump's ear, losing it and, often, regaining it, depending on the day.

Even Mr. Trump's full embrace of the Republican Party came exceedingly late in life, leaving members of both parties unsure about what he truly believes. He has donated heavily to both parties and has long described his politics as the transactional reality of a businessman.
More from The Washington Post:
Donald Trump was elected the nation's 45th president in the stunning culmination of a campaign that defied expectations and conventions at every turn and galvanized legions of aggrieved Americans in a loud repudiation of the status quo.

Hillary Clinton's quest to make history as the first female president was thwarted by the Republican nominee's breathtaking performance at the polls. He was carried to victory by voters fed up with the political system and mistrustful of Clinton, a former first lady, senator and secretary of state.

Trump, a 70-year-old celebrity businessman who had never before run for office, is poised to become the oldest president ever elected to a first term.

After running a divisive campaign, Trump sounded a magnanimous note of reconciliation as he claimed victory shortly before 3 a.m. Wednesday.

"Hillary has worked very long and very hard over a long period of time and we owe her a major debt of gratitude for her service to our country," Trump said, minutes after Clinton called him to concede. "I mean that very sincerely. Now it's time for America to bind the wounds of division. We have to get together. To all Republicans, Democrats and independents across this nation, I say it is time for us to come together as one united people."

He had portrayed his opponent as the embodiment of a rigged system that had failed the everyday American. Her credentials through a quarter-century on the national stage, which in another electoral climate would have been an asset, pegged her in his supporters' view as the ultimate establishment insider.

Trump said that under his administration, "America will no longer settle for anything less than the best." And he promised foreign countries that "while we will always put America's interests first, we will deal fairly with everyone," adding: "We will seek common ground, not hostility."

The real estate developer thanked his wife, Melania, and his children for their patience, saying: "This was tough. This was tough. This political stuff is nasty and it's tough."

With Trump's ascension to the White House, the nationalist wave that has swept capitals around the world — including in Britain, which voted to break from the European Union this year — came crashing onto U.S. shores.

The prospect of an impulsive authoritarian in the Oval Office rattled investors around the world. On Wall Street, all three major stock index futures sank more than 3 percent. Japan's Nikkei index plunged 5.4 percent; Hong Kong's Hang Seng Index fell by more than 2 percent. The Mexican peso — which had fallen when the Republican nominee rose in the polls during his campaign — nosedived to an eight-year low, according to Bloomberg.

Across Europe, major markets all pointed downward.

The general election, which riveted the nation and produced a record television audience for a presidential debate, turned on the question of national identity. While Clinton assembled a diverse coalition that she said reflected the nation's future, it was no match for the powerful and impassioned movement built by fanning resentments over gender, race and religion.

Trump's promise to "Make America Great Again" inspired millions of Americans alienated by the forces of globalization and multiculturalism and deeply frustrated with the inability of Washington to address their needs.

Voters anxious about the economy, convinced that the system was stacked against them, fearful of terrorism and angry about the rising gap between rich and poor, gravitated toward Trump. In him, they saw a fearless champion who would re-create what they recalled as an America unchallenged in the world, unthreatened at home and unfettered by the elitist forces of "political correctness."

"It's a movement comprised of Americans from all races, religions, backgrounds and beliefs who want and expect our government to serve the people, and serve the people it will," Trump said in his victory speech.

He vowed: "Every single American will have the opportunity to realize his or her fullest potential. The forgotten men and women of our country will be forgotten no longer."

The presumption held by both campaigns, right up to the hours when polls began closing, was that Trump had a far narrower path to victory than Clinton. But he capitalized on nearly every opportunity across the electoral map.
From the moment that the polls began closing last night, there were signs that the night was not going to go the way that most of America, and all of the polls, expected that it would. Sure, for the first couple hours the states that were supposed to go to each candidate dutifully fell into place as both Clinton and Trump won their 'banked' states, but something odd seemed to be going on in many of the battleground states. Virginia, which had closed at  7pm Eastern, took far longer to be called for Clinton than the polling would have made it seem would take once initial votes and exit polling was taken into account. Vote totals amount minority groups in states such as North Carolina and Florida didn't seem to be coming out for Clinton as strongly as they had for President Obama in the previous two elections. There were few signs that Clinton was making inroads in any of Trump's red states in the manner that polling had suggested that they would over the past three months. Down-ballot races such as Senate races in Indiana, Ohio ,Florida, and Wisconsin were going far better for Republicans than anyone had seemed to anticipate and, most importantly, the battlegrounds seem to shift as the night from places like Ohio and Florida to traditionally Democratic states such as Wisconsin, Michigan, Pennsylvania, and Iowa. When 11:00pm came and the West Coast's Electoral Votes were added to Clinton's totals it suddenly became apparent that the night was turning into an uphill battle, but it was an uphill battle for Hillary Clinton, whose supporters spent the night finding that victory even by a narrow margin was turning out to become an exercise in finding an increasingly large number of votes in increasingly small corners of states that Clinton should have won easily, When Trump started winning in states such as North Carolina, Florida, and Ohio, it became apparent that, at the very least, the election was going to be far closer than anyone had anticipated, and that the possibility of a Trump when at the end of the night was becoming more real as the night went on.
As things stand, Donald Trump has 279 Electoral Votes while Hillary Clinton has 229 Electoral Votes, with three states — Arizona, Michigan, and New Hampshire — considered too close to call. For the second time since 2000, a President has been elected without winning the popular vote, with the current tally showing Clinton presently grabbing  59.2 million votes to just over  59 million for Trump. Gary Johnson came in third with a historic four million votes (3%) for the Libertarian Party, followed by just over 1.19 million for Jill Stein and the Green Party and some seven hundred thousand for other candidates. As final votes roll in from across the country, especially from California and the West Coast, Clinton's vote total will no doubt increase and this election will go down in history along with 2000 as another example of the loser of the popular vote becoming the new President.  Over the course of the night, Trump flipped five states that President Obama had won in each of his election wins, and scored history-defying wins in states that had not gone for a Republican candidate for President since 1988 or early such as Pennsylvania and Wisconsin. In the process, he  managed to hold off challenges from Clinton in states such as North Carolina and Arizona, and staved off a third-party challenge in deep-red Utah, which hadn't gone for anyone other than the Republican nominee since Lyndon Johnson's landslide in 1964. It wasn't a landslide, but if Trump was going to win this election it was never going to be by a landslide anyway.
As the days and months go by, there will be plenty of discussion about what happened last night and how Trump managed to defy the odds and pull off a victory that every poll, every projection, and history itself seemed to argue against. At the very least, the pollsters are going to find all their models and projections thrown into doubt by a result that was seemingly completely opposite from what their models were telling us. This wasn't just a matter of Trump doing a little better than the polls said he would, it was a matter of the polls completely misjudging the electorate that would appear at the polls. Additionally, the pollsters seemed to completely misjudge the kind of electorate that would head to the polls during the early voting period and on Election Day itself. It comes as much of a surprise as the extent of the Tory victory in Great Britain in 2015 and the Brexit vote early this year, and it's going to cause many people to seriously question the manner in which polling is conducted from now going forward.
The implications from yesterday will be far-reaching both domestically and internationally. It will have an impact on the economy, on foreign policy, and on the future of the rest of the world. The best we can hope for, I suppose, is that actually having power mellows Trump somehow and that Congress actually starts to act like a check on Presidential power in the manner that it did during the Obama Administration. If that fails to happen, then the battle for America's future will have to shift from being purely about winning elections to becoming winning the war of ideas. On some level, that's a battle I'm far more confident about than I am about putting my faith in Donald Trump surprising everyone and actually becoming the kind of President we could somehow actually come to find acceptable.