John Derbyshire's Bizarre Rant
NRO's John Derbyshire went off on a bizarre, racist, rant yesterday.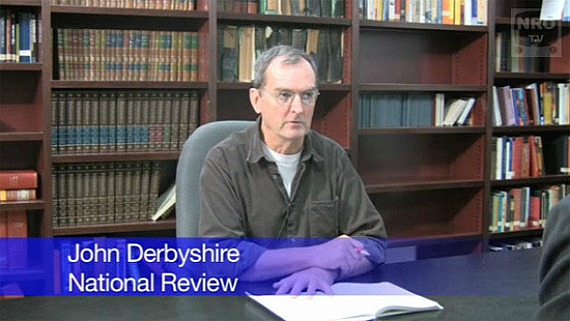 For reasons that only he can understand, National Review Online's John Derbyshire decided to put together what he claims is the white version of "The Talk" that black parents have in with their sons. I'm not certain whether he was trying to engage in ridicule here, whether he was trying to "demonstrate absurdity by being absurd," or whether he had the sarcasm meter turned up to eleven, but whatever he intended to accomplish, the whole thing  just comes across as a racist rant:
10) Thus, while always attentive to the particular qualities of individuals, on the many occasions where you have nothing to guide you but knowledge of those mean differences, use statistical common sense:

(10a) Avoid concentrations of blacks not all known to you personally.

(10b)Stay out of heavily black neighborhoods.

(10c) If planning a trip to a beach or amusement park at some date, find out whether it is likely to be swamped with blacks on that date (neglect of that one got me the closest I have ever gotten to death by gunshot).

(10d) Do not attend events likely to draw a lot of blacks.

(10e) If you are at some public event at which the number of blacks suddenly swells, leave as quickly as possible.

(10f) Do not settle in a district or municipality run by black politicians.

(10g) Before voting for a black politician, scrutinize his/her character much more carefully than you would a white.

(10h) Do not act the Good Samaritan to blacks in apparent distress, e.g., on the highway.

(10i) If accosted by a strange black in the street, smile and say something polite but keep moving.
That doesn't meant that Derbyshire thinks all blacks are bad, dumb, or dangerous:
(13) In that pool of forty million, there are nonetheless many intelligent and well-socialized blacks. (I'll use IWSB as an ad hoc abbreviation.) You should consciously seek opportunities to make friends with IWSBs. In addition to the ordinary pleasures of friendship, you will gain an amulet against potentially career-destroying accusations of prejudice.

(14) Be aware, however, that there is an issue of supply and demand here. Demand comes from organizations and businesses keen to display racial propriety by employing IWSBs, especially in positions at the interface with the general public—corporate sales reps, TV news presenters, press officers for government agencies, etc.—with corresponding depletion in less visible positions. There is also strong private demand from middle- and upper-class whites for personal bonds with IWSBs, for reasons given in the previous paragraph and also (next paragraph) as status markers.

(15) Unfortunately the demand is greater than the supply, so IWSBs are something of a luxury good, like antique furniture or corporate jets: boasted of by upper-class whites and wealthy organizations, coveted by the less prosperous
Well, isn't that very nice of him. The "good blacks" are like a fine wine or a Ferrari, hard to find and expensive to afford but well worth having. I'm sure that makes them feel so much better.
Not surprisingly, Derbyshire's article has garnered alot of attention since it was published late yesterday afternoon. Those of his NRO collegues who have chimed in on the matter since then — including Editor Rich Lowry, Rammesh Ponnuru, Jonah Goldberg, and Katrina Trinko have condemned the article and made clear that he speaks for nobody at National Review. Josh Barro, who often contributes over at NRO and writes for Forbes, argues that National Review needs to fire Derbyshire:
This is the problem for Lowry and other conservatives who want to be taken seriously by broad audiences when they write about racial issues. Lowry wrote a column containing advice for black Americans. Why should black Americans take him seriously while he's employing Derbyshire? If Lowry wants NR to be credible on race, he should start by firing John Derbyshire.
Tod Kelly, meanwhile, argues that there's at least one thing that everyone should be able to agree on regardless of their political ideology:
My titular question is an honest one – can we all agree, right, left and libertarian – that this is racist?

I have long maintained that conservatives are not inherently more racist than liberals. I have simply known far too many quality conservatives (and and far too many icky liberals) in my lifetime to believe such a thing.  I do think, however, that conservatives do an unbelievably bad job and policing their own when in come to racism (or sexism). I think this is because, fair or not, racism (and sexism) is the political turf staked out by liberals, and for too many conservatives it is more important to have a united front in discrediting whatever liberals say than it is to say "Good Lord, what a horrible thing to say" about one of their own.

It seems so clear to me that if the right as a whole is going to shed the reputation it absolutely has (and by and large does not deserve) on these fronts, it needs to be willing to stand up and be counted when lines are crossed, or at the very least to not defend them.
Yes, it does seem clear that the right has hurt itself significantly in recent years by not standing up and condemning that which should obviously be condemned. The most recent example before this article, of course, was the dust up over Rush Limbaugh's comments about Sandra Fluke. Rather than pointing out the obvious and saying that it was wrong for Limbaugh to deliberately misrepresent this woman's testimony and call her  a slut, most people on the right rushed to his defense and doubled down on the attacks on Fluke. The fact that the entire incident completely backfire on the right and has contributed to a Gender Gap problem that could be a huge deal for the GOP in the fall doesn't seem to have occurred to them.
There's been a similar reaction, in some ways, to the whole Trayvon Martin/George Zimmerman shooting incident, and Derbyshire's article is perhaps just the worst example of those on the right who has spent the last several weeks trying to back up the assertion that there was something dangerous about Trayvon Martin, a fact that may or may not even be relevant to what actually happened on the night of February 26th. Yes, Derbyshire's piece is vile and racist, made worse so by the fact that he attempts to back up his rather obvious prejudices about an entire segment of American society with pseudo-science and generalizations. It's good to see his fellow contributors at NRO condemning it's obvious idiocy. I can't help but think, though, that there's some segment on the right that's going to read it and nod their heads in quiet agreement, not because they know its true but because it confirms their own prejudices. And that, perhaps, is Derbyshire's greatest sin. I suppose it's just proof that seemingly smart people can be complete idiots too.
UPDATE: In a not entirely surprising development, John Derbyshire has been fired by National Review.
Photo via National Review