Republican Stupidity Widens Gender Gap
Weeks of bizarre talk about contraception and vaginal ultrasounds has surprisingly alienated women from the Republican Party.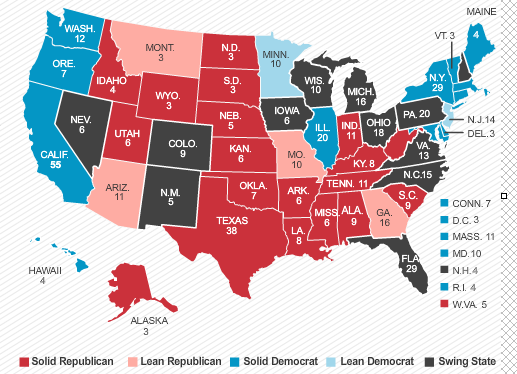 Weeks of bizarre talk about contraception and vaginal ultrasounds has surprisingly alienated women from the Republican Party.
USA Today ("Swing States Poll: A shift by women puts Obama in lead"):
President Obama has opened the first significant lead of the 2012 campaign in the nation's dozen top battleground states, a USA TODAY/Gallup Poll finds, boosted by a huge shift of women to his side.

In the fifth Swing States survey taken since last fall, Obama leads Republican front-runner Mitt Romney 51%-42% among registered voters just a month after the president had trailed him by two percentage points.

The biggest change came among women under 50. In mid-February, just under half of those voters supported Obama. Now more than six in 10 do while Romney's support among them has dropped by 14 points, to 30%. The president leads him 2-1 in this group.

Romney's main advantage is among men 50 and older, swamping Obama 56%-38%.

Republicans' traditional strength among men "won't be good enough if we're losing women by nine points or 10 points," says Sara Taylor Fagen, a Republican strategist and former political adviser to President George W. Bush. "The focus on contraception has not been a good one for us … and Republicans have unfairly taken on water on this issue."

In the poll, Romney leads among all men by a single point, but the president leads among women by 18. That reflects a greater disparity between the views of men and women than the 12-point gender gap in the 2008 election.

[…]

Romney pollster Neil Newhouse predicts the gender gap will narrow as Romney moves from the pitched battle of the GOP primaries — Wisconsin, Maryland and the District of Columbia vote Tuesday — to a fall election focused on economic issues.

"If there's a gender gap, it goes beyond Mitt Romney or Newt Gingrich or Rick Santorum to a partisan gender gap," Newhouse said in an interview. "It's not Romney-specific. I would argue that it's broader than that."
Full disclosure: Neil's a close family friend. And he's been Romney's pollster for many years, so he's obviously biased in his analysis. That said, he's right here. Indeed, I'd argue that this is both a longstanding Republican problem and a specific outgrowth of the current campaign and has almost nothing to do with Romney per se.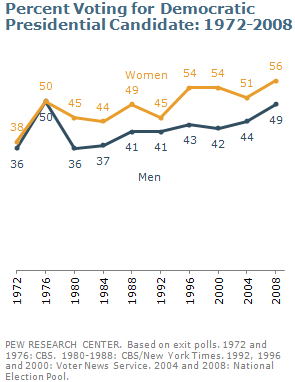 The so-called Gender Gap has been with us since at least the 1964 election and became part of our political conversation during the Reagan years. Through some combination of what Cokie Roberts calls "mommy issues," the rise of abortion as a major cleavage issue three decades ago, and other factors, more women than men have been identifying themselves as Democrats for decades. And they've been voting that way, too.
The current campaign has exacerbated the gap, however.
First, the Obama administration's hamhanded rollout of an otherwise uncontroversial regulation requiring insurance plans to offer birth control pills at no-cost turned into a political football because there wasn't a workaround for Catholic institutions. While that initially redounded to the benefit of Republicans, because it became a fight over religious liberty and the limits of government power, it turned into a debate over whether taking contraception is moral because of Rick Santorum's prominence on the national stage and the disgusting gasbaggery of Rush Limbaugh.
That turned a winning issue into an absolute loser. While Romney himself avoided that trap, it fed right into the Democrats' narrative of a Republican "war against women." Indeed, the overwhelming number of Republicans, certainly Republican women, either use or support the use of contraception. And that's even before we throw in the fact that there are all manner of non-contraceptive uses for the pill.
Second, the longstanding effort by states where evangelical Christians control the levers of political power to get around the Supreme Court's 1973 declaration that early term abortions are a Constitutional right turned utterly bizarre. The state where I live, Virginia, was seriously debating a law that would have required women seeking to have an abortion to undergo a vaginal ultrasound to determine fetal age. While the conservative Republican governor, Bob McDonnell, finally stepped in and convinced the legislature to go with a less outrageous approach, the damage was done.
Again, none of this is Mitt Romney's doing. But he's going to be the Republican standard bearer and that banner has been tarnished by this discussion. And, because he's been in a fight with Santorum and Gingrich to secure the nomination, he hasn't distanced himself enough from these issues out of fear of alienating the most rabid parts of the base.
If, as expected, Romney wins Wisconsin tomorrow, he'll likely reclaim the mantle of inevitability that he's surrendered several times. Probably permanently. But it may be too late to undo the damage done. Unless there really is an Etch-a-Sketch.