John Kelly Defends Trump On Call To Grieving Family, But Gets Many Facts Wrong
White House Chief Of Staff John Kelly publicly defended the President's call to a military widow yesterday, but he got several facts wrong in the process.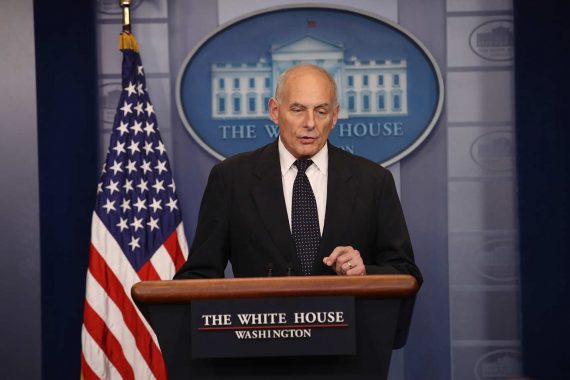 During yesterday's White House Press Briefing, White House Chief of Staff John Kelly, who has rarely appeared before the press or answered questions, came into the briefing room to defend the President against the charge that he was insensitive while speaking with the family of one of the soldiers who died on a mission in Niger, but in the process he also attacked a Member of Congress and relied on misrepresented facts to do so:
WASHINGTON — John F. Kelly, the White House chief of staff, delivered a searing, personal defense of President Trump's phone call this week to the widow of a slain Army soldier, describing on Thursday the trauma of learning about his own son's death in Afghanistan and calling the criticism of Mr. Trump's condolences unfair.

In a public relations mission that was part emotional catharsis and part political attack, Mr. Kelly lashed out at Representative Frederica S. Wilson, Democrat of Florida, for publicizing the call between Mr. Trump and Myeshia Johnson, whose husband, Sgt. La David T. Johnson, was one of four American soldiers killed in an Oct. 4 ambush in Niger.

Mr. Kelly accused Ms. Wilson — who was in a car with Ms. Johnson when Mr. Trump called and is a longtime family friend — of being a publicity-seeking opportunist. He said that the congresswoman's willingness to breach the confidentiality of Mr. Trump's words is evidence of a broader decline in the values of an American society that no longer treats women, religion, "life" or Gold Star families as sacred.

"It stuns me that a member of Congress would have listened in on that conversation — absolutely stuns me," Mr. Kelly said during a somber, 18-minute appearance in the White House briefing room. He said that he was so upset by Ms. Wilson's appearances on TV news shows that he had to collect his thoughts by walking through the graves at Arlington National Cemetery for more than an hour.

Late Thursday night, Mr. Trump assailed Ms. Wilson in a tweet, accusing her of listening "SECRETLY on a very personal call, and gave a total lie on content!"

Mr. Kelly struck a tone that was more even, if just as powerful. He displayed scorn for a society that he said does not appreciate the sacrifice of those in the military. "Most of you as Americans don't know them," he said, bemoaning that "there's nothing in our country anymore that seems to suggest that selfless service to the nation is not only appropriate but required."

A retired Marine general whose son Second Lt. Robert Kelly was slain in battle in 2010, Mr. Kelly has long guarded his personal story of loss even as he served as a high-profile public official. He broke that silence in dramatic fashion on Thursday, offering — from his personal and professional experience — a detailed, even excruciating description of what happens to the remains of those killed in combat, and how the grieving families back home are notified.

"Their buddies wrap them up in whatever passes as a shroud," Mr. Kelly told an unusually hushed room filled with reporters. "They're packed in ice, typically at the air head, and then they're flown to — usually Europe, where they're then packed in ice again and flown to Dover Air Force Base, where Dover takes care of the remains, embalms them, meticulously dresses them in their uniform with the medals that they've earned, the emblems of their service."

He testified to the deep pain that parents feel when they get an early-morning knock on the door from an official to tell them that their son or daughter has been killed in action. "The casualty officer proceeds to break the heart of a family member," Mr. Kelly said, his eyes reddening as he spoke.

And he described the moment that he got the knock on his own door: A military official telling him that his son "was doing exactly what he wanted to do when he was killed," Mr. Kelly recalled. "He knew what he was getting into by joining that 1 percent. He knew what the possibilities were because we were at war."

Mr. Kelly also revealed, apparently for the first time, that he was standing next to Pfc. Chance Phelps, the subject of the HBO movie "Taking Chance," as the Marine private was killed by hostile fire in Anbar Province in Iraq. The movie, which recounted the return of the Marine's remains, "is worth seeing," Mr. Kelly said.

Peggy Noonan, a former speechwriter for President Ronald Reagan, said Mr. Kelly's blunt remarks will have impact because of the stark contrast with an administration that has repeatedly lost credibility with the public.

"Its great power was you knew he was telling the truth, and in all specifics," said Ms. Noonan, a Wall Street Journal columnist. "Kelly comes to the podium and it was credible, and you felt a kind of relief, and respect and gratitude."

(…)

[The President's conversation with Sgt. Johnson's family]was first revealed by Ms. Wilson, who quoted Mr. Trump as saying that Sergeant Johnson "knew what he signed up for." The congresswoman told reporters that she and the Johnson family were offended by the president's bluntness.

Mr. Kelly's initial grief on Thursday quickly gave way to an anger that was fueled by what he said was an unfair attack on his boss.

He said Mr. Trump was merely trying to express what Mr. Kelly had discussed with the president before the phone call — that soldiers like Sergeant Johnson were doing what they loved, and what they had chosen to do, when they were killed serving the country.

"That's what the president tried to say to four families," Mr. Kelly said. He later appeared to attack Ms. Wilson by noting that, during an emotional 2015 ceremony, a congresswoman had crassly claimed political credit for getting funding for an F.B.I. building in Miami that was named for fallen agents. Ms. Wilson's congressional district includes parts of Miami.

"And we were stunned — stunned that she'd done it," Mr. Kelly recalled, though he did not name Ms. Wilson. "Even for someone that is that empty a barrel, we were stunned."
Here's the video of Kelly's appearance yesterday:
Kelly's statement was unusual both because he has only rarely talked to the press since becoming White House Chief of Staff and because it has been even rarer for him to comment publicly in any way on the death of his son, a topic about which he understandably is clearly still very emotional about. That being said, Kelly is now the White House Chief of Staff and serving under a controversial President. This means that he is as subject to scrutiny as anyone else, notwithstanding the White House's claims today that he should not be questioned merely because he is a former Marine Corps General. That may well be the case, but he is now as much a politician as his boss and everyone else working in a political position in the White House, and his words are subject to the same amount of scrutiny as President Trump's. In that respect, it's worth noting that he engaged in some of the same attacking the messenger tactics that his boss does on a regular basis, and that he both omitted and misrepresented several things in his effort to defend the President and attack Congresswoman Wilson, who was the first person to report both what the President said and the fact that it not only didn't comfort the Johnson family but apparently served only to offend and upset them even further.
Right off the top, for example, the assertion that Congresswoman Wilson was somehow acting improperly by listening in on the phone conversation between the President and Johnson's widow ignores several important facts. According to numerous media reports since this matter became public, there has been a long friendship between Congresswoman Wilson and members of Johnson's family to the extent that Wilson has known Sgt. Wilson since long before he enlisted in the military. Sgt. Wilson was also a graduate of a program run by Wilson's office for young boys and girls in her District and had a direct relationship of his own with the Congresswoman. Additionally, Wilson has apparently spent long hours with other residents of her District who have had sons, brothers, husbands, and fathers killed in action over the past sixteen years. The Washington Post's Derek Hawkins details many of these stories in his report on the Congresswoman's relationship with the family and her community that was published prior to Kelly's remarks. Additionally, it has been reported that the phone call itself occurred while Sgt. Johnson's widow, accompanied by Wilson and other family members, was on her way to the airport to meet the casket of her husband as it arrived from Dover Air Force Base in Delaware and that it was Johnson's widow who put the call on speakerphone so that everyone in this car could hear it. In other words, there was nothing unusual in the fact that Wilson was present for the call, although perhaps one can question her decision to make the details of that call and the family's reaction to it public. Given all of this, it's clear that Kelly's attack on Wilson was unwarranted and out of line.
In addition to attacking Wilson over her presence on the call with the President, he also attacked her over an incident in 2015 involving the dedication of a new F.B.I. Building that was named in honor of two F.B.I. agents killed in the line of duty, claiming that she used her speech at the dedication to talk about her involvement in getting funding for the building without acknowledging the men to whom the building was dedicated to, or who else may have been involved in the process. Subsequent press reports have shown that this is a misrepresentation of Wilson's remarks. The Miami Herald was first out of the gate in this regard, with a report on Kelly's remarks that included Wilson's response and noted that the former General's remarks about what happened in 2015 were not an accurate representation of what happened. The Sun-Sentinel of Broward County followed that report up with a report of its own that included video of the 2015 event Kelly was talking about that clearly shows that he did not represent what happened accurately, as the Washington Post's summary notes:
a video from the Sun-Sentinel of Fort Lauderdale of Wilson's remarks at the April 10, 2015, dedication shows that she said no such thing during a ceremony that included then-FBI Director James B. Comey. In her nine-minute address, Wilson did recount how she went into "attack mode" to ensure that Congress and Obama expedited a bill to name the building after two fallen FBI agents who were from the area in about four weeks.

When initially told that such legislation could take as long as a year, Wilson recalled, "I said — I'm a school principal — and I said, excuse my French, 'Aw, hell no, we're going to get this done.'" Wilson spread credit to others for helping in the effort, including House Speaker John A. Boehner (R-Ohio). She also told the stories of the heroism of the two agents, Benjamin Grogan and Jerry Dove, who were killed in a shootout with bank robbers in 1986 in Miami.

In an interview Thursday with McClatchy news service, Wilson said of Kelly's charge: "That is crazy that I got [the money] and Mr. Obama just gave it to me. That building was funded long before I got to Congress. I didn't say that. I have staff, people who write the speeches. You can't say that."'
You can watch the full video of the 2015 event at the Sun-Sentinel link above, and it's clear that Kelly was wrong in his representation of what Wilson said at the time. Whether that is due to the fact that he isn't recalling the event accurately or that he's consciously lying is something I'll leave up to the reader to decide.