John McCain Thinks Sarah Palin Can Beat Obama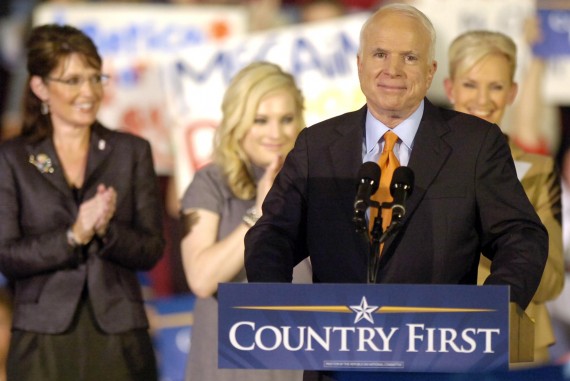 Well, I guess you have to give John McCain some credit for loyalty, if not common sense:
Sen. John McCain (R-Ariz.) has said he thinks Sarah Palin could defeat President Obama in next year's presidential election, but he's far from certain that she will actually jump into the race.

The GOP's standard-bearer in 2008 also shrugged off his former running mate's poor standing in many polls, saying she would have the opportunity to turn that around if she did make a bid for the White House.

"That's what campaigns are all about," McCain said on "Fox News Sunday."

"I've never seen anyone as mercilessly and relentlessly attacked as I have seen Sarah Palin in the last couple of years," the Arizona senator added. "But she also inspires great passion, particularly among the Republican faithful."
Mercilessy attacked, of course, by being asked such tough questions as what do you read?
One wonders if McCain has looked at the polls lately