John McCain's Finest Hour
One moment at a campaign rally in October 2008 defines better than anything else what American politics lost when John McCain passed away.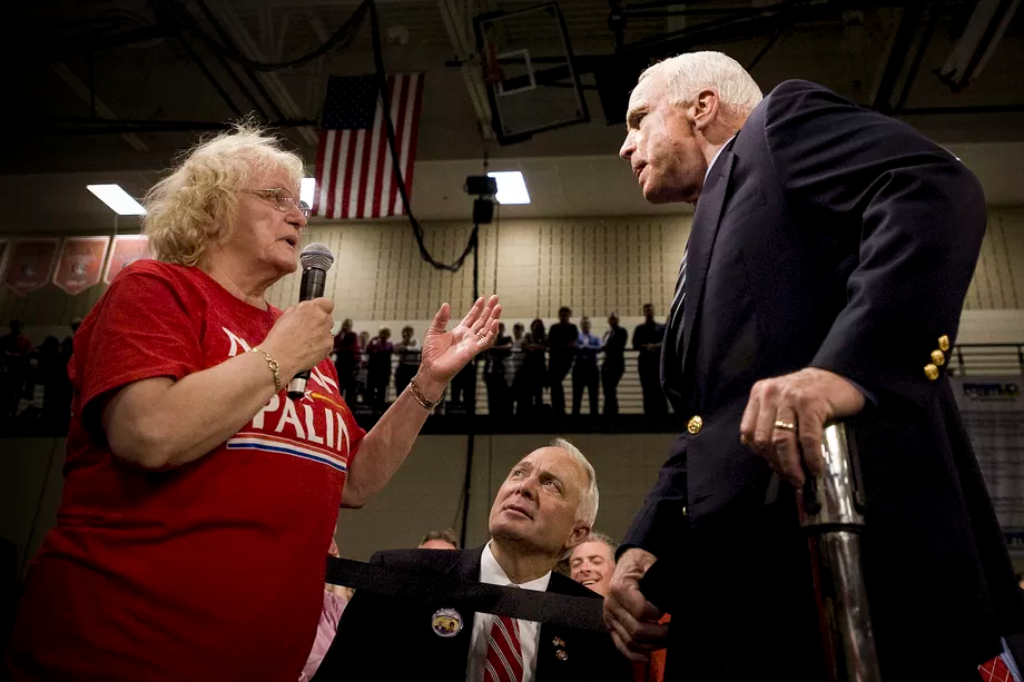 It has been less than twenty-four hours since we learned of the passing of Senator John McCain and, as might be expected, the news sites on the Internet and the cable news networks have spent most of that time talking about McCain's legacy, his history, and the things that he is likely to be remembered for by history. Many of the topics are ones that have been well-known by anyone who follows politics and news on a regular basis, such as his history as a prisoner of war in Vietnam, the circumstances of his capture and five-year-long detention, and his refusal to accept an early release when the North Vietnamese realized he was the son of one America's top commanders in the Pacific and the grandson of an Admiral who had played a significant role in the war against Japan during World War Two. Another story, which fewer people may remember, involves an incident that preceded his capture when he was nearly killed in an explosion on board the aircraft carrier USS Forrestal which Jazz Shaw recounts in a post this morning at Hot Air. Other stories have focused on his years in Congress and the Senate, a career that was capped off by his sure to be legendary "thumbs down" vote on an effort to repeal and replace the Affordable Care Act.
For me, though, there is one moment that stands out among all the others. It happened during the 2008 General Election campaign, and perhaps more than anything else that happened during that portion of the campaign, it revealed the core decency that McCain always had notwithstanding the fact that he was, as he often admitted himself, a far from perfect man. I am speaking, of course, of an incident that occurred in early October 2008 at a rally that McCain was presiding over on his own rather than a joint appearance with running mate Sarah Palin. By this point in the race, of course, the McCain/Palin ticket had erased the gains that it had made in the immediate aftermath of the Republican National Convention and the Obama/Biden ticket was on an inexorable upswing that would eventually lead to victory. As the polls turned sour, the McCain campaign found itself dealing with the fact that many supporters on the hard-right were criticizing it for allegedly not being more aggressive in the fight against then-Senator Obama, and even Governor Palin was openly talking about "going rogue" and being more brazen in attacks on Obama by bringing up some of the more bizarre allegations against him that had been circulating around the conservative media, including questions about Obama's place of birth and his religious faith. McCain and his close circle of advisers resisted those calls and did what they could to prevent Palin from traveling down that road, something that reportedly caused significant tension between the running mate and the campaign.
All of that came to a head on October 10th in Lakeville, Minnesota during one of the town-hall style events that McCain had perfected in New Hampshire during his run for the Republican nomination in 2000 and which he returned to several times throughout the primary and General Election season in 2008. In any case, at some point the microphone was handed to a woman in the audience, and, well, Politico reported it this way:
Fearing the raw and at times angry emotions of his supporters may damage his campaign, John McCain on Friday urged them to tone down their increasingly personal denunciations of Barack Obama, including one woman who said she had heard that the Democrat was "an Arab."

Each time he tried to cool the crowd, he was rewarded with a round of boos.

"I have to tell you. Sen. Obama is a decent person and a person you don't have to be scared of as president of the United States," McCain told a supporter at a town hall meeting in Minnesota who said he was "scared" of the prospect of an Obama presidency and of who the Democrat would appoint to the Supreme Court.

"Come on, John!" one audience member yelled out as the Republican crowd expressed dismay at their nominee. Others yelled "liar," and "terrorist," referring to Obama.

McCain passed his wireless microphone to one woman who said, "I can't trust Obama. I have read about him and he's not, he's not uh — he's an Arab. He's not — " before McCain retook the microphone and replied:

"No, ma'am. He's a decent family man [and] citizen that I just happen to have disagreements with on fundamental issues and that's what this campaign's all about. He's not [an Arab]."

The public display of fear and unease over Obama comes at the end of a week in which other Republicans at McCain and Sarah Palin events expressed similar frustrations, a product of exasperation at the prospect of the Illinois senator becoming president and their own nominee not doing enough to prevent it.

McCain's campaign manager, Rick Davis, sought to tamp down concerns about the audience outbursts on a conference call earlier Friday, saying they were not a "big deal."

But that was before the highly-charged meeting in a high school gymnasium in Lakeville, Minn., Friday night.

In addition to the man who said he feared Obama as president, another predicted the Democrat would "lead the country to socialism."

"The time has come and the Bible tells us you speak the truth and that the truth sets you free," the man added.

Yet another voter implored McCain in plain terms: "The people here in Minnesota want to see a real fight."

McCain promised the audience he wouldn't back down — but again sought to tamp down emotions.

"We want to fight, and I will fight," McCain said. "But I will be respectful. I admire Sen. Obama and his accomplishments, and I will respect him."

At which point he was booed again.

"I don't mean that has to reduce your ferocity," he added over the jeers. "I just mean to say you have to be respectful."
Here's the video:
In the end, of course, the McCain/Palin ticket lost the election and, in a way, McCain lost the argument that he was effectively having with the crowd in Minnesota on that day. In the end, it was the vitriolic rhetoric that Palin that those that gathered around her and, ultimately, the Tea Party, that won the day in the Republican Party while McCain, who returned to the Senate and continued to contribute to his country as he had since graduating from the Naval Academy, was pushed to the sidelines, denounced as a "RINO" (Republican In Name Only) due in no small part to his refusal to engage in the gutter swamp politics that was represented by the people who booed him that day. It was those people and those who represent them in the media and in "news" outlets such as Fox News Channel, Breitbart, and other places, that came to define what conservatism and Republicanism were to be during the Obama Presidency. From time to time, McCain sought to push back on these impulses, including during one of his final speeches to the Senate in which he called on his fellow Senators to reach across the aisle in much the same way he had throughout his career. Unfortunately, in an era where Trumpism has taken over the Republican Party, that call is likely to fall on deaf ears.
This sad truth is perhaps best personified in July 2015 when then-candidate Trump dismissed the idea that McCain was a war hero and said he preferred people who weren't captured. In an ordinary era, that remark would have meant the end of a campaign. Instead, it only seemed to push Trump higher in the polls and on a path that eventually made him the Republican nominee and President of the United States. More than anything else, that fact is a fairly apt demonstration of the extent to which the values of service and decency that McCain sought to bring to the campaign that day in October 2008 have been rejected by modern-day conservatism and the modern-day Republican Party.
Not surprisingly, in the hours after news of Senator McCain's passing, the clip of that moment in October 2008 went viral on Twitter and elsewhere on social media. It's easy to understand why. While the McCain campaign of 2008 was far from perfect, that moment revealed something fundamental about McCain's character that is utterly lacking in people like Donald Trump. It is the kind of character that we desperately need more of if we are going to make it through our current crisis without the tidal forces of hyperpartisanship tearing us apart. With the passing of Senator McCain, we have lost one of the strongest warriors for that ideal. He made not have been perfect, but John Sidney McCain III was a decent man, as he revealed that day. In the coming days, politicians, analysts, journalists and others will eulogize Senator McCain and the contributions and sacrifices he made for his country will be appropriately honored. In the long term, though, it occurs to me that the best way to honor the Senator would be for all of us to take a step back from the brink and to remember these words from McCain's acceptance speech at the 2008 Republican National Convention:
I fell in love with my country when I was a prisoner in someone else's. I loved it not just for the many comforts of life here. I loved it for its decency, for its faith in the wisdom, justice, and goodness of its people. I loved it because it was not just a place, but an idea, a cause worth fighting for. I was never the same again; I wasn't my own man anymore; I was my country's.
We're going to need people like this to rescue us from the path we're headed down in the age of Trump and I'm not sure if they're going to arrive in time.