Kansas And Arizona Creating Two-Tiered Voting Systems
Two states are creating a voting system that will make some people ineligible to vote in state and local elections.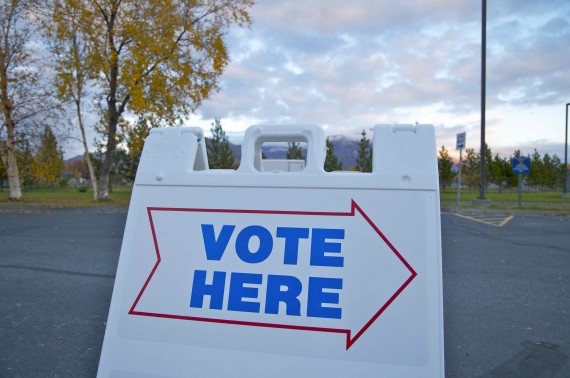 As you may recall, at the end of the Supreme Court's last term, the Court handed down a decision dealing with an Arizona law that purported to create a requirement that residents of the state must present proof of citizenship prior to registering to vote. The Court struck the law down because it was pre-empted by a Federal Law that has been the law for some 20 years known as the "Motor Voter Bill." At its most basic level, the Court ruled that Arizona could not impose requirements beyond those required by the Federal Law, at least not for Federal elections. At the time, noted that Arizona could apply to have its separate requirements approved by the relevant Federal agency charged with the enforcing the law. Instead, though, it appears that the state has decided to join Kansas in going in an entirely different direction that would effectively set up a two-tiered voting system that could make some people ineligible to vote in statewide elections:
Arizona and Kansas, where top state posts come up for grabs next year, are creating two-tiered voting systems to bar some residents from casting ballots in all but congressional races unless they prove they're U.S. citizens.

The dual methods are in response to a U.S. Supreme Court ruling in June that bars Arizona from rejecting federal voter-registration forms that don't include proof of citizenship, which is required by both states. To comply, both plan to provide those voters with ballots listing just federal races.

"It is quite likely going to disenfranchise a number of voters," said Julie Ebenstein, a lawyer with the Voting Rights Project of the American Civil Liberties Union in New York.

"It is going to cause a lot of expense to county election officials and confusion."

State officials say they have little choice: the high court didn't invalidate the statutes that require proof of citizenship to vote in state and local races. Critics say the mandates are designed to impede ballot access for minorities, the poor and older residents who may not have the needed documentation, such as a passport or a birth certificate.

"It's a little bit of a mess for election officials," said Matt Roberts, a spokesman for Arizona Secretary of State Ken Bennett. "We found ourselves in the middle of these two things."

(…)

Supporters of the proof-of-citizenship requirements, passed by ballot initiative in Arizona in 2004 and by Kansas lawmakers in 2011, say they're needed to ensure that noncitizens don't participate in elections. On the federal form, created as part of the so-called "Motor Voter Law" intended to make registration easier, applicants swear that they are citizens, under penalty of perjury.

The state measures reflect larger battles over ballot access and the role of states in combating illegal immigration. In the months leading up to last year's presidential election, Republicans pushed new laws requiring voters to present identification at the polls and other measures they said were needed to prevent fraud. Democrats cried foul, charging that the laws sought to suppress participation by those likely to favor their candidates, such as young people and Latinos.

Kay Curtis, spokeswoman for Kansas Secretary of State Kris Kobach, said her state's requirements aren't set up to prevent voting by anyone who is eligible. Kobach, a Republican, is credited with helping Arizona lawmakers draft a 2010 immigration law that was mostly struck down by the Supreme Court in 2012.

"The law applies to every Kansan equally," she said.
As a matter of law, this likely isn't unacceptable on its face. Under the Constitution, Congress generally only has the authority to regulate matters related to Federal Elections while all other election requirements, including the terms for who is eligible to vote in state and local elections, is left up to the states. This is why the Motor Voter Bill applies only to how eligibility to vote in Federal Elections is determined. The only exceptions to this general rule come into place when there is evidence of discrimination in the state law, which typically requires that it was either adopted with the specific intent to impede the voting rights of protected minorities, or that its application has a disparate impact on such groups. Issues like that, of course, typically cannot be determined until the law has actually gone into effect. Essentially then, there is no specific rule forbidding Kansas and Arizona from doing this.
As Emily Badger notes, though, it's still a pretty bad idea as far as policy goes:
This idea will have two obvious and unfortunate consequences: It will create mass confusion (TPM writes that Kansas is envisioning four different registration scenarios involving two different registration forms, with some people left ineligible to vote in any election). And by creating greater barriers to registration specifically in non-federal elections, the idea threatens to particularly impact elections for offices like mayor, city council, and state representative.

We already know that turnout in local elections tends to be dramatically lower than in national ones, with direct implications for who gets elected. If anything, we should be trying to find ways to boost local election turnout, not curtail it even further. History has also shown that the political representation of minorities in offices like city council has expanded over time right alongside protections for their voting rights.
The logistical headaches of trying to maintain two different voter lists, one for state elections and the other for Federal elections, would seem to be rather obvious. The people who maintain the rolls would be confused, the poll workers would be confused, especially in years where there are both Federal and state/local offices on the same ballot. One estimate states that the law would cost counties in Arizona an additional $200,000 to $250,000 per election cycle, and one assumes that the costs would be similar in Kansas, at least in the more heavily populated areas of the state. Purely as a matter of good government and fiscal conservatism, then, there would seem to be no justification for this law that could be said to be independent of the desire to make sure that certain people don't vote.
None of this should be a surprise, though. As noted, Kansas Secretary of State Kris Kobach, who has been rumored to have ambitions of running for Governor some day, has been the one of the chief national movers behind the wave of restrictive voting and immigration laws that have swept the country in recent years. He was largely the architect of Arizona's SB 1070, major parts of which were struck down by the Supreme Court, and played a role in crafting similar laws in other parts of the country. The fact that he came up with this idea shouldn't really be surprising, and strikes me as one reason to be very suspicious of the motivations behind it.