Arizona Law Requiring Proof Of Citizenship To Register To Vote Struck Down By SCOTUS
Today's decision by the Supreme Court was, on the surface, a victory for Federal Supremacy, but the issue itself is far from resolved.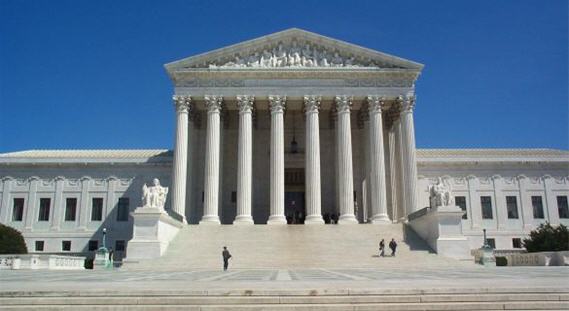 Today, the Supreme Court struck down an Arizona law passed in 2004 via voter referendum that requires people registering to vote to provide proof of citizenship at the time of registration. In it's ruling, the Court essentially held that the law, which is largely identical to similar laws in Alabama, Kansas, and Georgia, is unconstitutional because it is pre-empted by a Federal law that has been on the books since the early 1990s and is known popularly as "Motor Voter" law:
WASHINGTON — Arizona may not require documentary proof of citizenship from people seeking to vote in federal elections there, the Supreme Court ruled in a 7-to-2 decision on Monday.

Justice Antonin Scalia, writing for the majority in Arizona v. Inter Tribal Council of Arizona, No. 12-71, said a federal law requiring states to "accept and use" a federal form displaced an Arizona law requiring various kinds of proof of citizenship.

The federal law, the National Voter Registration Act of 1993, allows voters to register using a federal form that asks, "Are you a citizen of the United States?" Prospective voters must check a box for yes or no, and they must sign the form, swearing under the penalty of perjury that they are citizens.

The state law, by contrast, required prospective voters to prove that they were citizens by providing copies of or information concerning various documents, including birth certificates, passports, naturalization papers or driver's licenses, that are available only to people who are in the state lawfully.

The state law was a result of a 2004 voter initiative, Proposition 200, that said it was meant to combat voter fraud. The law has given rise to tangled proceedings ever since. Under the Voting Rights Act of 1965, Arizona was required to obtain federal approval before it changed its voting procedures. The Justice Department granted approval in 2005.

According to the plaintiffs in the case, tens of thousands of Arizonans have been denied the ability to vote because they failed to present the required evidence.

Much of Justice Scalia's majority opinion concerned the meaning of the phrase "accept and use." Arizona officials argued that they do accept and use the form, but also require additional information. An airline may accept and use e-tickets, they said, but also require identification.

When the case was argued in March, Thomas C. Horne, Arizona's attorney general, said the federal approach was insufficient to protect the integrity of federal elections in his state. "It's essentially an honor system," he said of the statement required by the federal form. "It does not do the job."

In the decision on Monday, Justice Scalia said the phrase "accept and use," when understood in context, meant that the federal form had to be accepted as sufficient. Chief Justice John G. Roberts Jr. and Justices Ruth Bader Ginsburg, Stephen G. Breyer, Sonia Sotomayor and Elena Kagan joined all of the majority opinion, and Justice Anthony M. Kennedy joined most of it.

In a concurrence, Justice Kennedy said that the majority went too far in suggesting that federal laws concerning elections were not subject to a presumption often said to be applicable to federal laws: that they should not be presumed to displace state laws. Justice Scalia said that presumption was not applicable to federal laws concerning voting.

Justice Kennedy objected to what he called the establishment of "a hierarchy of federal powers" in this area. The discussion was not needed, he said, because the federal law at issue was "unambiguous in its pre-emption of Arizona's statute."

In a long dissent, Justice Clarence Thomas said the Constitution gave states the power "to determine the qualifications of voters in federal elections, which necessarily includes the related power to determine whether those qualifications are satisfied."

"Congressional legislation of voter qualifications was not part of the framers' design," Justice Thomas wrote.

In a second dissent, Justice Samuel A. Alito Jr. focused on the language of the federal law, which he said was ambiguous. The majority's interpretation of it, Justice Alito wrote, "produces truly strange results." He said he would read the law to mean that states "accept and use" the federal form so long as it is "a meaningful part of the registration process."
Although many in the media are treating it as such, this isn't a Voter ID case per se because it doesn't deal with the issue of laws that require voters who are already registered to show identification when they show up at the polls to vote.  On that issue, it's worth noting that the Supreme Court has already upheld voter identification laws in a case that was decided five years ago that dealt with a Voter ID law in Indiana. Here, the Court is dealing with the requirements that must be met by someone when they go to register to vote.
On the surface, this opinions reads like a fairly clear victory for the Plaintiffs in the case, and a clear recognition of the principle of the supremacy of Federal Law set forth via the Constitution's Supremacy Clause. Indeed, notwithstanding the dissents of Justices Alito and Thomas, the Courts conclusion seems axiomatic. The Federal Law in question sets forth the requirements that must be met for a person to be eligible to register to vote in Federal elections, the form that was created in the wake of that law simply requires an applicant to swear under penalty of perjury that they are a citizen of the United States, and the law itself requires states to "accept and use" the Federal form. While the dissenters attempt to parse this language in a way that makes it possible for the states to add to the requirements set forth in the Federal Law, it seems fairly obvious that these arguments must fail. If Federal Law is supreme, then that means it is the final word on the subject until that law is amended, repealed, or struck down by a Court. The idea that states can somehow add to that law on an ad hoc basis would seem to fly in the face of Federal Supremacy as established by the Constitution's Supremacy Clause. This is largely why this cases was decided by a 7-2 majority that included both the Courts liberal wing and some of its most conservative members.
>However, the analysis doesn't quite end there. As Lyle Denniston pointed out in his analysis of the case, there is much in the opinion that suggests that Arizona and other states could achieve the ends of the law that was struck down by other means:
If a reader of the Scalia opinion stopped at the top of page 13, the impression would be very clear that Congress had won hands down in the field of regulating federal elections.   But from that point on, there is abundant encouragement for what is essentially a states' rights argument: that is, that the states have very wide authority to define who gets to vote, in both state and federal elections.

On the particular point at issue in this case — Arizona's requirement of proof of citizenship before one may register to vote or actually vote — the Scalia opinion said that a state was free to ask the federal government for permission to add that requirement.   And, Scalia said, if that doesn't work — either because the federal agency that would deal with such a request is either not functioning or says no — then a state would be free to go to court and make an argument that it has a constitutional right to insist on proof of citizenship as an absolute qualification for voting, in all elections.

The opinion seemed to leave little doubt that, if Arizona or another state went to court to try to establish such a constitutional power, it might well get a very sympathetic hearing, because that part of the Scalia opinion laid a very heavy stress on the power of states under the Constitution to decide who gets to vote.   Indeed, that part of the opinion said that the Constitution simply does not give Congress the power to decide who can qualify, but only how federal elections are run procedurally.

It will be up to lower courts — and election-law specialists — to sort out just how to reconcile the two parts of the Court's majority opinion.   And it appears there may well be quite a few opportunities to do so, because of the rising number of efforts — particularly in states in which Republicans have control of state governments — to impose new voter ID and other restrictions on the right to vote.

If the Arizona ruling turns out, in the future, to widen the power of states to limit the right to vote, the decision might turn out to have been far more decisive than its internal contradictions suggested on first reading on Monday.
The other factor worth noting here is that the Constitution only gives Congress authority to regulate Federal elections. Outside of laws such as the Voting Rights Act of 1965, Congress has no real authority over state and local elections. Theoretically, Arizona could possibly set up a completely separate registration system for such elections and the "Motor Voter" law would have no real authority over it. Realistically, this would likely be far too administratively cumbersome to be practical. Instead, states like Arizona are likely to take the steps that Denniston mentioned such as petitioning the Federal Government and Congress specifically to add to the Federal Form some requirement to provide documentation to prove citizenship such as providing a copy of a birth or naturalization certificate. Assuming that the relevant authorities declined such a request, which seems likely, the states would then be free to go to court to seek permission to impose their own additional requirements given the rejection by Federal authorities. Based on the tone of the later part of the Majority Opinion, it would seem that such an application would be treated sympathetically if it came before the Court as it exists today.
Here's the opinion:
Arizona v. Inter-Tribal Council of Arizona et al by dmataconis