Kathleen Sebelius For Senate?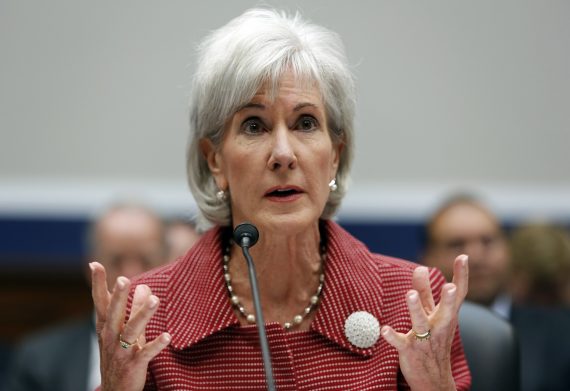 Just days after resigning as Secretary of the Department of Health and Human Services, Kathleen Seblieus is apparently been courted to run for Senate in November:
WASHINGTON — In her darkest hour last fall, Kathleen Sebelius suffered one of the deepest cuts from an old family friend who accused her of "gross incompetence" over the rollout of the Affordable Care Act and demanded that she resign as secretary of health and human services. Now she is weighing revenge.

Ms. Sebelius is considering entreaties from Democrats who want her to run against that old friend, Senator Pat Roberts, Republican of Kansas.

Several Democrats said this week that Ms. Sebelius had been mentioned with growing frequency as someone who could wage a serious challenge to Mr. Roberts, 77, who is running for a fourth term and is considered vulnerable. One person who spoke directly to Ms. Sebelius said that she was thinking about it, but added that it was too soon to say how seriously she was taking the idea.

It was only last week, after all, that Ms. Sebelius, 65, said that she would step down from her cabinet job.

(…)

Democrats say that Ms. Sebelius would be their best hope at winning in a tough state, especially if Mr. Roberts loses his primary to Milton Wolf, a Tea Party-backed radiologist who has alarmed mainstream Republicans with some of his actions, such as when he posted gruesome pictures of gunshot victims on Facebook.

Perhaps more significant, Ms. Sebelius would force Republicans to spend money in Kansas as they tried to fight off her challenge. Her family has a long history in the state, and she was a popular, twice-elected governor. In 2006, she was re-elected with 58 percent of the vote.

But friends and Democrats who know her said that they seriously doubted she would follow through and mount a campaign, considering how personally difficult the past six or seven months had been. She has been mocked and excoriated by Republicans on Capitol Hill, who made her the face of the Affordable Care Act's problems.
It strikes me as unlikely that Sebelius would actually get into the race. As the linked article notes, she was the focus of Republican ire for most of her time in office and has become the public face for all of the problems associated with the Affordable Care Act since its roll out last October. All of this would follow her into a race for the Senate. Additionally, Sebeliues has said she plans on staying in office until her replacement is confirmed, which could take until well into the summer at the earliest. That would reduce her ability to campaign. Finally, while Sebelius was Governor of Kansas and Democrats have held that office frequently in the past, Kansas has not sent a Democrat to the Senate since George McGill, who served from 1930 to 1939, and including McGill there have only been three Democratic Senators in the 154 years since Kansas became a state. With the exception of two members of the Populist Party who represented the state in the late 1890s, every other Senator from The Sunflower State has been a Republican. While Roberts is facing a challenge for the Republican nomination from Tea Party backed candidate Milton Wolf, it seems likely at this point that he'll win renomination easily and the odds that Sebelius would defeat him seem remote. Even if Wolf somehow won the nomination, it's unlikely that the former Governor would be able to pull off a win in a Republican state in what is shaping to be a Republican year.