Kathleen Sebelius Resigns As Secretary Of Health & Human Services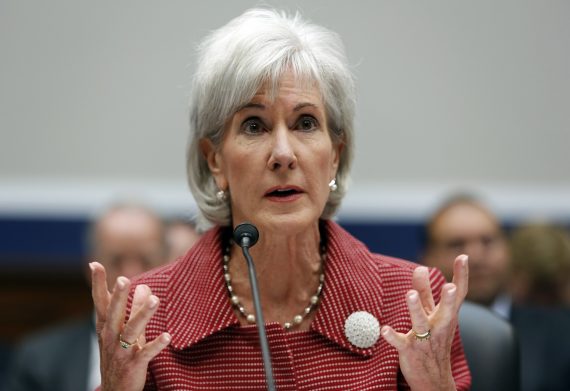 Former Kansas Governor Kathleen Sebelius, who has served as Secretary of Health and Human Services but has found herself embattled over the past six months due to the botched roll out of the Affordable Care Act, is resigning:
WASHINGTON — Kathleen Sebelius, the health and human services secretary, is resigning, ending a stormy five-year tenure marred by the disastrous rollout of President Obama's signature legislative achievement, the Affordable Care Act.

Mr. Obama accepted Ms. Sebelius's resignation this week, and on Friday morning he will nominate Sylvia Mathews Burwell, the director of the Office of Management and Budget, to replace her, officials said.

The departure comes as the Obama administration tries to move beyond its early stumbles in carrying out the law, persuade a still-skeptical public of its lasting benefits, and help Democratic incumbents, who face blistering attack ads after supporting the legislation, survive the midterm elections this fall.

Officials said Ms. Sebelius, 65, made the decision to resign and was not forced out. But the frustration at the White House over her performance had become increasingly clear, as administration aides worried that the crippling problems at HealthCare.gov, the website set up to enroll Americans in insurance exchanges, would result in lasting damage to the president's legacy.

Even last week, as Mr. Obama triumphantly announced that enrollments in the exchanges had exceeded seven million, she did not appear next to him for the news conference in the Rose Garden.
The president is hoping that Ms. Burwell, 48, a Harvard- and Oxford-educated West Virginia native with a background in economic policy, will bring an intense focus and management acumen to the department. The budget office, which she has overseen since April of last year, is deeply involved in developing and carrying out health care policy.

"The president wants to make sure we have a proven manager and relentless implementer in the job over there, which is why he is going to nominate Sylvia," said Denis R. McDonough, the White House chief of staff.
As noted, the White House is no doubt happy with getting Sebelius out of the way now that the enrollment period is over with. Whether changing whose in charge will matter, or whether it will amount to little more than rearranging deck chairs on the Titanic remains to be seen.