Missouri Republican Wants To Ban Food Stamp Recipients From Buying "Luxury" Food
One Missouri legislator is going on a crusade against a "problem" that may not actually exist.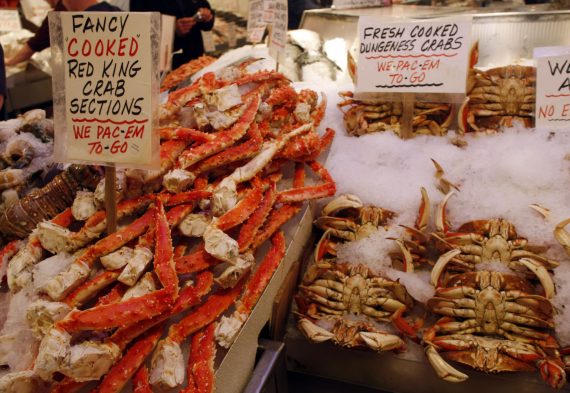 Republican legislators in Missouri are pushing a bill that would prevent people receiving assistance under the SNAP program, which is still popularly known as "food stamps" even though they don't use stamps anymore, from purchasing so-called "luxury" food items:
A Republican state lawmaker in Missouri is pushing for legislation that would stop people like Greenslate and severely limit what food stamp recipients can buy. The bill being proposed would ban the purchase with food stamps of "cookies, chips, energy drinks, soft drinks, seafood or steak."

"The intention of the bill is to get the food stamp program back to its original intent, which is nutrition assistance," said Rick Brattin, the representative who is sponsoring the proposed legislation.

Curbing food stamp purchases of cookies, chips, energy drinks, and soft drinks at least falls in line with the food stamp program's mission to provide nutrition. Nutrition experts are already discussing whether to remove unhealthy items from the list of foods participants can buy.

But seafood and steak? Seafood has been shown, time and again, to be a healthy part of any diet. And steak is such a broad category that it's essentially banning people from buying any flat cuts of beef, from porterhouse to flank.

"It just seems really repressive," said Mark Rank, a professor at Washington University and author of the book Living on the Edge: The Realities of Welfare in America. "I don't see how it makes any sense to ban some of these foods. Fish is something that should really be in your diet. And steak, what does that mean in this context?"

Brattin admits that the language might need some tweaking. "My intention wasn't to get rid of canned tuna and fish sticks," he said. But he also insists that people are abusing the system by purchasing luxury foods, and believes that that must be stopped, even if it ends up requiring the inclusion of other less luxurious items.

"I have seen people purchasing filet mignons and crab legs with their EBT cards," he said. "When I can't afford it on my pay, I don't want people on the taxpayer's dime to afford those kinds of foods either."
This is nothing new, of course. Republicans have been railing against so-called "welfare queens" supposedly living in luxury while receiving government assistance since the Reagan years, after all. Aside from some anecdotal evidence, though, it's never been established that the number of people who have managed to find a way to game the welfare system in such a way that they end up living some kind of luxury is a common enough occurrence that one needs to develop policy to address it. Indeed, the problem is likely so minimal that the budgetary savings from any initiative to deal with it would be infinitesimal compared to other items that the government spends money on. This particular problem, which basically involves people on the SNAP program using their EBT guard to purchase "luxury" foods is one that seems to be so small that it's not even worth paying attention to as a budgetary matter. As a political matter, of course, it plays into the generally disdainful attitude that many people seem to have regarding anyone on government assistance, an attitude that has survived notwithstanding both the existence of the welfare reforms of the 1990s that require recipients to at least take some steps toward obtaining employment and the fact that one of the most visible effects of the great Great Recession was unemployed people with families suddenly needing things like the SNAP program in order to be able to feed their families. Instead of "welfare queens," though, today's boogeyman of choice is apparently the SNAP recipient using their EBT card to buy filet mignon and lobster.
There are already restrictions on what SNAP funds can be used for, of course. Generally speaking, they can't be used to purchase alcohol or tobacco, nor can they be used to purchase the wide variety of ready-to-eat foods that one finds in grocery stores today. In recent years, there has been some discussion from public health advocates about further restricting the use of these benefits in an effort to give lower income people incentives to purchase healthier foods, an effort not dissimilar to the First Lady's campaign for healthier school lunches. That campaign, of course, has been the subject of widespread derision on the right, so it's somewhat ironic that at least some Republicans are now essentially advocating the exact same thing when it comes to people receiving food assistance based largely on anecdotal reports and what seems like a deep-seated public resentment toward the poor.
As The Huffington Post's Andrew Delany notes, going after the SNAP recipient supposedly buying luxury food isn't new for the GOP, and it isn't limited to Missouri:
Janina Riley noticed a woman muttering behind her in the checkout line as she paid for food at a Giant Eagle grocery store in Pittsburgh last April.

"I can't believe she's buying that big-ass cake with food stamps," the woman said, according to Riley.

Riley, 19, had just used a government-issued debit card to pay for most of her groceries, which included a cake for her son that said "Happy First Birthday Xavier" in a theme from the movie "Cars." She glared at the women for a second, then decided to confront her.

"I was just like, 'Shut the fuck up,'" Riley said. "You don't know what I'm doing with these food stamps."

But many Americans do not want to let people on food stamps eat cake. This sentiment is particularly prevalent among conservatives in Congress. Cash register resentment of the sort directed at Riley feeds Republican animus toward the Supplemental Nutrition Assistance Program.

It's a petty path toward a huge target: As SNAP enrollment has surged to nearly 50 million in the wake of the Great Recession, the program's annual cost has more than doubled to $80 billion. Republicans want to shrink those numbers, but they missed their best chance in June, when a trillion-dollar farm bill failed in the House of Representatives, after the GOP sought deeper cuts than Democrats would accept.

Following the vote, Rep. Louie Gohmert (R-Texas) got to work telling a familiar story, one he said he'd heard many times from broken-hearted and angry constituents. Its protagonist is a hardworking Texan waiting in line at the grocery store. Someone's buying Alaskan king crab legs in front of him, and he's looking at them longingly, dreaming of the day he can afford such a luxury. Then the person buying them whips out his EBT — an Electronic Benefits Transfer card for food stamps.

"He looks at the king crab legs and looks at his ground meat and realizes," Gohmert said, "because he does pay income tax … he is actually helping pay for the king crab legs when he can't pay for them for himself."

And that's how cash register resentment becomes crabby conservatism — the belief that your own struggles are tangled up in another person's safety net.
It's probably smart politics to the extent that stuff like this likely appeals to the Republican base, and to some extent to average Americans who hear an anecdote about SNAP recipients eating King Crab Legs and think it's a common phenomenon. Economically, though, it makes almost no sense at all, and it certainly does absolutely nothing to fix the real problems with the SNAP program, the reasons people find themselves required to get food stamps to begin with, or the even larger problems of government spending and debt.