Harry Reid Retiring From Senate
After nearly 20 years in office, Harry Reid announced early today that he would not seek reelection in 2016.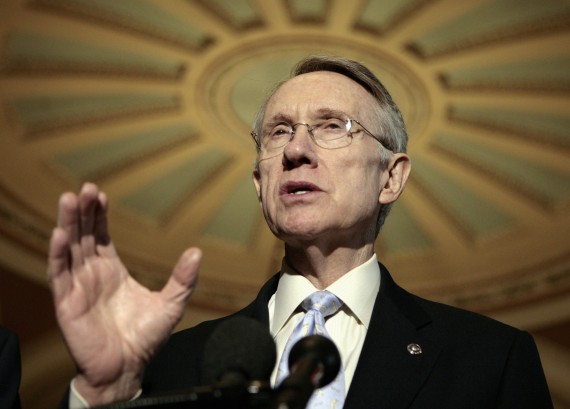 Harry Reid, who has been a member of the Senate since 1987 and has served as the leader of the Democratic Caucus in that body since 2007, announced early this morning that he would not seek re-election in 2016, setting off a shakeup of the Democratic heirarchy in the Senate and opening a likely Republican pickup two years from now:
WASHINGTON — Senator Harry Reid, the tough tactician who has led Senate Democrats since 2005, will not seek re-election next year, bringing an end to a three-decade congressional career that culminated with his push of President Obama's ambitious agenda against fierce Republican resistance.

Mr. Reid, 75, who suffered serious eye and facial injuries in a Jan. 1 exercise accident at his Las Vegas home, said he had been contemplating retiring from the Senate for months. He said his decision was not attributable either to the accident or to his demotion to minority leader after Democrats lost the majority in November's midterm elections.

"I understand this place," Mr. Reid said. "I have quite a bit of power as minority leader."

He has already confounded the new Republican majority this year by holding Democrats united against a proposal to gut the Obama administration's immigration policies as well as a human-trafficking measure Democrats objected to over an anti-abortion provision.

"I want to be able to go out at the top of my game," said Mr. Reid, who used a sports metaphor about athletes who try to hang on too long. "I don't want to be a 42-year-old trying to become a designated hitter."

Mr. Reid's tenure has become increasingly combative in recent years and included a procedural change on nominations that infuriated Republicans. He also came under fire for blocking floor debate, and even some of his Democratic colleagues suggested that he was stifling the Senate. Just this week, he alienated House Democrats who thought he was sabotaging a compromise on Medicare.

His departure at the end of 2016 will create an opening both at the top of the Senate Democratic hierarchy and in a Senate contest that would have been a megaspending slugfest in the presidential battleground of Nevada. Conservatives such as Charles G. and David H. Koch, the billionaire brothers who were a favorite target of Reid criticism in 2014, would have spared no expense in trying to oust him.

Senator Charles E. Schumer of New York, who helped Democrats capture the Senate in 2006 and has led their political messaging operation, is considered the favorite to succeed Mr. Reid as party leader. Senator Richard J. Durbin of Illinois, the Senate's No. 2 Democrat, could also be a contender for the job, but it is unclear how strongly he would pursue it.

In Nevada, Catherine Cortez Masto, the state's former attorney general, is considered a strong Democratic candidate with Mr. Reid out; the Republican field will be fluid and is likely to include Michael Roberson, a State Senate leader.

Mr. Reid had previously insisted he was running and said he was confident that he could have triumphed next year had he decided to seek a sixth term. The onetime amateur boxer noted he might not have even run in 2010 if Republicans had not made such a point of trying to unseat him.

He also said he was worried his race would consume campaign money that would be needed in other competitive states as Democrats try to regain control of the Senate.

"I think it is unfair for me to be soaking up all the money to be re-elected with what we are doing in Maryland, in Pennsylvania, in Missouri, in Florida," he said. "These are big, expensive states."
Reid's most notable recent political battle, of course, was in 2010 when he ended up facing off against Tea Party backed candidate Sharron Angle, who had beaten off challenges from more mainstream members of the Nevada GOP to win the nomination. As it turned out, Angle was exactly the candidate that Reid needed in a year that was fairly bad for the Democratic Party, since her stumbles, mis-statements, and outright strange views about political issues did more to help Reid's campaign than anything Reid did himself. Indeed, by all accounts, Reid likely would have had a much tougher race in 2010 had Republicans nominated a better candidates and the fact that he would have faced a much tougher opponent in 2016 is no doubt one of the reasons influencing Reid's decision here. Among the potential Republican candidates for Reid's seat are current Governor Brian Sandoval, who was re-elected in a landslide last November. Sandoval has previously ruled out running against Reid, but it is unclear whether that calculus might change now that the seat will be open in 2016. If he doesn't run, then candidates like Roberson, or perhaps one of the Republican Members of Congress, would likely jump into the race. On the Democratic side, the favored candidate seems to be Catherine Cortez Masto, the former state Attorney General who has been long rumored to be Reid's preferred choice as a successor
In either case, the race in Nevada is likely to be a high-profile race in 2016 and, while Republicans will consider it a priority, Democrats also have reason to be optimistic:
Reid's decision, like the 2010 retirement of Connecticut Senator Chris Dodd, may be one of the rare cases in which an open seat is easier for a party to defend than the incumbent. Nevada has been swinging strongly Democratic in presidential years, as the party's machinery turns out Hispanic votes and wins by landslide margins in Clark County, which includes Las Vegas. Barack Obama won the state twice; even John Kerry had strongly competed for it, losing by only 2.6 percentage points. The Democratic turnout in 2012 was strong enough to nearly defeat appointed Senator Dean Heller, even after his Democratic opponent was dogged by a congressional ethics probe. (Like most such probes, it made headlines then sputtered out.)
Had Reid run for re-election, he probably would have been the overwhelming favorite notwithstanding what would have been a large Republican effort to unseat him yet again. With him out of the race, Republicans have an opportunity for a pickup but it's far from certain and much will depend on which candidate they pick and which way the political winds are blowing two years from now.
In addition to the battle for a Senate seat, Reid's retirement will also set off a battle at the top of the Democratic Caucus. Illinois Senator Dick Durbin is second in line to Reid in his position as Senate Minority Whip, but New York's Chuck Schumer could end up posing a challenge to Durbin when it comes to time for Democrats to select a new leader in November 2016. This will be especially true if the Democrats manage to regain control of the Senate, but even if they remain in minority status it's likely that Durbin and Schumer will be skirmishing with each other to gain favor with the caucus between now and then. That challenge will, in turn, set off battles further on down the line as other long-serving members of the Democratic caucus seek to move up the line. In any case, it's safe to say that Reid's retirement is a big political earthquake that Washington and Nevada will be dealing with for some time to come.