Reid Triggers Nuclear Option Lite
Harry Reid is playing hardball, invoking a tactic that he himself decried being threatened when Republicans were in charge.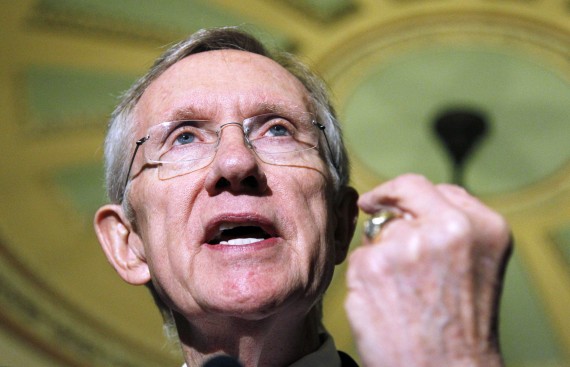 Harry Reid is playing hardball, invoking a tactic that he himself decried being threatened when Republicans were in charge.
Alexander Bolton, The Hill ("Reid triggers 'nuclear option' to change Senate rules, end repeat filibusters"):
In a shocking development Thursday evening, Senate Majority Leader Harry Reid (D-Nev.) triggered a rarely used procedural option informally called the "nuclear option" to change the Senate rules. Reid and 50 members of his caucus voted to change Senate rules unilaterally to prevent Republicans from forcing votes on uncomfortable amendments after the chamber has voted to move to final passage of a bill. Reid's coup passed by a vote of 51-48, leaving Senate Republican Leader Mitch McConnell (R-Ky.) fuming.

The surprise move stunned Republicans, who did not expect Reid to bring heavy artillery to what had been a humdrum knife fight over amendments to China currency legislation.

The Democratic leader had become fed up with Republican demands for votes on motions to suspend the rules after the Senate had voted to limit debate earlier in the day. McConnell had threatened such a motion to force a vote on the original version of President Obama's jobs package, which many Democrats don't like because it would limit tax deductions for families earning over $250,000. The jobs package would have been considered as an amendment. McConnell wanted to embarrass the president by demonstrating how few Democrats are willing to support his jobs plan as first drafted. (Senate Democrats have since rewritten the jobs package to pay for its stimulus provisions with a 5.6 surtax on income over $1 million.)

Reid's move strips the minority of the power of forcing politically-charged procedural votes after the Senate has voted to cut off a potential filibuster and move to a final vote, which the Senate did on the China measure Tuesday morning, 62-38. Reid said motions to suspend the rules after the Senate votes to end debate — motions which do not need unanimous consent — are tantamount to a renewed filibuster after a cloture vote.
Phillip Klein, Washington Examiner ("Reid rewrites Senate rules with shocking move"):
In a stunning turn of events this evening, Senate Majority Leader Harry Reid, D-Nev., used an arcane legislative maneuver to effectively rewrite Senate rules to make it harder for the minority party to force uncomfortable votes on the majority.

[…]

Though it's been the standing practice of the Senate to allow such motions by the minority, tonight Reid broke with precedent and ruled McConnell's motion out of order, and was ultimately backed up by Democrats.

So, the end result is that by a simple majority vote, Reid was able to effectively rewrite Senate rules making it even harder than it already is for the minority party to force votes on any amendments. Should Republicans retake the Senate next year, it's something that could come back to haunt Democrats in a major way.

And just to clear up some confusion, what happened tonight was different than the so-called "nuclear option" to end filibusters. While triggering the "nuclear option" requires a Majority Leader to use the same sort of strategic maneuvers as Reid just did, tonight's move had to do with the amendment process, not filibusters.
Ryan Grim and Michael McAuliff, HuffPo ("Harry Reid Busts Up Senate Precedent")
Senate Majority Leader Harry Reid (D-Nev.) led Democrats in a precedent-setting move on Thursday evening, shutting down an effort by Senate Minority Leader Mitch McConnell (R-Ky.) to hijack the floor and force the chamber to move away from debate on Chinese currency manipulation and instead vote on President Obama's American Jobs Act.
The move raises all sorts of questions: Why would the Republicans, rather than the Democrats, be insisting on having the vote that the president has been demanding for weeks? What does Reid's move say about the filibuster? And why is the Senate debating a bill on Chinese currency anyway, one that the White House opposes and stands little chance in the House?

Senate Republicans, aware that some Democrats facing reelection are unwilling to vote for a jobs package that includes tax hikes on the wealthy, wanted to stage a vote to demonstrate the lack of party unity. But the chamber had already voted to move forward on a bill aimed at curtailing Chinese currency manipulation, which depresses the price of Chinese imports and hurts American manufacturers. That meant the chamber was in what's known as a post-cloture period.

McConnell moved to suspend the rules and shift debate over to the American Jobs Act. Reid argued that doing so amounted to another filibuster, because it required 60 votes to move back to the original bill, and so therefore was out of order. Sen. Mark Begich (D-Alaska), who happened to be the presiding officer at the time, asked the Senate parliamentarian what he thought. The parliamentarian advised Begich that McConnell's motion was in order.

Reid then appealed the ruling, following a script that advocates of ending the filibuster wrote long ago. What some senators call the "constitutional option," and what others call the "nuclear option," involves as a first step appealing a ruling that a filibuster is in order. The second step is to defeat a motion to table that appeal, which is exactly what happened next, with all but one Democrat sticking with Reid. (Sen. Ben Nelson (D-Neb.) voted against Reid; Sen. Barbara Boxer (D-Calif.) didn't vote.)

With the chair overruled, McConnell's motion was declared out of order, setting a narrow precedent that motions to suspend the rules are out of order during a post-cloture period.

But it also set a more important precedent. The advice of the parliamentarian is considered sacrosanct in the Senate. Reid's decision to overrule him opens a gate to similar efforts that could also be done by majority vote. Republicans were quickly threatening to use the new power once they return to the majority. (Reid was a proponent of filibuster reform in 2010, but didn't pursue an effort earlier this year to reduce the number of votes needed in the Senate to move legislation forward.)
Andrew Stiles, National Review's The Corner ("Reid's Power Play"):
As I mentioned earlier, tonight Senate Majority Leader Harry Reid (D., Nev.) threw what might be described as a procedural temper tantrum. The Senate was prepared to vote on final passage of a China currency bill that was certain to pass, as cloture had already been invoked by a 62-38 vote.

Under Senate rules, the minority party is allowed to offer amendments to a piece of legislation following cloture, provided that the amendments are relevant, or "germane," to the legislation under consideration. Senate Minority Leader Mitch McConnell (R., Ky.) had been attempting all week to force a vote on President Obama's job bill. After all, the president had repeatedly chastised Congress for failing to take it up. However, Reid didn't have unanimous Democratic support for the jobs bill as is, and so was seeking to avoid such an embarrassing vote. He had already blocked attempt to bring the bill to a vote earlier this week.

[…]

"This is an outrage!" Sen. Roger Wicker (R., Miss.) protested as members were casting their votes. When the ruling was formally approved, an impassioned back and forth ensued. "We are fundamentally turning the Senate into the House," said a visibly irritated McConnell. "The rules of the Senate will be effectively changed to lock out the minority party even more."

Even Reid seemed aware of the magnitude of his decision. "What just took place here is an effort to expedite what goes on around here," he said. "Am I 100 percent confident that I'm right? No. But I feel pretty comfortable with what we've done."

Indeed, Reid had opted for the so-called "nuclear option," to toss history and precedent aside and change the rules of the Senate, all to avoid having to vote on a jobs plan the president has repeatedly called on Congress to pass. Instead, Reid intends to hold a vote next week on an amended version of the bill that includes a 5.6 percent "millionaire surtax" to cover the bill's $450 billion price tag.

The implications of Reid's play tonight should not be understated. In theory, there is nothing preventing the Senate from using this same tactic to do away with any number of rules, including the 60-vote requirement to break a filibuster. In fact, many liberals have been clamoring for Reid to do just that in order to ram through controversial agenda items like Obamacare or a second, even larger stimulus package. Reid has established a firm precedent that will not soon be forgotten.

Given the increasingly high likelihood that Republicans will regain control of the Senate in 2012, this was an especially risky maneuver for Reid to pull. Both parties tend to accept and abide by the Senate rules, knowing that any election cycle could relegate them to minority status, in which case they want protections like the one Reid just eliminated to remain in place. Senate Republicans are livid, and understandably so. If they do take power in the coming election, and, for example, Obamacare repeal comes before the Senate, things could get pretty interesting.
In terms of the specific case, I'm quite sympathetic to Reid's move here. It doesn't strike me as hypocritical, in that eliminating the filibuster altogether–or even just on Supreme Court nominations–is a much more fundamental step than limiting serial filibusters on the same motion. A precedent-setting maneuver is sometimes the only viable response to the unprecedented abuse of the procedures.
So, Klein gets it right here:  this isn't quite the "nuclear option" that we were debating years ago. Call it "nuclear option lite."
On the other hand, Stiles makes a reasonable point: just because changing the rules was arguably justifiable here, there's no guarantee whatsoever that this precedent will be applied in sinister ways in the future. Indeed, Reid himself seems to understand that.
As an aside, it is somewhat amusing that the thing that drove Reid to the mat here was the prospect of being forced to schedule and up-or-down vote on the jobs bill that his party's president is pushing so hard.