Harry Reid Should Be Condemned, Not Lauded
Harry Reid is a scoundrel, not a hero.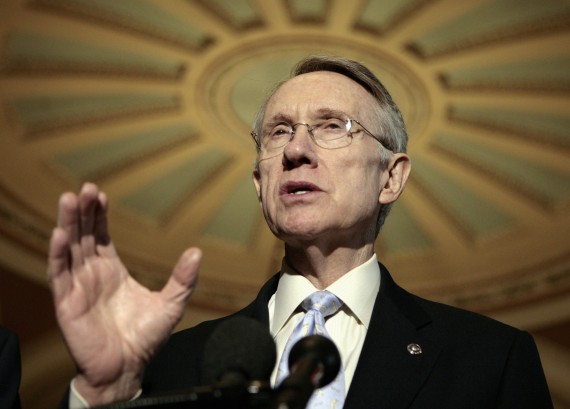 Harry Reid continues to double, triple and quadruple down on the allegation he made last week that some unidentified person had called him up out of the blue and told him that Mitt Romney had not paid any taxes for the past ten years. While the White House is distancing itself from Reid's comments, no doubt while cheering him on behind the scenes, House Minority Leader Nancy Pelosi is backing Reid up even though there's no possible way she could know if what he's saying is true. Republicans are understandable upset about the whole thing, and with few exceptions, there are not many people on the left who seem to be the least bit bothered by what Reid is doing.  Meanwhile, Reid got a "Pants on Fire" rating from Politifact:
Reid has said Romney paid no taxes for 10 years. It was no slip of the tongue. He repeated the claim on at least two more occasions, at one point saying that "the word is out" when in fact it was only Reid who put that "word" out.

Reid has produced no evidence to back up his claim other than attribution to a shadowy anonymous source. Romney has denied the claim, and tax experts back him up, saying that the nature of Romney's investments in Bain make it highly unlikely he would have been able to avoid paying taxes altogether — especially for 10 years.

Reid has made an extreme claim with nothing solid to back it up. Pants on Fire!
The Washington Post's Glenn Kessler gives Reid four Pinocchios and points out just how implausible it is that Reid's story could be true:
Romney's 2010 return and his estimated 2011 return do show that he paid substantial taxes in those years. In 2010, he earned nearly $22 million, including $3 million in taxable interest, nearly $5 million in dividends and more than $12 million in capital gains. He reduced his taxes by giving $3 million in charitable contributions (much of it in appreciated stock, which shielded him from paying additional capital gains.)

In other words, this tax return shows a portfolio that is not structured to yield zero taxes. We spoke to a number of tax experts, all of whom said that, given Romney's current portfolio, it was highly improbable for Romney to have had 10 years with tax-free returns — though there could have been one or two years with little or no taxes.

(…)

Charitable contributions, first of all, could only get Romney so far. Taxpayers cannot eliminate tax liability only through charitable contributions.

Still, Romney at one point could have invested all of his money in tax-exempt bonds, though that is not his investment strategy now. (IRS figures show that 61 percent of high-income returns with no tax liability stemmed from tax-exempt interest.)

Romney also could have timed the sale of stocks or made other investment decisions that would have yielded losses that offset capital gains. Len Burman, a professor at the Maxwell School of Syracuse University, said IRS data show that 5.7 percent of the high-income returns had as a primary reason losses from partnerships and closely-held business. "We know that Governor Romney had a partnership, and it had losses in 2010," he said. "It's possible that those partnership losses were large enough to offset taxable income from compensation, rents, interest, dividends, and royalties."

Romney also could have invested in tax shelters. Edward Kleinbard, a law professor at the University of Southern California and former chief of staff at the Joint Committee on Taxation, noted that Romney chaired the audit committee of Marriott International when it engaged in a highly aggressive tax shelterthat was successfully challenged by the Internal Revenue Service.

But none of this appears to add up to 10 years of tax returns with no taxes paid. "It is theoretically possible, but it seems quite improbable in practice given the portfolio in 2010," Kleinbard said.  "It is improbable that a man of his wealth would have paid no taxes for 10 years."
The reaction to the Politifact and Kessler pieces on the left has generally been about what you could expect. With typical responses being that neither one can prove that Romney didn't pay zero taxes, or that Reid didn't get a telephone call from a Bain investor who gave him this information. That may well be true, but unless Reid identifies his source and that source comes forward there's no way we can judge the veracity of the information that he is purporting to convey. As I've noted before, it's rather implausible that a Bain investor would have ever had access to any one of Mitt Romney's personal tax returns not to mention ten years worth of them. Additionally, this investor called Reid in 2012 saying Romney hasn't paid taxes "for ten years," that brings us back to 2002 which was the year Romney entered into his final separation with Bain. Why would anyone at Bain have access to tax returns filed after Romney wasn't even part of the management team anymore. Given the implausibility of this part of Reid's claim, and the tax matters discussed above, there's simply no reason to believe that Reid is telling the truth.
Kevin Drum cautions his fellow progressives against jumping on the Reid bandwagon on this issue:
Come on, folks. Reid didn't say I'll bet Romney didn't pay any taxes. He didn't say he talked to someone familiar with high earners who told him Maybe Romney won't release his returns because he didn't pay any taxes. He made a flat statement of fact. He said he has an "extremely credible source," which in this context means someone with direct knowledge of Romney's taxes who decided to pick up the phone and dish about it to Harry Reid. Does anyone really believe this? Really? Then, as if that weren't enough, Reid made his little bluff even less plausible by deciding that Romney didn't just avoid all taxes for one year, he avoided them for ten years. Yeah, baby, that's the ticket! Put these two things together with the fact that Reid hasn't even tried to make his fairy tale sound believable (it's just some guy he talked to) and this is not a story that a five-year-old would credit. It's just Reid making stuff up in order to put pressure on Romney, and I think we all know it.

Can I prove this? Of course not. Given the epistemological limits of proof, I can't prove Barack Obama was born in the United States either. Nevertheless, I feel safe saying that anyone who claims to have an "extremely credible source" that Obama was born elsewhere is either crazy or lying. The same is true for Reid, and Reid isn't crazy. It's simply vanishingly unlikely that he's telling the truth, and no one — not liberal or conservative — would spend even ten seconds on a story so patently far-fetched if it were anybody but Reid and the background were anything but the frenzy of a presidential campaign.

(…)

Take a deep breath, folks. This is contemptible stuff and it's not just business as usual. We've spent too many years berating the tea partiers for getting on bandwagons like this to get sucked into it ourselves the first time it's convenient. It's time to quit cheering on Reid and get off this particular bus.
Drum is absolutely correct, of course. Democrats have justifiably been outraged when Republicans such as Michele Bachmann have directed unsubstantiated allegations at the President and other Democrats, or when the brithers such as Sheriff Joe Arpaio have made accusations without providing any credible evidence to back them up. The same goes for the idiotic allegations about Obama's college years made by people like Wayne Allyn Root. There is on substantial difference between what these people have been doing for years now, and what Reid is doing here. If he has evidence to back up his charge, where is it? If he has the name of this "source," why hasn't he named him publicly? And, more importantly, what responsible person goes public in the manner that he has based solely on a single phone call from a person he's never met who claims to be a Bain investor? Reid's supporters here in the OTB comment threads and elsewhere have said that this could easily be resolved if Romney would release his tax returns, but that's deflection. The real question is why they aren't following Drum's example and denouncing Reid in this situation regardless of the fact that it allegedly helps the Obama campaign.
Until Reid provides proof for his allegations, the only responsible thing to do is either ignore him completely or assume that he's lying. Rallying around him just means that you consider his tactics acceptable, and the next time a Republican does this to a Democrat anyone who supported Reid here who expresses outrage will be revealed to be hypocrite.