More Evidence Of A Buttigieg Boomlet
Pete Buttigieg is in the top three in a recent poll of New Hampshire Democratic primary voters, but can it last?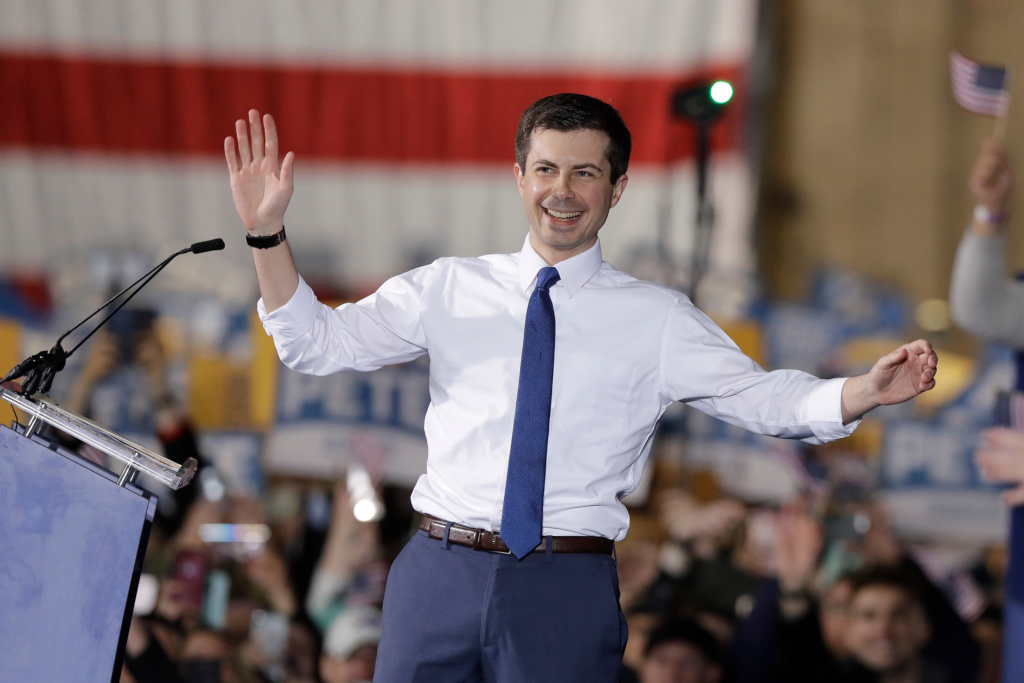 As I noted in a post on Saturday, South Bend Indiana Mayor Pete Buttigieg, who has officially been part of the Democratic Presidential field for less than a month, has experienced somewhat of a surprising boomlet among Democratic Presidential contenders. The latest evidence for this comes in a poll out of New Hampshire that shows him in third-place behind Bernie Sanders, who won the Granite State's primary in 2016, and Vice-President Joe Biden:
Vermont Sen. Bernie Sanders (I) leads the Democratic field in New Hampshire, but South Bend, Ind., Mayor Pete Buttigieg is on the rise and running neck-and-neck with former Vice President Joe Biden, according to a new poll.

The latest Granite State Poll from the University of New Hampshire finds Sanders at 30 percent, followed by Biden at 18 percent and Buttigieg at 15 percent. No other candidate has more than 5 percent support. Seventy-seven percent of Democrats said they're still trying to decide who to support.

There is surging interest in Buttigieg among Democratic voters.

In the previous survey from late February, Sanders was at 26 percent, followed by Biden at 22 percent. Buttigieg was only at 1 percent in that survey.

Buttigieg has since raised millions of dollars and seen a spike in interest following a CNN town hall event and several viral internet moments.
This poll is potentially significant for Buttigieg because it shows evidence that he is beginning to register support in the important early primary states. While he barely registered in the most recent Des Moines Register poll, it's worth noting that this poll was taken before Buttigieg had officially entered the race and arguably does not register the support he has seen on the rise since entering the race. In the RealClearPolitics poll average., for example, Buttigieg is averaging 6.0% of the vote, with some polls putting him as high as 9%. This puts him in the same territory as better known candidates such as Elizabeth Warren, Beto O'Rourke, and Kamala Harris. On the fundraising side. his most recent fundraising numbers show that he raised $7.1 million and has $6.4 million cash on hand. He's also been something of a media star, with frequent appearances on CNN and MSNBC that, by all accounts, have gone very well for him. This latest poll seems to be another example of the fact that Buttigieg has become something of a fast-rising star among the Democratic candidates for President.
As for the rest of the poll, it's not at all surprising to see Sanders at the top of the field. This is a race that he won easily in 2016, beating Hillary Clinton by more than 20 percentage points and more than 50,000 votes in a race that was likely heavily influenced by the fact that New Hampshire voters were quite familiar with Sanders given his long involvement in politics in neighboring Vermont. Biden's position in second place is similarly not surprising given that he has been near the top of nearly all Democratic polls along with Sanders for months now. What is somewhat surprising is the fact that Elizabeth Warren doesn't even make it into double digits notwithstanding the fact that she also comes from a neighboring state and likely has received significant exposure in the New Hampshire media over the years. The fact that she's polling in the single digits in the state, combined with a so far lack of seeming enthusiasm for her campaign does not bode well in these early stages.
As for Buttigieg, as I said on Saturday the question for him is whether this boomlet can last and turn into something substantial and whether he is in danger of peaking too early.. something that has happened to numerous candidates for President in the past. A third-place showing in New Hampshire at this early stage is indeed impressive, but the primary is still some eleven months away and much can happen between now and then.
Update: A new poll out of Iowa just released this afternoon shows more evidence that Buttigieg is resonating on the stump:
A new 2020 Democratic Presidential Caucus poll of Iowa voters found Sen. Bernie Sanders (I-Vt.) tied for first place with former Vice President Joe Biden, who has yet to formally declare his candidacy. South Bend Ind. Mayor Pete Buttigieg (D) came in close behind the two well-known Democrats.

Sanders and Biden both stood at 19 percent in the poll from nonpartisan research firm Gravis Marketing, which was conducted April 17-18 and released Monday.

Buttigieg came in third place among Democratic candidates with 14 percent, but was outflanked by voters who said they were "uncertain," at 16 percent. Sens. Kamala Harris (D-Calif.) and Elizabeth Warren (D-Mass.) both polled at 6 percent.

A majority of respondents—57 percent—were 50 or older, and 58 percent were women, compared to 42 percent men. A majority also described themselves as either somewhat liberal (38 percent) or very liberal (25 percent).

The Gravis poll is the latest to show a surge in popularity for Buttigieg, who entered a crowded field with little name recognition. The 37-year-old mayor raised more than $7 million in the first quarter of 2019 and was also in third place in a national poll released April 15, which showed he would be the second choice of 17 percent of Biden voters should the former vice president decide not to run.
The boomlet appears to be for real, folks.
Update #2 (April 23, 2019): A new national poll also puts Buttigieg in third place behind Biden and Sanders:
South Bend, Ind., Mayor Pete Buttigieg suprassed Sen. Kamala Harris (D-Calif.) and former Rep. Beto O'Rourke (D-Texas) in a national poll of likely Democratic voters released Tuesday.

Buttigieg placed third, behind former Vice President Joe Biden and Sen. Bernie Sanders (I-Vt.), with 9 percent of respondents picking him as their preferred Democratic presidential nominee, a two point bump from last week's Morning Consult survey.

Biden, who has yet to announce his candidacy, still holds a wide lead, with 30 percent of respondents saying he is their preferred choice and 24 percent of those surveyed picked Sanders.

Harris dropped one point to 8 percent, while O'Rourke dropped two points to 6 percent.

Buttigieg, who officially launched his campaign earlier this month, has been surging in polls of the 2020 race.
Another national poll has Buttigieg tied with Kamala Harris in third place with 8% of the vote.
Taking these news polls into account. the new RealClearPolitics average puts Buttigieg at 6.8%, which puts him in 5th place and in roughly the same grouping as Kamala Harris, Beto O'Rourke, and Elizabeth Warren, all of whom are bunched behind current front-runners Joe Biden and Bernie Sanders.
As they say, stay tuned.