More on GA's SB202
Georgia Public Broadcasting provides a useful list of provisions.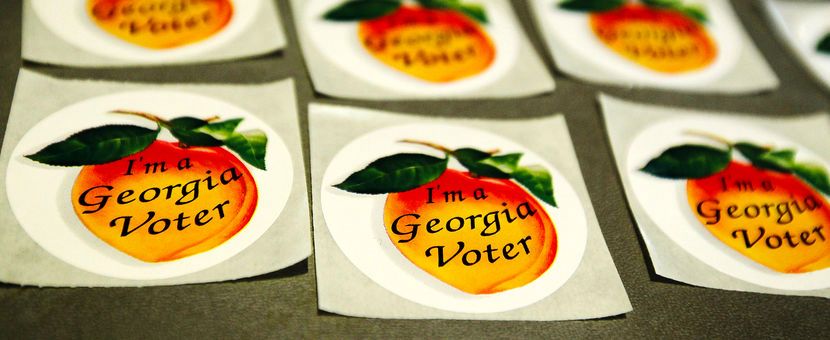 To add to my two previous posts, I would recommend this piece via Georgia Public Broadcasting: What Does Georgia's New Voting Law SB 202 Do?
Here are some more provisions of interest that I did not discuss previously.
Requesting and returning a[n absentee] ballot will also require new ID rules: either your driver's license number, state ID number or, if you don't have those, a copy of acceptable voter ID. The law also allows for applications to be returned online, after the Secretary of State's office launched an online request portal using your driver's license number or state ID number ahead of November's general election.
Now, an online request portal is a clear improvement, but I would note that it is the kind of improvement that helps well-off voters, not poor and elderly voters.
I also continue to question the usefulness of the added security measures, owing to the way it intersects with the broader voter ID debate.
State and local governments are no longer allowed to send unsolicited applications, and third-party groups that send applications have new rules to follow, too. Their applications must be clearly marked as being "NOT an official government publication" that it is "NOT a ballot," and must clearly state which group is sending the blank request.

Plus, third-party groups are only allowed to send applications to voters who have not already requested or voted an absentee ballot. The groups potentially face a penalty for each duplicate sent.
While I have no problem with clarity of marking, the overall goal of the above is to make voting absentee harder. I see no problem, at all, with sending unsolicited applications. Indeed, it seems to me that that state ought to be doing that to, you know, encourage all eligible voters to vote.
Military and overseas voters will have an additional set of absentee ballots mailed to them — ranked choice instant-runoff ballots. Georgia's runoffs will now be four weeks long instead of nine weeks, but federal law requires ballots to those voters be sent out by 45 days before a federal election. So now, those voters will be given these ranked choice ballots, where they rank their choices for certain races in the event they head to a runoff, and send them back with their primary or general election ballots.
This is fascinating to my inner-electoral-studies nerd. It is actually a very good idea, but also raises the question of why not just use IRV for all elections, as opposed to just military absentee ballots.
I mentioned the following yesterday but is it is worth revisting:
One of the biggest changes in the bill would expand early voting access for most counties, adding an additional mandatory Saturday and formally codifying Sunday voting hours as optional. Counties can have early voting open as long as 7 a.m. to 7 p.m., or 9 a.m. to 5 p.m. at minimum. If you live in a larger metropolitan county, you might not notice a change. For most other counties, you will have an extra weekend day, and your weekday early voting hours will likely be longer.
The addition of an extra mandatory Saturday is a good thing and is being touted as an example of how this bill is a good thing. So, while acknowledging that, it does not make up for the bill's negatives.
If you live in Fulton County, you'll no longer be able to use one of two mobile voting buses the county purchased last year to help with long lines. While a 2019 omnibus allowed early voting sites to be more locations, including places that are normally election day polls, the Republican-led legislature has now written laws that expressly prohibits a mobile poll except during an emergency declared by the governor.
To me, there is no justification for this. If there is a shortage of polling places (and there is) then how is banning this option a good idea?
I am sure it has nothing to do with the fact that Biden won ~73% of the vote in Fulton County, the state's largest county.
A change local officials embrace is a section that allows them to begin processing, but not tabulating, absentee ballots starting two weeks before the election. There's extra incentive to do so, by way of a new requirement that counties count all of the ballots nonstop as soon as polls close and finish by 5 p.m. the next day or potentially face investigation.
Allowing for pre-processing is a good thing. I still do not understand the rationale for forcing the vote counting to be sped up, however.
Plus, local officials are required to post and report the total number of ballots cast on election day, during early voting, via absentee voting and provisional ballots, all by 10:00 p.m. on election night, essentially providing the public with a denominator to understand the total possible votes out there as results trickle in.
More information is good, so this seems fine.
In the 2020 election, many rural and urban counties received grant funding from philanthropic outlets such as the Center for Tech and Civic Life and the Schwarzenegger Institute. Under the new law, those elections offices could no longer directly receive funding. But the State Election Board is slated to propose a method to receive donations and distribute them equitably by October 2021.
This just seems to me to be a way to prevent local officials from obtaining needed funding. If the state wants to take away the incentive to seek outside funding, then provide the needed funds.
After the 2020 election cycle saw an influx of partisan poll watchers who sometimes interfered with vote counting, the GOP-backed bill requires poll watchers be trained before allowing them to work, and gives local officials the authority to set where those watchers can observe from.
On its face, this seems like a good idea. It was quite clear listening to such folks after the 2020 election that they had no idea what they were looking at. While the devil is in the details, training makes sense.
The secretary of state will no longer chair the State Election Board, becoming instead a non-voting ex-officio member. The new chair would be nonpartisan but appointed by a majority of the state House and Senate. The chair would not be allowed to have been a candidate, participate in a political party organization or campaign or made campaign contributions for two years prior to being appointed.

The law also says the governor should appoint someone if the position becomes vacant when lawmakers are not in session.
Quite frankly, an elected official/candidate for office should not be the chair of the State Election Board, so this is an improvement, even given the politics of the situation.
In addition to the shortening of the runoff period, SB 202 would end so-called "jungle primary" special elections, requiring a special primary before a special election.
While I am sure that the motivation for this is partisan (as the jungle primary for the Loeffler seat may have cost Rs since she was likely not the best candidate from the pool), this really is a better way to do this as it guarantees major party presence on the ballot for all special elections (under the old rules you could get an R v. R or D v. D outcome).