Georgia Passes New Election Law
It makes voting harder.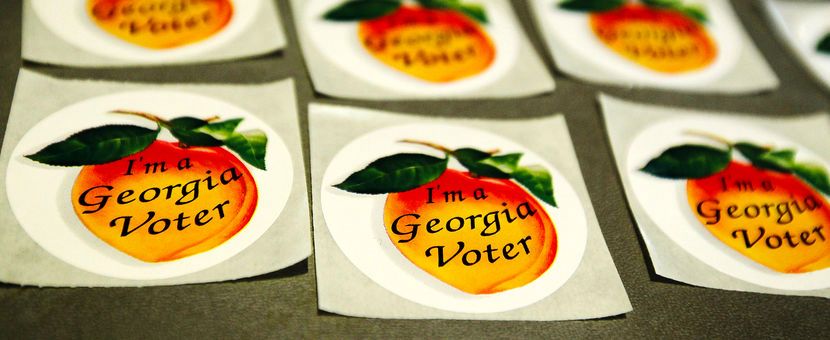 As expected, the Georgia state legislature passed a new set of rules governing elections in Georgia, and Governor Kemp has signed the bill into law. This is one of several such legislative packages from across the country meant to address alleged problems in the US voting system.
It should be noted that the main "problem" with the 2020 election is that the Republicans lost the presidency and the Senate, all in the context of voting being easier in some states, Georgia included, due to pandemic-related measures. Voter turnout was also the highest it had been in roughly a century (how much of that was due to vote-by-mail being easier in many places and how much of that was the result of voter enthusiasm due to a highly polarizing incumbent plus pressing national concerns such as the heightened racial tensions and a pandemic is its own discussion).
WaPo summarizes the bill as follows:
The new law imposes new identification requirements for those casting ballots by mail; curtails the use of drop boxes for absentee ballots; allows electors to challenge the eligibility of an unlimited number of voters and requires counties to hold hearings on such challenges within 10 days; makes it a crime for third-party groups to hand out food and water to voters standing in line; blocks the use of mobile voting vans, as Fulton County did last year after purchasing two vehicles at a cost of more than $700,000; and prevents local governments from directly accepting grants from the private sector.

The 95-page law also strips authority from the secretary of state, making him a nonvoting member of the State Election Board, and allows lawmakers to initiate takeovers of local election boards — measures that critics said could allow partisan appointees to slow down or block election certification or target heavily Democratic jurisdictions, many of which are in the Atlanta area and are home to the state's highest concentrations of Black and Brown voters.
Governor Kemp assessed the situation thusly:
Kemp signed it shortly afterward, saying at a news conference that with the new law, "Georgia will take another step toward ensuring our elections are secure, accessible and fair."

"Contrary to the hyper-partisan rhetoric you may have heard inside and outside this gold dome, the facts are that this new law will expand voting access in the Peach State," the governor added, noting that every county in Georgia will now have expanded early voting on the weekends.
Kemp deserves credit for standing up to Trump during the former president's attempts at pressuring Georgia to overturn the clearly confirmed outcomes of last November's vote. But, Kemp is clearly concerned about Trump and his allies attacking him when he seeks re-election in 2022. I also think it is not too cynical to note that Kemp won narrowly in 2018 and just saw the GOP lose the presidency and two US Senate seats narrowly in his state. If these new rules shave even a small amount of Black turnout in the state in 2022, that would be a boon to his own political goals.
I would note that based on the reporting I have seen I see no basis for the notion that "the facts are that this new law will expand voting access in the Peach State." Likewise, while I am a proponent of elections that are "secure, accessible, and fair" I also see those are code words that tend, in this context (i.e., a Republican politician talking about the voting process) to mean "we just made voting harder."
Another buzzword of note is "integrity," which sounds great, but continually is associated with measures that make voting harder with only hypothetical results (or, at best, marginal improvements in actual integrity and security).
"Our goal is to ensure election integrity and to restore confidence in the election process," said Sen. Max Burns (R), calling the measure a "well thought-out bill."

Another Republican, Sen. John Albers, maintained that the measure "expands voting access in Georgia." He accused critics of "sensationalizing and misrepresenting the truth."
Rules of this nature, it should be continually emphasized, ultimately are about trade-offs. If you increase "integrity" in a way that makes it harder for thousands of people to vote while potentially catching one or two malefactors, that is a bad trade-off. This describes, I should note, voter ID laws, which can have the effects of making it difficult for thousands of voters to vote while stopping maybe one or two attempts at in-person voter fraud. That just isn't a good trade-off, even if there is a decent theoretical argument for IDs.
Again, it is unclear to me how this bill does anything other than making voting more difficult.
The AJC has the following list of provisions:
-Absentee ballots will be verified based on driver's license numbers or other documentation instead of voter signatures.
This replicates the concerns that exist about voter ID. Note that the objection is not about using ID in and of itself. The objection is about universality and access. Estimates of persons in Georgia without an ID range in the tens of thousands, and those are disproportionately Black citizens (with emphases in the poor and elderly communities). This is clearly a case wherein the rule that, in theory, promotes "integrity" and "security" almost certainly simply makes it harder for some populations to vote and in a trade-off that is weighed far more towards making it harder to vote than it is towards integrity/security.
Again: make voter ID free and universal (that last part is key, as I believe IDs are free in GA) and I will be on board with voter ID rules (add in automatic registration and I would be an enthusiastic supporter). Keep in mind "free" and "easy to obtain in rural parts of the state" are two different issues.
-Ballot drop boxes will only be allowed inside early voting locations and available strictly during business hours.
This is clearly a curtailment of access. While I understand the need for boxes to be secure, there has to be a way to secure them in a way that allows access outside of business hours. If mailboxes can be left outside, unattended with the need for this level of security, and one can deposit a vote in those containers, then surely there are ways to have drop boxes that are accessible outside of business hours.
-Weekend voting will be expanded for general elections, with two mandatory Saturdays offered statewide. Counties could also choose to offer early voting on two optional Sundays.
Let's not mince words here: making Sunday's optional is a way to target Black churches and their "souls to the polls" activities.
-Early voting for runoffs will be reduced to a minimum of one week because runoffs will occur four weeks after general elections.

-The deadline to request an absentee ballot will be set 11 days before election day.
I will admit that the exact amount of time between the general and the runoff is not, per se, sacrosanct in any way. Likewise, there could be good reasons to change the deadline for requesting ballots. All I can say here as a matter of fact is that these new provisions are more restrictive than the previous ones. But the degree to which they are problematic is open to debate.
-Members of the public will be prohibited from distributing food or water to voters waiting in line.
This targets practices directly associated with Black churches and civic groups-practices linked to encourage participation.
-The State Election Board could remove county election boards and replace them with an interim elections manager.
I would need to know about this, but this sounds like an invitation to meddle.
-A hotline to report illegal election activities will be set up in the attorney general's office.
All well and good, I suppose. This strikes me mostly as a waste of time and money, and pity the poor person who has to sort through these calls.
-Counties will be required to certify election results within six days, instead of the 10 days currently allowed. Election workers will also be required to count ballots without stopping until they're finished.
While there may be some neutral reason to want to change this time frame (like above for other timelines, there is nothing sacrosanct about 10 days over 6). And while one could argue it is more "secure" to count until they are finished, it sounds more like a recipe for increasing human error than a true "integrity" move.
So, while I am open to learning more and re-assessing my position, all I see here is a mix of ways that make voting a bit harder in Georgia and certainly nothing that makes me assess the system as substantially more secure, let alone "expand[ing] voting access in the Peach State."
I will stick with my main two assessments: 1) Kemp wants to win back some of the GOP support that he lost when Trump attacked him over the 2020 elections, and 2) the state GOP knows that the state is competitive (we saw this in 2018 and 2020) and so any changes, even small ones, that could make it harder for Black voters to vote will help the GOP (including Kemp, if he makes out of the primary) given the fact that Blacks overwhelmingly vote Democratic (and legislation like this one will just deepen that fact, one suspects).
Let me close with both empirical and normative observations.
Empirically, both parties are clearly pursuing voting-legislation strategies that they think will aid them at the polls. This is a political fact that is utterly predictable. However, it also objectively true that legislation being pushed by Democrats is aimed at making it easier to vote and for voters to be treated equally. Republicans are clearly pushing for rules that making voting harder and that privilege some voters over others.
Normatively, therefore, one can choose sides based on partisan preference, but I would note that if one is pro-democracy (small "d" and all), then one ought to prefer the Democratic reforms over the Republican ones.
(The reality that the Democratic reforms are really band-aids on the gaping wounds of American democracy is its own, separate conversion. Just know that in that metaphor, the Republicans are seeking to worsen those wounds).