Yes, it is Voter Suppression
When procedures lead to more rejected ballots and fewer voters, what else is there to call it?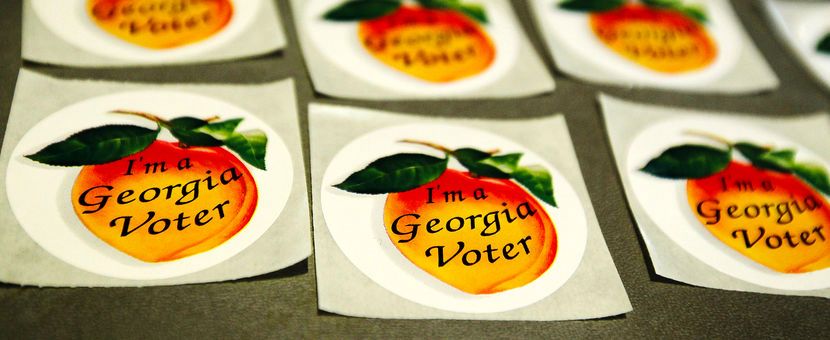 Mother Jones has a piece analyzing the effects of local elections in November of 2021 under the new voting regulations passed by the state in the wake of the 2020 elections. The results are largely what one might expect: more rejected ballots: We Uncovered How Many Georgians Were Disenfranchised by GOP Voting Restrictions. It's Staggering.
Let me note two important caveats. First, it is difficult to fully compare a presidential election and local elections. The turnout out is substantially different in scope and character, and so some amount of variation is going to take place. We won't fully understand the impact of these new rules until 2024 (although this year's mid-terms, given the races for governor and Senate, will likely see more turnout than usual, so may tell us quite a bit). Second, any legitimate vote lost, regardless of for whom the ballot was cast, is a crime against democratic governance. We need to remember that this is not just about who wins, but the core principle of the process itself. Having said that, it is pretty clear that the attempted suppression is aimed at locations and constituencies that tend to vote heavily for Democrats.
If we look at the outcomes for voters who attempted to vote by mail in 2020 v. 2021, we see some significant differences: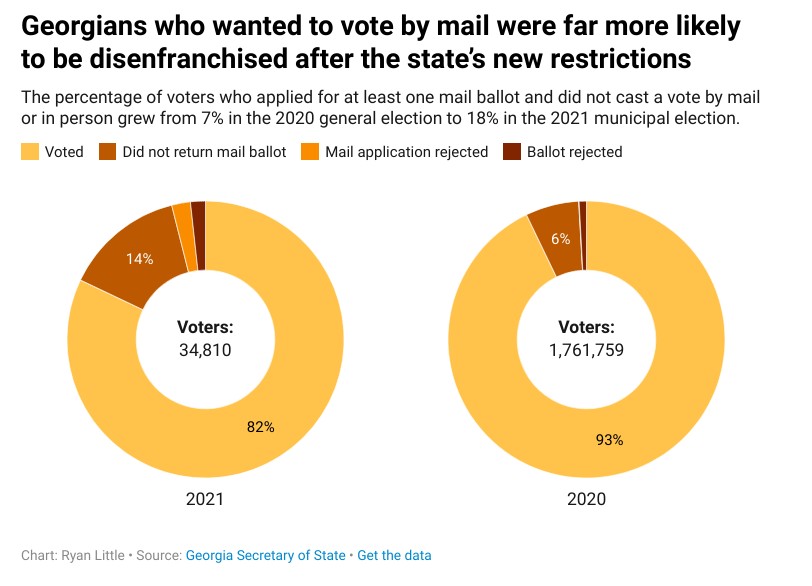 Now, what the reporters in the piece should have done is find the stats for the previous local elections and see what kind of variations were detectable (ideally, several sets of data for those elections). I think this has to be taken into account in terms of assessing these numbers. Likewise, the number of voters is staggering different in terms of scale. This is also a very likely, very real intensity difference between a local election and a presidential one, especially 2020. "Intensity" here meaning how likely people are to vote due to their emotional attachment to the outcome. On the other hand, if someone went out of their way to request a local election ballot, you would think that they would be pretty locked in on voting. All these caveats and qualifiers are of importance and would need to be addressed in a more comprehensive study. At a minimum, the differential 82% voting in 2021 versus 93% in 2020 suggests that the new rules have made voting more difficult and that further study is needed. I would still caution against inferring too much for these data, however.
The piece does note in passing that they did look back:
Mother Jones also compared the 2021 election to municipal elections in 2019 and 2017. We found that mail voters last fall were more than 5 times more likely to be disenfranchised than during those previous elections.
While I would like to see more than this sentence, it does add evidence to the notion that the new rules are having a real effect.
Let's look at some specific provisions of the new law:
More than half of mail ballot applications were rejected because they arrived after the state's newly imposed deadline to request them. In 2020, Georgia voters could request a mail ballot up until the Friday before Election Day; under the new law signed by Gov. Brian Kemp in March 2021, voters must place their requests no later than 11 days before the election, which voting rights advocates say is too early and burdensome for many voters.
On the one hand, there has to be a deadline and one can argue about this deadline or that being somewhat arbitrary. And it is also possible that some of the behavior here is the result of a new rule and people not knowing and they will learn in 2022 and 20224 to get the requests in sooner. On the other, unless there is a legitimate technical need (e.g., related to the time needed to process the ballots) there is no good reason to move the deadline back, save to make it harder for people to obtain a ballot.
This is at the heart of so much of these so-called "voter integrity" measures: making the process harder for no discernible reason save the hope that specific kinds of voters are the ones for whom it is harder.
In 2020, more than 21,000 voters requested and cast ballots inside of 11 days before the election. That included Kemp, who went into quarantine because of a Covid exposure on the Friday before Election Day and requested his ballot that same day—something that is no longer allowed because of the law he championed.

These rejections are having a disproportionate impact on Democratic-leaning constituencies. Black voters, who make up about a third of the electorate in Georgia, accounted for half of all late ballot application rejections, according to the voting rights group Fair Fight Action. Voters 18 to 29 made up just 2.76 percent of mail voters in 2021, but they constituted 15 percent of late ballot application rejections. Overall, four times as many Democratic voters requested mail ballots compared to Republicans, so an increase in rejections will particularly harm their party.
So, move the deadline back and hope to stop more Democratic constituencies from voting. And yes, they can still vote in person if their application for vote-by-mail is rejected, but we also know that wait times for voters in these areas are often quite long and, also, that poorer Black voters often have a hard time getting off of work to vote on Election Day.
Of course, in a tight race (like the presidency and two Senate races in 2020 and the governor's race in 2018) relative handful of votes can make all the difference.
Another provision is the curtailment of drop boxes:
Kemp dropped off his mail ballot on Election Day 2020, but that is no longer allowed. Now drop boxes are available only until the Friday before Election Day, during normal business hours, and must be located inside voting locations, which largely defeats the purpose of having them. The legislature also dramatically cut the number of drop boxes to one per 100,000 active voters in a county, which forced four metro Atlanta counties to reduce the number of drop boxes from 97 in 2020 to 23 in 2021. As a result, the number of voters using drop boxes decreased by half in Cobb, DeKalb, and Fulton counties in November 2021, according to the Atlanta Journal-Constitution, subjecting many more voters to postal delays.
Limiting the number of drop boxes is nothing more than purposefully making voting less convenient. And if voting is less convenient, fewer people will vote. Claims are made about security, but I am unaware of any credible evidence that drop boxes are insecure in any way. Instead, there is a lot of evidence that urban voters are more likely to vote Democratic, and limiting drop boxes in this fashion quite clearly makes voting in cities less easy. The goal here is clearly suppressive in nature. Make it harder for urban voters to vote early so that they are forced to vote on Election Day. But where are the lines likely to be longer? And where are things like traffic and parking and such more likely to make it less possible to take the time off from work to go vote?
(I am quite familiar with both rural Georgia and the Atlanta metro area. Not surprisingly, the former is far easier to navigate even for easy tasks than in the former).
And then there are new voter ID laws for mail-in ballots:
That wasn't the only reason ballots were rejected. About one-sixth of mail ballots that were thrown out were tossed because voters submitted missing or incorrect identification information after the state had imposed a new ID requirement for such ballots. About 154,000 registered voters do not have an ID on file with the state, with Black voters constituting 58 percent of them.
As I like to note: voter ID is not, in and of itself, a problem. But if we are going to have ID requirement, then we need a free, universal, and easy-to-obtain ID. Until we have such a system, voter ID rules will disproportionally affect poorer, less educated voters and they are generally deployed in a way to simply make voting harder (it is as if there is a pattern here).
I would note, I am unaware of any evidence of significant voter impersonation by mail, raising the question of what problem this provision solves at the cost of voters not being allowed to vote.
I mean, yes, there has been speculation about such fraud, as well as about drop box insecurity. But rank speculation simply should not be a reason to make voting harder.
The test for any voting regulation ought to be whether the security enhancement is worth the cost of potential valid votes. As I have noted on multiple occasions, the evidence for any level of even barely significant voter is basically zero. I have probably written a dozen (maybe dozens) of posts that reference this topic, but I would specifically point to my posts The Reality of Electoral Fraud and A Return to the (Lack of) Evidence of Significant Fraud both of which refer to what is a major source of "evidence" of fraud, the Heritage Foundation's "database" of electoral fraud as well as an illustration of poor argumentation from the "integrity" crowd. The evidence is scant and the arguments built on it are rickety in the kindest of assessments.
If one looks at these conversations and notes that, well, Democrats just want voting to be easier because they think it benefits them, note that Republicans seem to think that making harder is to their advantage.
The way actions can reveal preferences can be telling. And it is especially telling on the Republicans.
If we value democracy, we should want access to voting to be open and free. This is foundational to the system.
Setting aside any partisan consideration and whatever moral judgments one might wish to attach to them, I will conclude by simply pointing out that making it harder for people to vote with no evidence that those restrictions improve the quality of the outcome, should not be engaged in. They are antithetical to the very spirit of representative democracy, which assumes that the goal of voting is to capture public preferences in an orderly way that would translate into, as some Republican once said, government of, by, and for the people.