Does The Post Office Have A Future?
The Postal Service announced another round of service cutbacks today that are likely to just make the rapidity of its decline increase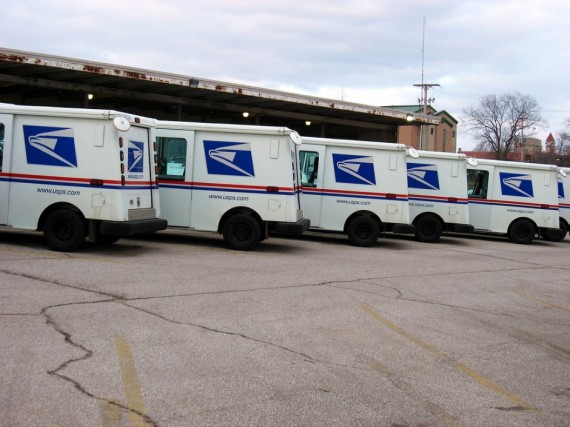 Thanks to unprecedented losses and a cost structure that seems unsustainable in the modern world, the Post Office announced today that it will no longer be able to guarantee next-day delivery of First Class Mail:
Unprecedented cuts by the cash-strapped U.S. Postal Service will slow first-class delivery next spring and, for the first time in 40 years, eliminate the chance for stamped letters to arrive the next day.

On Monday, the Postal Service said it wants to move quickly to close 252 mail processing centers and slow first-class delivery next spring, citing steadily declining mail volume. Postal vice president David Williams said the agency wants to virtually eliminate the chance for stamped letters to arrive the next day to help avert possible bankruptcy next year.

Williams said the postal service is not "writing off first class mail," but it must respond to new market realities in which people are turning more to the Internet for email communications and bill payment.

After reaching a peak in 2006, first-class mail volume is now at 78 million. It is projected to drop by roughly half by 2020.

The announced changes are part of a wide-ranging effort by the Postal Service to quickly trim costs and avert bankruptcy. They could slow everything from check payments to Netflix's DVDs-by-mail, add costs to mail-order prescription drugs, and threaten the existence of newspapers and time-sensitive magazines delivered by postal carrier to far-flung suburban and rural communities.

That birthday card mailed first-class to Mom also could arrive a day or two late, if people don't plan ahead.

"It's a potentially major change, but I don't think consumers are focused on it and it won't register until the service goes away," said Jim Corridore, analyst with S&P Capital IQ, who tracks the shipping industry. "Over time, to the extent the customer service experience gets worse, it will only increase the shift away from mail to alternatives. There's almost nothing you can't do online that you can do by mail."
That's precisely the dilemma that Postal Service finds itself in. It's been dealing with the better part of a decade now with the rise of the Internet, electronic payments, and alternative delivery methods, all of which have cut severely into a revenue stream that is already strained by large pension liabilities imposed by the Federal Government, and an inability to quickly react to changing business conditions due to the fact that it must receive Congressional permission to do things like open or close post offices or change delivery schedules. In the private business world, a company that sees a revenue cut coming has the option of reacting quickly to it, the USPS can't do that, and the interjection of Federal and local politics into what ought to be a simple business decision makes the USPS's dilemma all the more difficult.
The result of today's decision by the Postal Service is pretty easy to forecast. Once people realize that "First Class" mail isn't going to be so first class anymore, they'll start switching to alternatives. Instead of mailing checks, more people will start switching to electronic payment methods. Even greeting cards are likely to take a hit from this decline in service. The most interesting impact, though, will be in business use of the First Class Mail. In many businesses, including the legal profession, relying on the fact that putting something in First Class mail means that it will arrive within a day if being sent within a defined geographic area is ingrained a matter of habit. Once that goes away, some businesses may well react by turning to alternative methods of communication — FedEx/UPS, courier services, electronic delivery, etc — and there goes yet another large revenue stream for the postal service. Give it another five years or so, and a decision like this is only going to make the situation at USPS worse, unless other changes are made.
Coincidentally, yesterday's New York Times included an analysis piece by Elizabeth Rosenthal about the future of the USPS  which increasingly seems to be primarily as a way for direct marketers to send junk mail to mostly unwilling recipients:
The founding fathers regarded the postal service as an essential instrument of nation building in a vast new country, serving to "bind the nation together," according to the law that created it. After radio and telegraph communications rendered that role obsolete in the early 20th century, the post office instead took on an important commercial function, with bills and payments sent by mail allowing for the growth of regional and national companies. But faxes, then direct deposit, and now online billing and payments have provided alternative delivery systems for what was yesterday's mail — from paychecks to birth announcements, said Ian Lee, a historian of both the United States and Canadian postal services.

"The post office is in the final stage of decaying into total irrelevance," said Mr. Lee, a professor of strategic management at the Sprott School of Business at Carleton University in Ottawa.

The fact is that the primary beneficiary of the United States Postal Service today is arguably the advertisers whose leaflets and catalogs flood our mailboxes. First-class mail — items like bills and letters that require a 44-cent stamp — fell 6.6 percent in 2010 alone, continuing a five-year-long plunge. Last year was the first time that fewer than 50 percent of bills in the United States were paid by mail. There were 9.3 billion pounds of "standard mail" — the low-cost postage category available to mass advertisers — but only 3.7 billion of first-class mail.

In fact, to compensate for projected declines in "real" mail, the Postal Service has been aggressively promoting the use of new services for advertisers like Every Door Direct, which allows local retailers to place unaddressed promotional material in every mailbox in an area for pennies a piece, with a few clicks of a mouse.

"One could argue that the real customer of the Postal Service is now the direct mailer; it is a channel for advertising," said Chuck Teller, founder of Catalog Choice, an online service in Berkeley, Calif., that helps people get their names off catalog mailing lists; this requires submitting the customer numbers on unwanted catalogs that arrive in the mailbox, one by one. And the problem is not just annoyance. Direct-mail advertising generates an estimated 10 billion pounds of waste each year, costing cities an estimated $1 billion to dispose of it, according to Catalog Choice.
Since it seems inevitable that this direct mail solicitation will become an even larger part of the Postal Service's business — although judging by the contents of my mail lately, I don't know how it could possibly get any larger — one has to wonder, as the article does, why does the government still own it? It's a valid question. Why can't the Pottery Barn catalogs be delivered by the same companies that deliver newspapers or telephone books (speaking of another relic that needs to die already)? All that would be required would be a change in the law that prohibits private entities from putting anything in a residential mailbox (a silly law to begin with, by the way). More importantly, why shouldn't be able to easily opt-out of all the direct-mail nonsense that shows up in our mail boxes to begin with? Speaking personally, I just throw the crap away.
It's been clear for some time that the nature of the relationship with the Postal Service is changing rapidly. Letter writing is so uncommon as to be non-existent, and if it weren't for the commercials from Hallmark one wonders if people would waste the money on greeting cards. One example of how it's changing can be found in Canada, which experienced a month-long Postal strike this summer, that most Canadians didn't seem to notice, and many outright welcomed:
A mail strike of more than a few days will be painful in the short term. But in the long term it could lead to a much healthier state of affairs.

A strike will spur customers of snail mail to finally make the leap into a new technology — a leap they might not have made on their own without the inconvenience of a strike.

Once they've switched to an iPad, do you think they'll ever go back to the dead-tree version of a magazine?

Millions of Canadians already pay their bills online — this will hasten that trend. Already, mail-order catalogues have given way to online shopping.

So a strike would be a momentary nuisance — until people realized they really didn't need the post office anyway.

(…)

If it goes on long enough, a strike could be the spark to reform the post office — even to end its government monopoly over letter mail.

In a country as vast as Canada, it might be in the public interest to subsidize mail to the far north and distant rural regions. But why should the other 30 million Canadians be forced to put up with a slow, costly and now striking mail service?
As the Times piece goes on to note, Canada is already far ahead of the United States in postal reform. They eliminated Saturday delivery long ago, and mail delivery in many new communities in made to boxes in a centralized location rather than to individual houses. Across the Atlantic, postal reforms have been even more radical, with many European countries completely privatizing their mail delivery and opening the business up to competition. By all accounts, the new systems are working just fine. Hopefully, the USPS's decision to effectively end First Class Mail will have the same impact that the Toronto Sun writer was hoping the Canadian strike would by causing more people to realize that, in a modern world, they can live without the Postal Service, thus finally providing the impetus to reform a system that operates as if the world of Andy Griffith and Beaver Cleaver still existed.