Privatizing The Post Office Is The Only Way To Save It
We are being warned once again that the Postal Service is on the verge of financial collapse. There really is only one solution.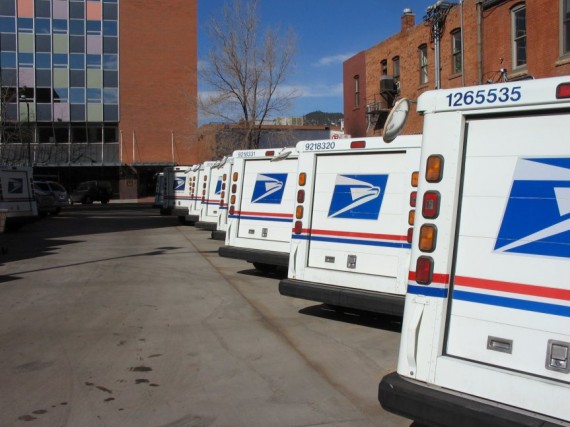 In addition to all our other financial problems, we may soon see the United States Postal Service defaulting on its debts:
The U.S. Postal Service announced Friday that it had racked up a $3.1 billion quarterly loss and that if current trends continue it is likely to default on its payments to the federal government.

The USPS continues to suffer from falling mail volume. During the third quarter this year, USPS delivered a total of 39.8 billion items, a decline of 2.6 percent compared to the 40.9 billion items delivered during the same period last year, the Associated Press reported.

According to current revenue estimates, the postal service will be unable to make a $5.5 billion payment to its retirement fund that is due in September. Unless Congress takes action, such as waiving the payment, the postal service says that it will have no choice but to default on its payments.

As consumers increasingly rely on electronic communications instead of "snail mail," the USPS has seen a serious drop off in demand, and it continues to struggle to adjust to the shift that has occurred during the past decade.

"We continue to take aggressive actions to reduce costs and bring the size of our infrastructure into alignment with reduced customer demand," Postmaster General and CEO Patrick Donahoe said in a statement.
The solution here seems rather obvious. The Postal Service should be set free of its ties to the Federal Government and forced to compete with other companies. It is fundamentally absurd that they should need to go to Congress to get permission to do something like eliminating Saturday delivery. A private company doesn't need to get permission to engage in a cost-cutting move like that, and USPS would clearly, in the long run, be a much healthier company if it had the freedom to make these kinds of decisions with the heavy hand of Congress interfering (there's already been talk about Congress stepping to prevent the Post Office closures that were recently announced). Postal privatization has been done in other countries, quite successfully, and I don't see any reason why it can't happen here.
Ted DeHaven wrote about privatization of the mail last week at The Daily Caller:
Postal management is attempting to head off the inevitable congressional interference by creating "Village Post Offices" in the communities affected by the closings. Local businesses, such as pharmacies and grocery stores, would be allowed to offer postal products and services. This makes sense because whereas post offices used to generate almost all postal retail revenue, 35 percent is now generated through alternative channels like USPS.com, self-service kiosks and private stores.

Closing post offices is a small step towards cutting costs and "rationalizing" the retail network, which the USPS management recognizes as critical. However, that won't be enough to overcome economic reality — let alone the control freaks in Congress. Ultimately, if the USPS is to continue operating like a business instead of becoming just another taxpayer-funded bureaucracy, Congress is going to have to hand the reins over to the private sector. That means privatizing the United States Postal Service.
Two bills have been introduced to reform the Postal Service since its plea for help. One proposed bill, the Postal Reform Act, is sponsored by Rep. Darrell Issa. Option two, the United States Postal Service Pension Obligation Recalculation and Restoration Act of 2011, is sponsored by Rep. Stephen Lynch.

Paralleling the debt ceiling debate, Rep. Issa proposes true reform and cost-saving measures. Rep. Lynch's bill is an accounting gimmick, similar to the "budget cuts" from Budget Control Act.

Issa's reform leads to cuts in services, post office locations, and employees. These cuts will prevent a taxpayer-funded federal government bailout of USPS. In his words, Issa's bill "encourages USPS to modernize its retail network and enables USPS to act more like a business." As seen in the debt ceiling debacle, true cost-savings and straying from the status quo may be politically unfeasible.

Rep. Lynch's bill extends USPS's ability to accumulate debt, which will likely lead to a taxpayer bailout. Lynch makes convoluted claims of USPS over-payment of retirement obligations, which were put in place because of USPS's fiscal liabilities and monopoly status. Rep. Lynch comments on the stringent obligations of USPS: "H.R. 1351 would correct the Postal Service's overpayment to the federal government of both its Civil Service Retirement System and Federal Employee Retirement System obligations, which is collectively in the range of $60 to $80 billion, providing the Postal Service with an opportunity to find long-term solutions. In light of today's announcement, we call on our Republican colleagues on the Oversight Committee to give this legislation prompt consideration."
Issa's bill is marginally better than Lynch's, but neither one of them deals effectively with the real cause of the Postal Service's problems, it's government protected monopoly. Thanks to that monopoly, USPS not only finds it difficult to react to changes in the market because of the political implications of the decisions that it makes, but it has no incentive to do so until its absolutely too late like it is now. Consumers have found a way around that monopoly by essentially voting with their feet. Electronic payments mean that fewer people mail checks anymore. E-mail, Facebook, and Twitter mean that you don't need to send a letter or a card to stay in touch with friends and family. The World Wide Web, and now tablet computing, have made paper magazines somewhat obsolete. At this point, the USPS's first class mail system is little more than a vast junk mail delivery system. I don't know about anyone else, but the average day most of what ends up in my personal mailbox gets thrown away immediately. And I rarely even bother to check my mailbox on Saturdays.
Privatizing the Post Office won't prevent the changes in technology that are making mail delivery less relevant but they would allow USPS, or its successor, to respond more rapidly, and more creatively to those changes without having to please the political overlords on Capitol Hill. Privatize the mail, it may be the only way to save it.