Postal Service Nears Collapse
Business Week's cover story examines the coming implosion of the US Postal Service as we know it.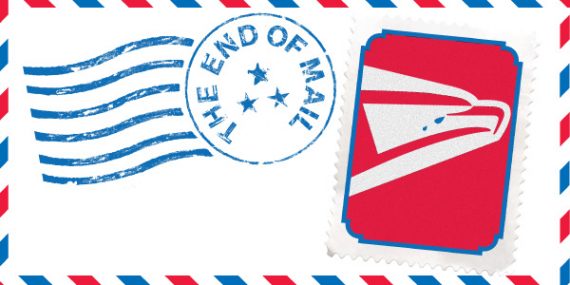 Business Week's cover story examines the coming collapse of the US Postal Service as we know it.
[GAO Director of Physical Infrastructure Issues Phillip] Herr and his team concluded that the postal service's business model was so badly broken that collapse was imminent. Abandoning a long tradition of overdue reports, they felt they had to deliver theirs 18 months early in April 2010 to the various House and Senate committees and subcommittees that watch over the USPS. A year later, the situation is even grimmer. With the rise of e-mail and the decline of letters, mail volume is falling at a staggering rate, and the postal service's survival plan isn't reassuring. Elsewhere in the world, postal services are grappling with the same dilemma—only most of them, in humbling contrast, are thriving.

The USPS is a wondrous American creation. Six days a week it delivers an average of 563 million pieces of mail—40 percent of the entire world's volume. For the price of a 44¢ stamp, you can mail a letter anywhere within the nation's borders. The service will carry it by pack mule to the Havasupai Indian reservation at the bottom of the Grand Canyon. Mailmen on snowmobiles take it to the wilds of Alaska. If your recipient can no longer be found, the USPS will return it at no extra charge. It may be the greatest bargain on earth.

It takes an enormous organization to carry out such a mission. The USPS has 571,566 full-time workers, making it the country's second-largest civilian employer after Wal-Mart Stores (WMT). It has 31,871 post offices, more than the combined domestic retail outlets of Wal-Mart, Starbucks (SBUX), and McDonald's (MCD). Last year its revenues were $67 billion, and its expenses were even greater. Postal service executives proudly note that if it were a private company, it would be No. 29 on the Fortune 500.

The problems of the USPS are just as big. It relies on first-class mail to fund most of its operations, but first-class mail volume is steadily declining—in 2005 it fell below junk mail for the first time. This was a significant milestone. The USPS needs three pieces of junk mail to replace the profit of a vanished stamp-bearing letter.

[…]

Since 2007 the USPS has been unable to cover its annual budget, 80 percent of which goes to salaries and benefits. In contrast, 43 percent of FedEx's (FDX) budget and 61 percent of United Parcel Service's (UPS) pay go to employee-related expenses. Perhaps it's not surprising that the postal service's two primary rivals are more nimble. According to SJ Consulting Group, the USPS has more than a 15 percent share of the American express and ground-shipping market. FedEx has 32 percent, UPS 53 percent.

The USPS has stayed afloat by borrowing $12 billion from the U.S. Treasury. This year it will reach its statutory debt limit. After that, insolvency looms.

[…]

This should be a moment for the country to ask some basic questions about its mail delivery system. Does it make sense for the postal service to charge the same amount to take a letter to Alaska that it does to carry it three city blocks? Should the USPS operate the world's largest network of post offices when 80 percent of them lose money? And is there a way for the country to have a mail system that addresses the needs of consumers who use the Internet to correspond?

The Capitol Hill debate is primarily about money. The USPS and its employee unions are lobbying for the least painful remedy: They want the agency to be relieved of its requirement to build a health-care trust fund for its future retirees. They are supported by junk mailers, greeting card manufacturers, and magazine publishers whose businesses are, in some cases, subsidized by the post office's generously low mailing prices. Never mind that their benefactor loses money on some of their products, most notably magazines and some junk mail.

[…]

Three decades ago, most postal services around the developed world were government-run monopolies like the USPS. In the late '80s, the European Union set out to create a single postal market. It prodded members to give up their monopolies and compete with one another. The effort roused an industry often thought to be sleepy and backward-looking.

Many countries closed as many of their brick-and-mortar post offices as possible, moving these services into gas stations and convenience stores, which then take them over—just as the USPS is trying to do now, only far more aggressively. Today, Sweden's Posten runs only 12 percent of its post offices. The rest are in the hands of third parties. Deutsche Post is now a private company and runs just 2 percent of the post offices in Germany. In contrast, the USPS operates all of its post offices.

[…]
Many used their extra cash to create digital mail products that allow customers to send and receive letters from their computers. Itella, the Finnish postal service, keeps a digital archive of its users' mail for seven years and helps them pay bills online securely. Swiss Post lets customers choose if they want their mail delivered at home in hard copy or scanned and sent to their preferred Internet-connected device. Customers can also tell Swiss Post if they would rather not receive items such as junk mail.

Sweden's Posten has an app that lets customers turn digital photos on their mobile phones into postcards. It is unveiling a service that will allow cell-phone users to send letters without stamps. Posten will text them a numerical code that they can jot down on envelopes in place of a stamp for a yet-to-be-determined charge.
But we don't need the Postal Service to create apps; startups without all the overhead could do it much more efficiently.
Like most Americans, I suspect, I no longer send or receive personal letters. The combination of email and near-free long distance telephone service has eliminated the benefits. And my wife and I are ahead of the curve on electronic banking, receiving and paying almost all our bills online. So, aside from holiday cards–a tradition I'd frankly be happy to see die–we hardly ever mail anything or have a need for stamps. Indeed, I don't know offhand what the going rate is for a 1st Class letter. (We buy "Forever Stamps" that don't have a denomination on them, as we otherwise wound up with lots of stamps that were outdated, requiring putting a second stamp on the envelope.) So, the only things in the mail most days are magazines, catalogs, the occasional government notice, and unsolicited junk. The last of these, of course, is a nuisance.
Aside from changes in custom brought on by technology, what most struck me about the story was the similarity to the decline in the auto industry and much of the rest of the American heavy manufacturing industry. Deals made with labor unions generations ago are now killing the golden goose. Wages and benefits are simply too big a chunk of revenues now and they can't compete with companies, like FedEx and UPS, without those legacy burdens.
Relatedly, health care costs for employees and retirees are simply crippling. This not only makes it hard to compete with American companies who officer less generous benefits but gives a huge leg up to foreign companies who have no health care burden at all because government provides coverage. This is why I've thought for awhile now that the collapse of the American health insurance model is imminent. Companies, not individuals, will ultimately demand that we move to some sort of government provider model so as to get the burden off of American business.
via Glenn Reynolds