USPS Loses $ 8.5 Billion, Warns Of Bankruptcy
The U.S. Postal Service is warning Congress that it could run out of cash next year without a government bailout. Meaning that this is the perfect opportunity to reform an organization that has been out-of-date for a decade now.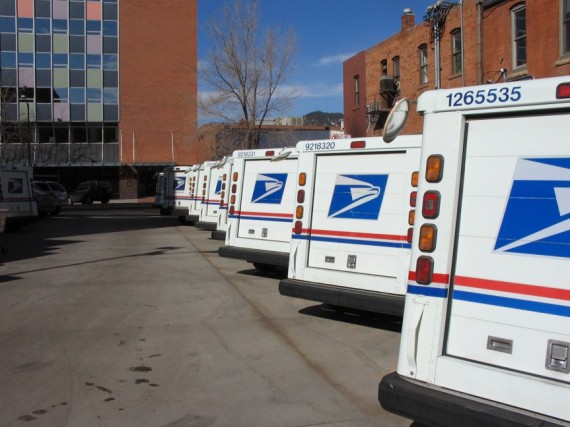 The United States Postal Service is fast approaching the point where, if it were an ordinary business, we'd be talking about Chapter 11 Bankruptcy:
The financially troubled U.S. Postal Service reported an $8.5 billion loss in the fiscal year that ended in September and said it will run out of money in 2011 if economic conditions don't improve and Congress doesn't act.

A drop in first-class mail deliveries contributed to an overall 6 billion-piece decline in mail volume last fiscal year, to 170.6 billion pieces, officials said. Financial losses also came from about $5.4 billion in obligations to pre-fund retiree health benefits and about $2.5 billion paid to the federal government's workers' compensation insurance fund.

All federal agencies and the USPS, a quasi-federal outfit, have workers' compensation obligations to help fund four major disability compensation programs.

The Postal Service also announced Friday that it plans to deplete its $15 billion line of credit with the U.S. Treasury by borrowing the remaining $3.5 billion. Although the Postal Service does not use taxpayer funding, it has tapped the credit line since the early 1990s. Depleting it means the Postal Service probably will go broke at the end of fiscal 2011 unless Congress takes action, members of the Postal Service Board of Governors said Friday.

The historic losses occurred despite more than $9 billion in cost cuts in the past two years, including the elimination of about 105,000 full-time jobs, "more than any other organization, anywhere," USPS Chief Financial Officer Joe Corbett said Friday.

"We will continue our relentless efforts to innovate and improve efficiency. However, the need for changes to legislation, regulations and labor contracts has never been more obvious," Corbett said.
The problem, of course, is that as long as the USPS remains a "quasi-governmental entity" it will be unable to undertake the types of reforms that any other business would in the face of the fundamental transformation of its business model, something that has been going on for nearly a decade now. Instead, much like the auto companies, the Postal Service finds itself weighed down by government regulation, and by union contracts that require them to pay people even if they don't work at all:
The U.S. Postal Service, struggling with a massive deficit caused by plummeting mail volume, spends more than a million dollars each week to pay thousands of employees to sit in empty rooms and do nothing.

It's a practice called "standby time," and it has existed for years — but postal employees say it was rarely used until this year. Now, postal officials say, the agency is averaging about 45,000 hours of standby time every week — the equivalent of having 1,125 full-time employees sitting idle, at a cost of more than $50 million per year.

Mail volume is down 12.6 percent compared with last year, and many postal supervisors simply don't have enough work to keep all employees busy. But a thicket of union rules prevents managers from laying off excess employees; a recent agreement with the unions, in fact, temporarily prevents the Postal Service from even reassigning them to other facilities that could use them.

So they sit — some for a few hours, others for entire shifts. Postal union officials estimate some 15,000 employees have spent time on standby this year.

They spend their days holed up in rooms — conference rooms, break rooms, occasionally 12-foot-by-8-foot storage closets — that the Postal Service dubs "resource rooms." Postal employees use more colorful names, like "holding pens" and "blue rooms."

"It's just a small, empty room. … It's awful," said one mail processing clerk who has spent four weeks on standby time this summer. "Most of us bring books, word puzzles. Sometimes we just sleep."
The rational business response to this phenomenon, which is entirely created by the same decline in mail volume that is impacting the USPS at all levels, would be to let employees go. However, thanks to the generous employment and benefit packages that the Postal Worker's Union has extracted, the only option the USPS has is to offer employee buyouts, which of course cost money and add to the organization's financial woes.
Long term, it's fairly clear that the only option for the USPS is to follow the route that David Cameron is advocating for the Royal Mail in England, privatization:
Vincent Cable, the Liberal Democrat Business Secretary, said the Government was planning sell off all of its shares in the company in a move which is likely to be bitterly opposed with unions and left wing Labour MPs.

Most of the shares will be sold to outside investors – either to private companies or through a public share offering.

A small stake – possibly as much as 20 per cent – will be left in the hands of workers to buy their support for privatisation, as disclosed by The Daily Telegraph yesterday.

(…)

The announcement came after Richard Hooper, the Government's independent postal service reviewer, published a report on the Royal Mail and warned that its finances had worsened over the past 18 months and that "without serious action" the company would "not survive in its current form".
The relationship between the government and the mail service is different in the U.K. than it is here, but the general concept is still applicable. We are far past the point where a single organization ought to have a government-protected monopoly over non-parcel, non-express mail delivery. Both UPS and FedEx have proven themselves capable of fulfilling roles that the Postal Service used to perform, and in FedEx's case their business started out by creating a service that USPS had never even thought of and probably would not have been able to implement on its own.
The only other option would seem to be throwing more taxpayer money into a business model that is becoming increasing irrelevant in an era when information of all kinds is delivered far faster, and far more efficiently, than it ever possibly could be by a guy in blue shorts. That makes no sense at all.