Abrams Loses Suit Over 2018 Election
Georgia Republicans didn't violate the Constitution or the Voting Rights Act.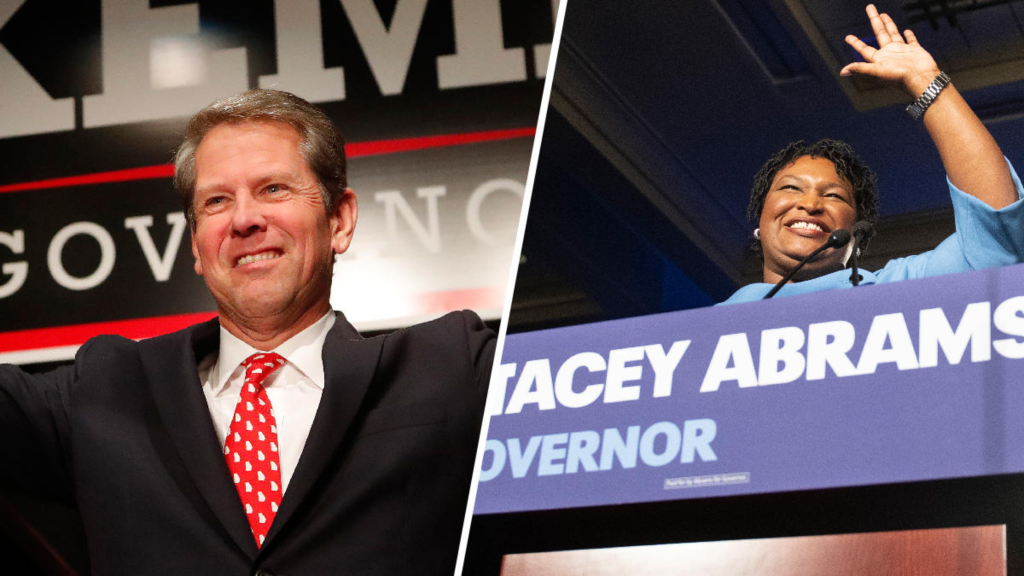 AJC ("Judge upholds Georgia election laws on all counts in voting rights case"):
A federal judge delivered a decisive ruling Friday against allies of Democrat Stacey Abrams in their 4-year-old voting rights lawsuit, upholding Georgia election laws on all counts in the case Fair Fight Action filed days after the 2018 election.

U.S. District Judge Steve Jones' judgment concludes the ambitious case against Georgia's voter registration and absentee ballot practices after a trial in which voters testified about problems at the polls but few of them were unable to cast a ballot. "Although Georgia's election system is not perfect, the challenged practices violate neither the Constitution nor the VRA (Voting Rights Act)," Jones wrote in a 288-page order.

The decision followed what is believed to be the longest voting rights trial in the history of the Northern District of Georgia, lasting 21 days with testimony from over 50 witnesses, wrote Jones, a nominee of President Barack Obama.

Jones ruled against Fair Fight on claims over Georgia's "exact match" voter registration policy, absentee ballot cancellation practices and registration inaccuracies.

The decision in the case, filed in the wake of Abrams' loss to Republican Brian Kemp in the 2018 election for governor, comes five weeks before this year's Election Day, when Abrams and Kemp are again facing each other.

"From day one, Abrams has used this lawsuit to line her pockets, sow distrust in our democratic institutions, and build her own celebrity," Kemp said in a tweet. "Judge Jones' ruling exposes this legal effort for what it really is: a tool wielded by a politician hoping to wrongfully weaponize the legal system to further her own political goals."
Raffensperger posted this on the Georgia Secretary of State website under the headline "Raffensperger Defeats Stacey Abrams' 'Stolen Election' Claims in Court."
The lawsuit alleging discriminatory and suppressive election practices in Georgia has been decided in favor of Georgia Secretary of State Brad Raffensperger and the State Elections Board on all counts, according to a 288-page order entered by U.S District Court Steve Jones on Friday.

"This is a win for all Georgia election officials who dedicate their lives to safe, secure and accessible elections," said Raffensperger. "Stolen election and voter suppression claims by Stacey Abrams were nothing but poll-tested rhetoric not supported by facts and evidence."

Stacey Abrams-founded Fair Fight Action and other plaintiffs filed an initial complaint in November 2018, shortly after Abrams lost her bid to become Georgia's Governor, alleging illegal and unconstitutional practices had denied the right to vote to thousands of Georgians. The allegations attempted to raise issues regarding Georgia's absentee ballot procedures, voter registration, and voter list management practices. The court has denied every allegation on each issue.

From the beginning Raffensperger argued that Georgia's elections systems and procedures were accessible and secure, and acknowledged the challenge in balancing voter access with election integrity while strictly abiding by voting laws and the Constitution. In its decision, the court agreed, noting the impossibility of perfect elections given the millions of voters and tens of thousands of poll workers necessary to run an election, "[a]lthough Georgia's election system is not perfect, the challenged practices violate neither the constitution nor the Voting Rights Act (VRA.)"

Raffensperger said he is grateful the matter is settled, adding "this allows our local election officials to fully focus on the task at hand this year – running a safe, secure, and accessible election."

"This decision should quiet all those who sow fear and public distrust by denying the results of Georgia's elections, so that Georgians know they can cast a vote, and that it will be counted in elections that are free and fair."
It's worth noting here that Raffensberger, a Republican, stood up firmly against Trump's claims that he, not Joe Biden, won the race for the state's Electoral votes. And, indeed, while less forthright, so did Kemp.
As to the outcome of the lawsuit, it is a large, if Pyrrhic, victory for Kemp but likely not going to do much to impact either the outcome of this race or people's perceptions of the last one.
Abrams achieved national fame after losing that race and using it to champion a message of Republican voter suppression. It was always overblown. But she had a real argument: Kemp and other Republican election officials absolutely tried to stack the deck, purging voters from the rolls in a way that disproportionately impacted Blacks. That they did so within legal parameters—and that Abrams and the Democrats were largely able to counteract these efforts by successfully re-registering these voters and driving massive Black turnout—doesn't negate the attempt.
As I noted at the time ("Brian Kemp Rigging His Own Election"),
Brian Kemp, the Republican nominee to be the next governor of Georgia, is also its sitting Secretary of State, the official in charge of the process which will determine how the election is conducted, including who gets to vote and which votes get counted. And he's not even being subtle about parlaying that conflict of interest into a personal advantage.

[…]

The bottom line is that, regardless of how one perceives the actions of Harris or Kemp, it's simply bizarre to have an openly partisan official making countless judgments that may impact the outcome of our democratic processes. Indeed, it makes no sense to have an elected official, period, in such a role. Even if the official's integrity is above reproach, they simply have inherent conflicts of interest. If they're partisan officials, they face enormous pressure to rule in favor of their own party. Even as non-partisan officials subject to election, they'd face pressure to rule in a way that satisfied voters regardless of the letter of the law. And, obviously, if they themselves are running for an office under their purview (including simply running for re-election as Secretary of State) any ruling they make that favors them will be under suspicion.
Kemp supporters will, not unreasonably, see this ruling as vindication but it will do nothing to change the feelings of Abrams supporters that the game was rigged. My sense is that he likely won "fair and square" if you only count what happened on election day. But he certainly tried to put his thumb on the scale. The way he did it might have not been in violation of any law. That doesn't make it right.