Why Stacey Abrams Ran Behind Raphael Warnock
Discrimination? Issues? Incumbency?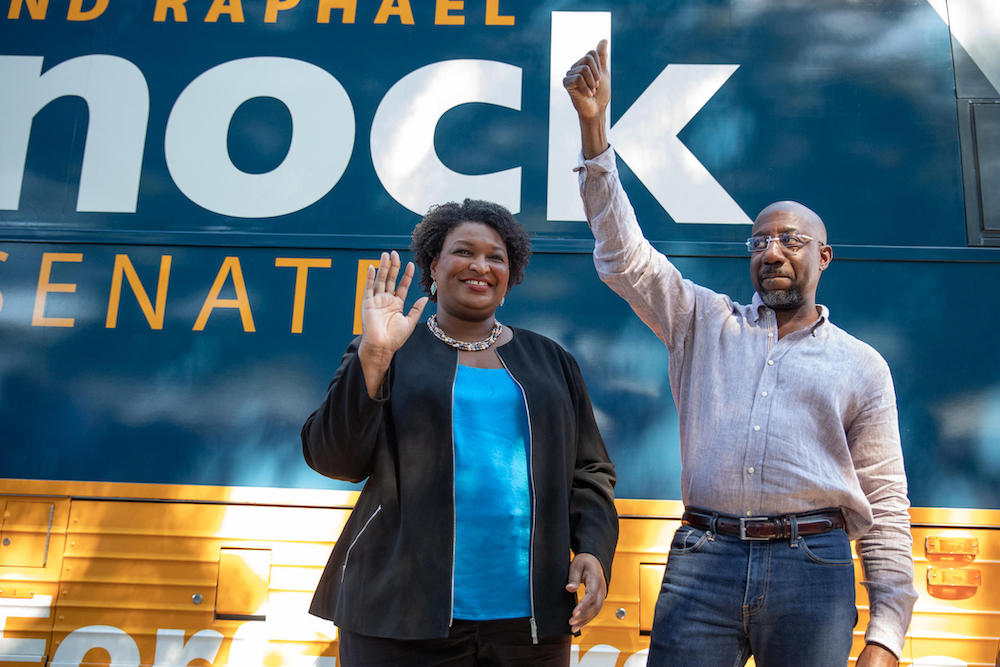 Writing at MSNBC, culture journalist Evette Dionne laments, "Stacey Abrams isn't the first Black woman to not reap what she's sowed."
From what was predicted to be record-breaking voter turnout to the number of women running in gubernatorial races, the 2022 midterm elections were historic. However, for all the victories worth touting, a disappointing status quo that remains: America has never elected a single Black woman governor. Each of the three Black women who ran in this cycle — Stacey Abrams in Georgia, Deidre DeJear in Iowa, and Yolanda Flowers in Alabama — lost her race. It's a disappointing result a mere two years after Joe Biden and Kamala Harris credited Black voters for securing their victory. 
DeJear and Flowers were essentially placeholder candidates, running in impossible races against incumbent governors in deeply red states just to put a Democrat on the ballot. Their opponents got 58% and 67%, respectively.
More fundamentally, that there has never been a Black woman elected governor is hardly shocking. Jim Crow ended less than 60 years ago and women who weren't placeholders for their husbands started routinely winning high office in my memory. The overlap, obviously, would be more unusual. And, even setting aside our long history of racism and sexism, Black women are maybe 6% of the population and a much smaller part of the elite classes that supply most of our high officials.
Though Black women voters are often called the "backbone of the Democratic Party," winning statewide office is an uphill battle for Black women. That lip service doesn't often translate to actual results, as we're seeing in these three gubernatorial races. 
Again: factoring sacrificial candidates for governor of Iowa and Alabama into this is just dishonest. Abrams was the only one of the three who could plausibly have won their race.
It's an upsetting turn of events, especially since Abrams, a former Georgia state representative, is a rising force in Democratic politics. Not only did Biden consider her a potential running mate in 2020, but she's also one of the architects of a new voter registration movement in Georgia and the broader South. Since 2014, the New Georgia Project and Fair Fight, two organizations that Abrams founded, have registered more than 500,000 new voters in the state while sounding the alarm about escalating attempts to suppress the vote. 
And she's been nominated twice for governor and came pretty close both times—in a historically red state against an opponent with a more traditional resume for the job. I don't have deep knowledge of Georgia politics but, in most states, statewide office, not the state assembly, is the traditional path to the governor's mansion.
There are several reasons Abrams has been unsuccessful in two gubernatorial races: While Georgia is becoming more progressive as its politics change with an influx of new residents, it's still a Southern state with all the historical baggage that accompanies that designation. Is that population ready for a Black woman governor who is unmarried and childless? We may never know. 
So now we've added two additional variables. It's not just that she's a Black woman but she's unmarried and childless. How many unmarried white women have been elected governor? Unmarried white men?
Beyond that, Abrams focused on these underserved populations — as she planned to — and has turned them into a reliable voting bloc. That means addressing the issues that seemingly matter most to them, such as paying teachers more, extending funding for child care and preschool, increasing the amount of affordable housing available in Georgia and enshrining abortion rights. These are all progressive causes that should've driven voters to the polls for Abrams the same way they did for Sen. Raphael Warnock, the Black Democratic incumbent. Warnock, who won more votes than his Republican opponent and made the runoff Tuesday, campaigned to secure votes from independents. 
Aha! It's not just that the Black man who has twice gotten the most votes for Senate isn't a woman but he's also used a strategy designed to appeal outside the Democratic coalition in a Democratic-minority state. Hmm. Maybe that, not sex, should have been the lede?
Indeed, Dionne's colleague, Sahil Kapur did just that in his October 18 report "Abrams and Warnock pursue very different strategies in key Georgia races."
Democratic candidates in the two marquee Georgia races are blitzing the airwaves with television ads — and making two markedly different pitches to voters.

A new spot cut by Stacey Abrams, the Democratic nominee for governor, presents her as a "math whiz" with bold progressive ideas to raise teacher pay, extend child care and fund preschool. Another ad vows to put Georgia's surplus toward fresh stimulus checks for the middle class and to expand affordable housing.

Meanwhile, Sen. Raphael Warnock is running as an independent-minded legislator and highlighting bipartisan pursuits like capping insulin costs as he seeks a full six-year term. One ad touts his work with Republican Sen. Tommy Tuberville of Alabama to protect peanut farmers. Another features testimonials from GOP-leaning voters who say they're supporting Warnock this fall.

The ads reflect two diverging visions by Democrats about how to win Georgia, a former Republican bastion that narrowly voted for President Joe Biden and two Democratic senators in the 2020 election cycle. Abrams is relying heavily on mobilizing the base, aiming to inspire and register disaffected Georgians and turbocharge progressive turnout. Warnock is putting a greater emphasis on courting the center, appealing to soft Republicans and center-right independents, including white college graduates in the booming Atlanta area who feel out of sync with a GOP transformed by former President Donald Trump.

As early voting begins, polling averages show a notable split in partisan preferences: Warnock leads Republican challenger Herschel Walker by about 4 percentage points, while Abrams trails GOP Gov. Brian Kemp by roughly 5 points.

"They are running two very different campaigns," said an adviser to Kemp, who was granted anonymity to candidly assess Democratic strategy. "It's pretty obvious, watching their speeches and ads and their social media."

Abrams is "not so much in the persuasion business; she's in the mobilizing business," the Kemp adviser said, attributing Warnock's relative success in 2020 and his lead in this year's race to his focusing on "middle-of-the-road policy positions," like lowering prescription drug costs, and not emphasizing "some of these more left-leaning issues."

A recent Quinnipiac University poll of likely Georgia voters found Warnock outperforming Abrams by 14 points among independents against their rivals. Among Republicans, Warnock had 7%, while Abrams had 3%. Among Democrats, both were equally dominant.
It's quite possible that, despite her ability to draw attention to herself with the national press and organize voter registration drives, she's just not a great candidate. At least for statewide office in Georgia.
Still, in fairness to Abrams, we're talking about relatively small differences. Here's the NYT summary of the two races: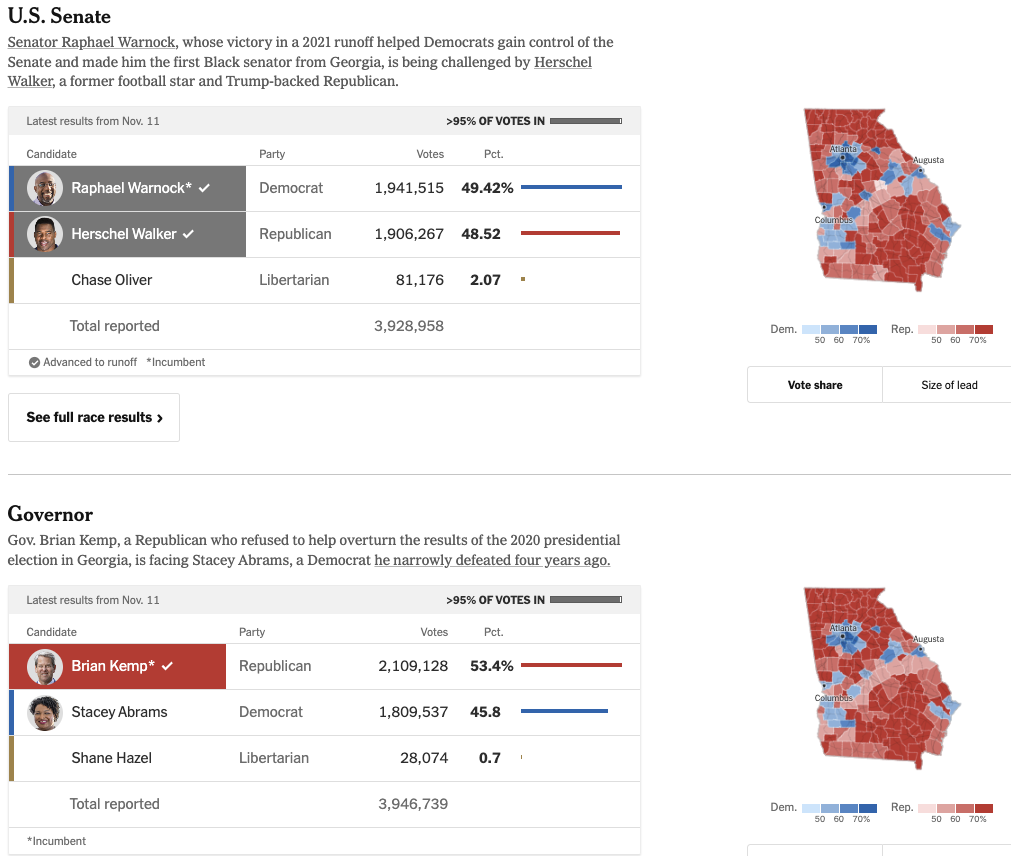 With 95% of the votes counted, Warnock had 131,978 more votes than Abrams while Kemp had 202,861 more votes than Walker. Then again, Walker, who is one of the worst Senatorial candidates in the history of Senatorial candidates, got roughly 100,000 more votes than Abrams.
But there are at least two other factors that come to mind.
First, both Warnock and Kemp were incumbents. Maybe voters simply thought they deserved to keep their jobs?
Second, the stakes are simply different. Georgians famously voted Democrat in both of the Senate runoffs in January 2021, giving that party the 50-50 margin needed for Vice President Harris being able to break ties. They're poised to give the party a 51-49 margin if they re-elect Warnock in the runoff. It's quite possible that they want a conservative Republican in their statehouse but prefer President Biden to Trumpers for running the national government.