Brian Kemp Rigging His Own Election
Partisan officials should not be in charge of state election processes, much less their own.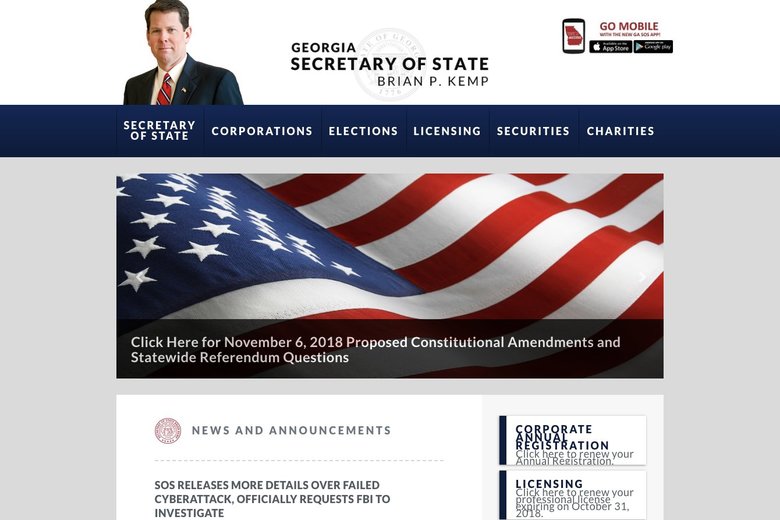 Brian Kemp, the Republican nominee to be the next governor of Georgia, is also its sitting Secretary of State, the official in charge of the process which will determine how the election is conducted, including who gets to vote and which votes get counted. And he's not even being subtle about parlaying that conflict of interest into a personal advantage.
In perhaps the most outrageous example of election administration partisanship in the modern era, Georgia Secretary of State Brian Kemp, who is running for governor while simultaneously in charge of the state's elections, has accused the Democratic Party without evidence of hacking into the state's voter database. He plastered a headline about it on the Secretary of State's website, which thousands of voters use to get information about voting on election day.

It's just the latest in a series of partisan moves by Kemp, who has held up more than 50,000 voter registrations for inconsistencies as small as a missing hyphen, fought rules to give voters a chance to prove their identities when their absentee ballot applications are rejected for a lack of a signature match, and been aggressive in prosecuting those who have done nothing more than try to help those in need of assistance in casting ballots.

But the latest appalling move by Kemp to publicly accuse the Democrats of hacking without evidence is even worse than that: Kemp has been one of the few state election officials to refuse help from the federal Department of Homeland Security to deter foreign and domestic hacking of voter registration databases. After computer scientists demonstrated the insecurity of the state's voting system, he was sued for having perhaps the most vulnerable election system in the country. His office has been plausibly accused of destroying evidence, which would have helped to prove the vulnerabilities of the state election system.

Things are so bad with the security of Georgia's election system that federal district court judge Amy Totenberg minced no words about the problems:
The State's posture in this litigation – and some of the testimony and evidence presented – indicated that the Defendants and State election officials had buried their heads in the sand. This is particularly so in their dealing with the ramifications of the major data breach and vulnerability at the Center for Election Services, which contracted with the Secretary of State's Office, as well as the erasure of the Center's server database and a host of serious security vulnerabilities permitted by their outdated software and system operations. A wound or reasonably threatened wound to the integrity of a state's election system carries grave consequences beyond the results in any specific election, as it pierces citizens' confidence in the electoral system and the value of voting. Advanced persistent threats in this data-driven world and ordinary hacking are unfortunately here to stay. Defendants will fail to address that reality if they demean as paranoia the research-based findings of national cybersecurity engineers and experts in the field of elections.
Ultimately, Totenberg has not required the state switch to paper ballots for the upcoming election because she ruled that the request was too close Election Day, an unfortunate pattern among federal courts these days.

If anyone is to blame for vulnerabilities with the voting system it is Kemp. And now he's trying to turn those vulnerabilities into crass political advantage by blaming Democrats without evidence for the state's failings. The press release entitled "After Failed Hacking Attempt, SOS Launches Investigation into Georgia Democratic Party" provides no details. It quotes a spokesperson saying "While we cannot comment on the specifics of an ongoing investigation, I can confirm that the Democratic Party of Georgia is under investigation for possible cyber crimes."
I don't know that I've ever seen anything like this. Perhaps it's because Secretary of State tends not to be a direct pipeline to the prize statewide offices of governor and U.S. Senator. Or perhaps it's just that Kemp is unusually corrupt and brazen.
While I've been aware that the Secretary of State tends to be in charge of elections going back to my college days,* most Americans likely didn't pay attention to it until the 2000 presidential election, in which Republican nominee George W. Bush's fate was decided in a contested recount in Florida, where his brother Jeb was governor and Republican Katherine Harris was Secretary of State, as well as co-chair of W's campaign in the state. While I viewed her actions as legitimate, she had an absurd conflict of interest that made it impossible for Democrats to believe they were getting a fair shake. In particular, when she certified Bush's election in accordance with Florida law while a disputed recount was still underway, Democrats inevitably cried Foul.
The bottom line is that, regardless of how one perceives the actions of Harris or Kemp, it's simply bizarre to have an openly partisan official making countless judgments that may impact the outcome of our democratic processes. Indeed, it makes no sense to have an elected official, period, in such a role. Even if the official's integrity is above reproach, they simply have inherent conflicts of interest. If they're partisan officials, they face enormous pressure to rule in favor of their own party. Even as non-partisan officials subject to election, they'd face pressure to rule in a way that satisfied voters regardless of the letter of the law. And, obviously, if they themselves are running for an office under their purview (including simply running for re-election as Secretary of State) any ruling they make that favors them will be under suspicion.
______________
* In addition to being a political science major, one of my professors at Jacksonville State, Glen Browder, was elected to that office in Alabama shortly after my arrival there. He would later become my Congressman, replacing the legendary Bill Nichols.