My Buttigieg Theory
How is the mayor of a modest-sized Midwestern city doing as well as he has?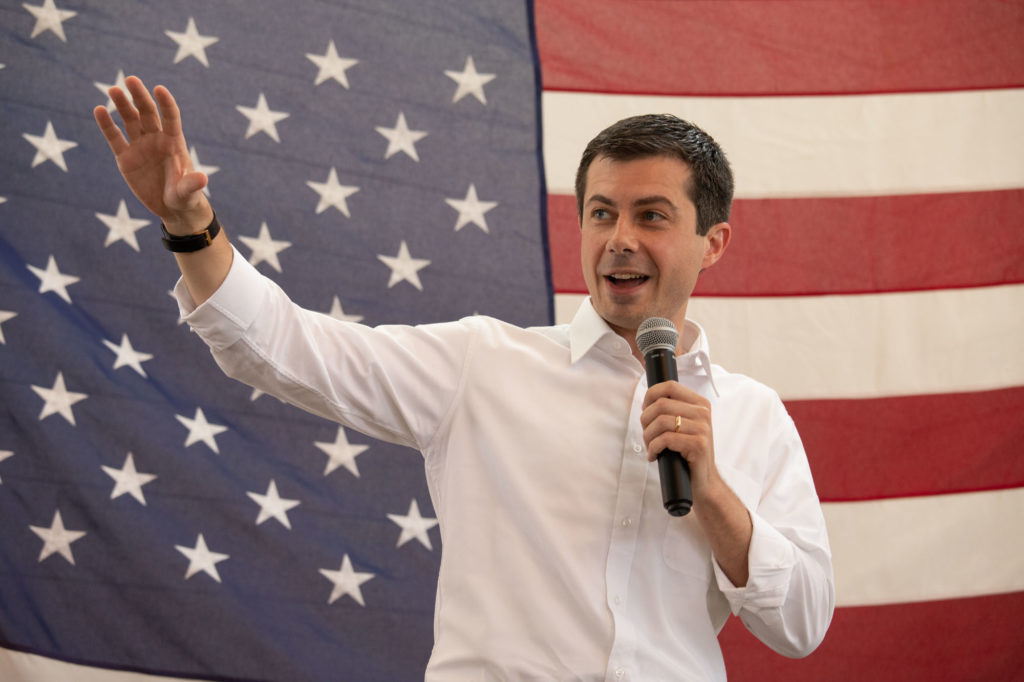 Let me caveat this post by stating upfront that I am hardly convinced, despite his strong showing in Iowa that Pete Buttigieg is Bernie Sanders' main competition for the Democratic nomination. I have to admit that his finish in Iowa (whatever one wants to call it) and a possible second-place finish in New Hampshire is far better than I would have expected even a month ago.
Indeed, yesterday at FiveThirtyEight, Nathaniel Rakich had a piece headlined, Election Update: Buttigieg Is Rising In New Hampshire.
former South Bend, Indiana, Mayor Pete Buttigieg is now making it interesting. His numbers are rising in almost every successive poll of the state, and he's now up to a 1 in 4 (25 percent) chance of winning there.
I have to admit that I have been surprised by Buttigieg's significance to the contest to date. The mayor of a town of roughly 102,000 should not have gotten farther in this process than Kamela Harris and Corey Booker, for example. This is even more true for the gay mayor of a modest-sized city.
And to that point, Rakich concludes his piece as follows:
Just because Buttigieg has the momentum in New Hampshire, however, doesn't mean his chances of winning the nomination have increased. Our overall primary forecast still gives Buttigieg only a 1 in 25 (4 percent) chance of winning a majority of pledged delegates. In a nutshell, proving you can (partially) win Iowa and (maybe) win New Hampshire doesn't prove you can win more diverse states like Nevada and South Carolina — and Buttigieg is still underperforming with nonwhite voters, although we'd like to see more post-Iowa national polls to confirm this.
Without a doubt, the national polls suggest that this early success won't last and South Carolina is going to tell us a lot about whether Biden really is fading.
Regardless, Mayor Pete has managed to stay in the top four. Why?
I am not an expert on public opinion, so I am getting a bit more pundit-y than usual to share something I have been thinking about for some time now regarding why I think Buttigieg has been more successful than anyone would have predicted.
First, I do think that there are two factions of significance within the Democratic nominating electorate. One is more left (and this space is contested, as we all well know, by Sanders and Warren) and one is more centrist (as represented by Biden, Buttigieg, Klobuchar, etc). I think one can quibble about exactly how well those labels fit and exactly how wide (or narrow) the ideological spread is, but I think these are fair categories for the sake of discussing the field.
Second, there is the ever-present, but amorphous "electability" variable. If there is one unifying element across the selectorate, it tends to be wanting a candidate who can beat Trump. Of course, this variable is linked to the first. Bernie supports, for example, think that the way to beat Trump is with a bold vision and a candidate who is a cantankerous, tireless, fighter. Meanwhile, a lot of Biden's support has been predicated on the notion that he represents an old normal that voters would see as a comfortable alternative to Trump without been a scary socialist.
Into this mix, I would throw the following other factors: age and diversity.
So, how does all of this sum to Buttigieg's advantage? He is a well-spoken, smart-sounding, gay, younger man, who is also a veteran and is perceived as moderate. He is also new to the national stage in ways that Bernie and Biden clearly aren't, and that even Warren, Booker, Harris, et al. are not.
To unpack the list:
He Appeals to the Educated. His way of speaking appeals to a major constituency in the Democratic primary electorate: the college-educated (remember all the talk about how smart he sounded when he first hit the scene?) I remember hearing him for the first time in an interview and the college professor in me loved hearing a guy who was versed in political philosophy and who had a grasp on world affairs. And he is, in this way, a major contrast to the current POTUS. (See, for example, page three of this WBUR survey, where Pete does better than Biden among educated voters).
He's not a Septuagenarian. There are real concerns that the field is too old. Note this write-up from June about a Pew survey on this topic: Only 3 percent of Democratic voters want a president in their 70s, survey finds.
The Pew survey, conducted early last month, found that 47 percent of Democratic voters say the best age for presidents is their 50s. If he were to win next year, Biden would be 78 upon taking office in 2021. Sanders would be 79.

The percentage of Democratic or likely Democratic voters who said the optimal age for a president is someone in their 70s: 3 percent.
Pete is on the extreme end of this, as he is in his 30s.
He's Seen to be a Centrist. He is not pushing Medicare for All, nor is he calling for the end of private insurance. His demeanor is pretty staid. He is a veteran.
He's a Dude. A lot of folks think that part of the reason that Hillary Clinton lost a narrow race to Trump was because of her gender and this sparks fears about 2020. A poll in September noted:
Thinking ahead to the 2020 general election, 58% said that it would be either much harder, moderately harder or slightly harder for a woman to win against Donald Trump as opposed to a male candidate. About a quarter, 24%, said it would be much harder.

Source: ABC News, Majority of voters ready for woman president, but don't think everyone is: POLL
But, He's Gay! While I think his homosexuality is an electability problem for some Democrats, I think for others he checks a diversity box while still being a white male.
All of this sums to why I think he has well outperformed the way most of us would have predicted. The field needs a perceived centrist who is white and male but who also isn't in his 70s. And I think his homosexuality is helping him more than it is hurting him (at the moment) because it makes him a diversity candidate of a type.
I also think that sexism, coupled with fears that the country as a whole is sexist in the face of HRC's loss, has made it very difficult for Klobuchar to gain ground in the "centrist" space and is also hurting Warren in the more leftward space.
Ultimately, I find it hard to believe that Buttigieg will be seen as sufficiently electable to win the nomination, but I think there is a clearer logic behind how he has managed to be as successful as he has been. South Carolina will be a major test (although more of Biden than of anything else). Pete's poor numbers with African-Americans (a recent Fox News poll put him at 2% with African Americans in SC) would suggest that his moment towards the top of the leader board is going to be short-lived.