NATO Plans New Deployments In Response To Russia
NATO seems intent on sending a signal to Vladmir Putin that there are limits to his patience.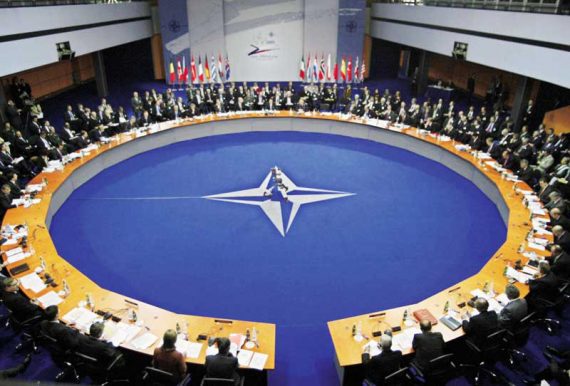 More signals from NATO that we may see some movement of resources in response to recent events in Ukraine:
BRUSSELS — The head of NATO pledged on Wednesday to immediately step up military patrols along the alliance's vast eastern border in response to mounting evidence of Russian interference in Ukraine.

The announcement by Anders Fogh Rasmussen, the secretary general of the North Atlantic Treaty Organization, appeared to be another sign that the confrontation with Russia over Ukraine was becoming more acute. But Mr. Rasmussen emphasized that the move was designed to be a deterrent rather than preparation for conflict.

"Our decisions today are about defense, deterrence and de-escalation," Mr. Rasmussen said in a statement posted on the NATO website. "NATO will protect every ally and defend against any threat against our fundamental security," he said.

Even so, the moves represent a significant strengthening of NATO's posture in a region where it is already operating an air-policing mission in the Baltic states and surveillance flights over Poland and Romania.

Mr. Rasmussen said the decision on Wednesday meant that aircraft will fly more sorties over the Baltic region and that allied ships will deploy to the Baltic Sea, the eastern Mediterranean and elsewhere, as required.

In addition, military personnel will deploy "to enhance our preparedness, training and exercises," he said. "We will have more planes in the air, more ships on the water, and more readiness on the land," he said.

The measures will be implemented "straight away," he said, and "more will follow, if needed, in the weeks and months to come."
As I stated earlier this week, it seems to me that NATO is almost required to take some steps like this in response to what we're seeing from the Russians in the wake of the Crimean Annexation. Getting directly involved in the Ukraine matter, even to the limited extent of providing arms to the Ukrainians, strikes me as unwise for many reasons, however we do need to take into account the probability that Western responses, or the lack thereof, to what Russia may or may not have planned for Eastern Ukraine and what happened in Crimea could lead Putin to believe that the world will not care much if he expands his reach to other parts of Eastern Europe that may be of "interest" to Russia. We've already seen some indications of events similar to what has happened in eastern Ukraine unfolding in the Transnistria region of Moldova, and some Russian legislators have said the nation needs to look out for the ethnic Russian citizens of Estonia, which just so happens to be a NATO ally. Allowing Putin to continue making moves like this without making it clear in some way that there are limits to what he'll be allowed to get away with would potentially lead him and others in Russia to think that they can continue trying to redraw the map of Eastern Europe without consequence. That wouldn't be in anyone's interest, including ours.
Of course, all of this talk about NATO movements is making the continent just a bit nervous:
The announcement that NATO was strengthening its presence in Eastern Europe heightened nerves about Ukraine across all of Europe.

While officials did not want to speak on the record, the announcement fed palpable doubts about whether four-way talks scheduled for Thursday in Geneva — bringing Russia and Ukraine to the same table for the first time since February, with the United States and European Union joining in — would proceed as planned.

Germany, which has Europe's strongest economy and is the most important European trading partner for Russia, was at pains ahead of the scheduled meeting to stress that the Continent spoke with one voice on sanctions against Russia.

Chancellor Angela Merkel of Germany and other leaders here have for weeks made it clear that they will go along with tougher sanctions, while cautioning behind closed doors that a serious rupture in business and other ties could take years to heal.

Germany depends on Russia for up to 40 percent of its natural gas.

Ms. Merkel and President Vladimir V. Putin of Russia talked by telephone on Tuesday evening, according to statements from both governments. In Berlin, a government spokesman, Georg Streiter, underlined that the two leaders did not necessarily come to any meeting of the minds, let alone a shared assessment that Ukraine, as Mr. Putin was quoted as saying, verged on the brink of civil war.

Instead, Mr. Streiter said, it will be "very important" for Russia to withdraw its forces from the border with eastern Ukraine and to tone down its rhetoric on the crisis there.
The fact that the Russians haven't moved as quickly in response to the events in eastern Ukraine as they did in Crimea may be an indication that they aren't quite as intent on grabbing territory there as some of their rhetoric suggests. After all, annexing portions of eastern Ukraine into Russia would be a significant escalation of any already tense situation in a way that the annexation of Crimea was not, largely due to the fact that Russia's historical, strategic, and military claims in Crimea were much more substantial than they are elsewhere in Ukraine. Because of this, it's possible that what Putin is actually looking for here are political and other concessions from the Ukrainians rather than additional territory that he would immediately have to worry about defending. This could involve additional autonomy for ethnic Russians in Ukraine, agreements from Ukraine and the west that the nation will remain essentially neutral, or a combination of both. This isn't to discount the possibility that negotiations could fall apart and Russian tanks could start rolling west, but it's worth keeping in mind that what we're seeing in public may not be the whole story. In the meantime, though, it seems advisable for the West to make clear to Putin that his reach may end up exceeding his grasp.