New York Passes Law That Will Allow Congress To Get Trump's State Tax Returns
New York has passed a law that would allow Congress to obtain copies of the President's New York State tax returns.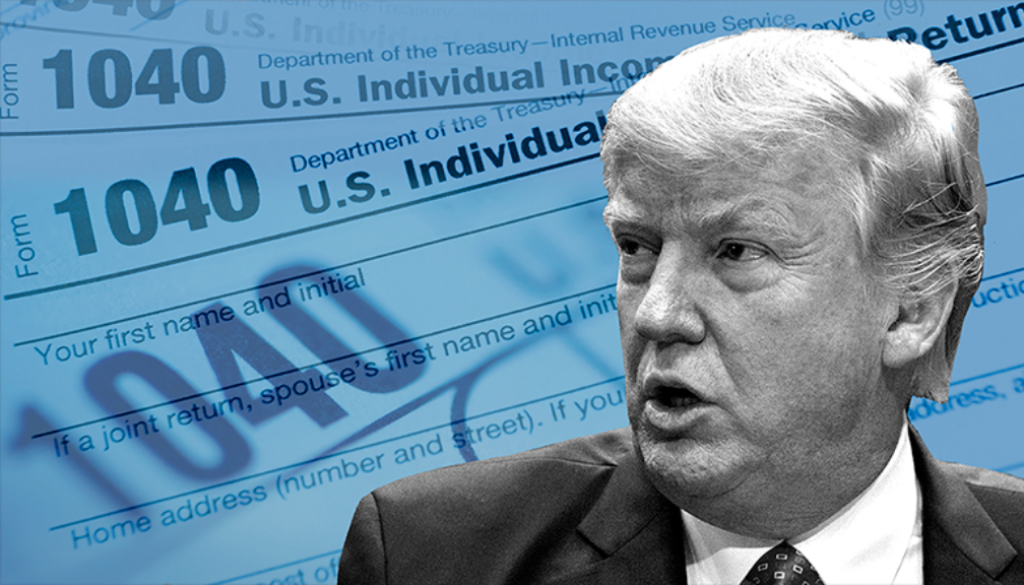 New York State has passed a law that would allow Congress to receive copies of taxpayer's New York State tax returns, a move that is obviously aimed at making it easier for Congress to obtain financial information regarding the President and his business interests:
ALBANY — New York State lawmakers on Wednesday gave their final approval to a bill that would clear a path for Congress to obtain President Trump's state tax returns, injecting another element into a tortuous battle over the president's refusal to release his taxes.

The bill, which is expected to be signed by Gov. Andrew M. Cuomo, a third-term Democrat and regular critic of Mr. Trump's policies and behavior, will authorize state tax officials to release the president's state returns to any one of three congressional committees.

The returns — filed in New York, the president's home state and business headquarters — would likely contain much of the same information as the contested federal returns, though it remained unclear whether those congressional committees would use such new power in their investigations.

The Legislature's actions put the state in a bit of uncharted legal territory; Mr. Trump has said that he is ready to take the fight over his federal tax returns to the Supreme Court, and it seems likely that he would seek to contest New York's maneuver.'

Republicans have called the effort in Albany a "bill of attainder" — an unconstitutional piece of legislation aimed at a single person or group — while also decrying the potential invasion of privacy, suggesting that federal officials would conduct improper "fishing expeditions."


Still, for Democrats for whom the president's steadfast refusal to release his returns has been a constant frustration, the legislative action was being cast as both a victory for states' rights and the often unsung power of a state legislature.


"It's a matter of New York's prerogative," said State Senator Brad Hoylman, a Democrat from Manhattan, who sponsored the bill in his chamber. "We have a unique responsibility and role in this constitutional standoff."


Once signed into law by Mr. Cuomo, the legislation would require the commissioner of the New York Department of Taxation and Finance to release returns to the chairmen of the House Ways and Means Committee, the Senate Finance Committee and the Joint Committee on Taxation for any "specified and legitimate legislative purpose." Such a request would be have to be made it writing, and only after a request for federal returns has been made to the Treasury Department.

In Washington, the House Ways and Means Committee has unsuccessfully sought six years of the president's personal and business tax returns. The Treasury Department said last week that it would not honor a congressional subpoena to hand over the president's returns, saying the request lacked a "legitimate legislative purpose," though a leaked draft memorandum from the I.R.S. suggested that such logic was flawed.

On Wednesday, the Ways and Means Committee said it was focused on pursuing Mr. Trump's federal tax information, regardless of New York's action and the potential for getting the president's state returns.


"Our request to the Internal Revenue Service was in furtherance of an investigation into the mandatory presidential audit program at the I.R.S.," said Daniel Rubin, a spokesman for the committee, which is led by Representative Richard E. Neal, the Massachusetts Democrat. "State returns would not help us evaluate this program."


At the same time, Steven M. Rosenthal, a tax lawyer and senior fellow at the Urban-Brookings Tax Policy Center, said he would not be surprised if the president fought the state law, though he believed it passed legal muster.


"Of course, the Legislature was motivated by Donald Trump's current refusals," Mr. Rosenthal said, but added that he thought the bill was written broadly enough to avoid the "bill of attainder" accusation.


That opinion was echoed by Brian Galle, a law professor at Georgetown University Law School, who said that "bills of attainder have been interpreted really narrowly by the courts," and noted that legislation often describes targeted industries or municipalities in vague terms. (In New York, for instance, state bills aimed at New York City are typically described as those affecting "a city with a population of one million or more," as New York is the only such city in the state.)


"The bill doesn't say you can release Donald Trump's, and only Donald Trump's, tax returns," Mr. Galle said.



All of this takes place in the context of a battle between the House Ways And Means Committee and the White House regarding the President's Federal tax returns. It began in April when Congressman Richard Neal, the Chairman of the Committee, sent a request to Treasury Secretary Steve Mnuchin and I.R.S. Commissioner Charles Rettig requesting those returns. That request was made pursuant to 26 U.S.C. 6103 which, among other things, allows the Ways And Means Committee to request copies of the tax returns of any individual American. Despite that statute, Treasury Secretary Steve Mnuchin has refused to comply with both a written request and a subpoena for these documents. In refusing these requests, Mnuchin argued that the request, and subsequent subpoena, lack a "legitimate legislative purpose," an argument that the Administration has made in a number of other situations where it is refusing to comply with seemingly legitimate document requests. Just yesterday, though, we learned that an internal I.R.S. memo contradicts Mnuchin and argues that the agency has a legal duty to provide the returns to the committee as requested. Despite that, it appears likely that the committee will have to go to court to enforce its rights under the law.
As noted, this law would allow the Ways and Means Committee to request copies of the state tax returns of any New York State resident. While the law applies generally to any taxpayer, it is obviously most specifically aimed at President Trump. In that regard, it's worth noting that the New York State returns would contain must of the same information that would be included in the Federal return. Unlike some states, though, New York apparently does not require taxpayers to send a copy of the Federal return when they file their state return. Despite this, the state returns filed by the President, while they would likely not be quite as insightful into his finances as the Federal return, would provide at least some clues to investigators that could lead to other information, as well as allowing accountants to reconstruct what the Federal returns probably look like given the information in the Federal return.
It's probable, of course, that Trump will seek to challenge this law in court if the Ways And Means Committee chooses to take advantage of it. However, I tend to agree with the legal experts quoted above who argue that those challenges are unlikely to succeed. The most potent argument against the law would be that it amounts to a "Bill of Attainder," which the Constitution bans both Congress, in Article I, Section 9, Clause 3 and the states, in Article I, Section 10, Clause 1, from passing.
Generally speaking, a Bill of Attainder is a bill or law that is aimed at inflicting punishment on a specific individual. For the most part, courts have interpreted these clauses narrowly and in the context of what was considered a Bill of Attainder at the time that the Constitution was drafted. Therefore, there is a strong argument that such a prohibition only applies to laws that contain some sort of criminal punishment, which isn't the case here. Even if this law did fall within the general category of what could be considered a "Bill of Attainder," though, it's worth noting that the law allows the committee to request the return of anyone who files a return in New York State as long as they meet the standards set forth in the statute. It doesn't just limit itself to people named "Trump." Therefore, while Trump's lawyers may argue that their client is the "real" target of the law, the fact that it is generally applicable means that it would be likely to survive a challenge as a "Bill Of Attainder." Beyond this, it's hard to see what other legal challenge Trump's lawyers could make against the law, though I'm sure they'll come up with something.