Newt Gingrich Makes Ridiculous Charge: Obama Could Be Impeached Over DOMA Decision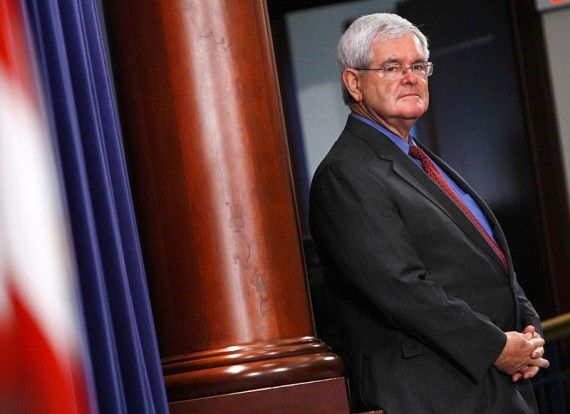 I suppose this was inevitable, especially considering the source:
Former House Speaker Newt Gingrich, who plans within two weeks to announce if he will run for president, said today that if President Obama doesn't change his mind and order his Justice Department to enforce the Defense of Marriage Act, Republicans in Congress should strike back and even consider impeachment proceedings.

"I believe the House Republicans next week should pass a resolution instructing the president to enforce the law and to obey his own constitutional oath, and they should say if he fails to do so that they will zero out [defund] the office of attorney general and take other steps as necessary until the president agrees to do his job," said Gingrich. "His job is to enforce the rule of law and for us to start replacing the rule of law with the rule of Obama is a very dangerous precedent."

He didn't call for immediate impeachment hearings, but didn't rule them out if Obama balks at any congressional demands to enforce the law.
Like nearly everyone on the right who has commented on this to date, Gingrich also completely mischaracterizes what the Obama Administration is doing here:
In talking about the president's action, in fact, he raised Sarah Palin's name and suggested that she would be under fire if she ever decided not to enforce a major social law. "Imagine that Governor Palin had become president. Imagine that she had announced that Roe v. Wade in her view was unconstitutional and therefore the United States government would no longer protect anyone's right to have an abortion because she personally had decided it should be changed. The news media would have gone crazy. The New York Times would have demanded her impeachment," said Gingrich.
Of course, the Administration has specifically said that they would continue enforcing the law:
Notwithstanding this determination, the President has informed me that Section 3 will continue to be enforced by the Executive Branch. To that end, the President has instructed Executive agencies to continue to comply with Section 3 of DOMA, consistent with the Executive's obligation to take care that the laws be faithfully executed, unless and until Congress repeals Section 3 or the judicial branch renders a definitive verdict against the law's constitutionality. This course of action respects the actions of the prior Congress that enacted DOMA, and it recognizes the judiciary as the final arbiter ofthe constitutional claims raised.
Furthermore, as I argued this morning, there is absolutely nothing improper about the President's decision here. Of course, facts really don't matter in politics.
Update: Here's the video:
Also, late today, Gingrich released the following statement:
"Congress has every responsibility to demand President Obama live up to his constitutional obligations, but impeachment is clearly not an appropriate action," said Gingrich."
Judge for yourself.